Vol 18, No 1 (2021)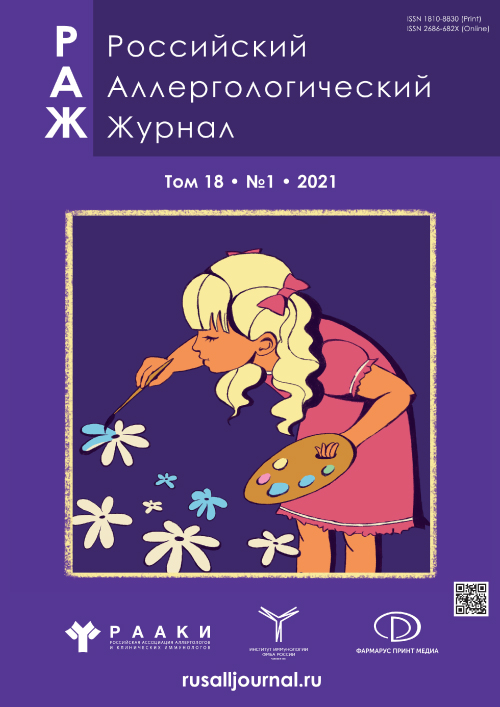 Original studies
Abstract
BACKGROUND: Biologicals use in severe asthma (SA) is associated with targeted therapy (TT) availability problem. Ensuring the availability of biologicals can be resolved within the territorial compulsory medical insurance program (TCMIP) in day-stay or round-the-clock hospital.
AIMS: This study aimed to develop and implement a program for immunobiological therapy (IBT) introduction for SA in Sverdlovsk Region (SR).
MATERIALS AND METHODS: Program for introduction of IBT for SA was developed in SR in 2018 to provide patients with expensive biologicals within the TCMIP. Program includes the following: SA prevalence study in SR; practitioners training in differential diagnosis of SA; organization of affordable therapy for patients with SA; registration of patients with SA сreation and maintenance; and selection and management of patients with SA in accordance with federal clinical guidelines.
RESULTS: Atopic phenotype in SA was detected in 5%, eosinophilic ― in 2.3% of all analyzed cases of asthma (n=216). Practitioners of SR were trained in differential diagnosis of SA. Orders of the Ministry of Health of SR were issued as follows: regulating the procedure for referring patients with SA to IBT, with a list of municipal medical organizations providing IBT in a day-stay or round-the-clock hospital; approving regional registration form of patients with SA requiring biologicals use; ungrouping of clinical and statistical groups of day-stay hospital was depending on INN and dosage of biologicals; and selecting patients with SA for TT and including them in the regional register. Initiating of TT in round-the-clock hospital and continuation therapy in day-stay hospital provides a significant savings in compulsory medical insurance funds.
CONCLUSIONS: IBT introduction for SA in SR is carried out within the framework of the developed program. Principle of decentralization brings highly specialized types of medical care closer to patients making it possible to provide routine medical care in "allergology-immunology" profile in the context of restrictions caused by coronavirus disease 2019 pandemic.
Russian Journal of Allergy. 2021;18(1):6-17

6-17


Reviews
Abstract
Airway inflammation plays a crucial role in the development of asthma and chronic rhinosinusitis with nasal polyps (CRSwNP). The severity of inflammation influences the clinical picture of the disease and, most importantly, the effectiveness of therapy.
To date, the growth in the incidence rate of asthma and CRSwNP is still high and the effectiveness of existing therapy for severe asthma, especially associated with CRSwNP, is unsatisfactory. Therefore, the aim is to investigate novel diagnostic tools and therapies.
The emergence of biologics that target specific inflammatory pathways is a promising step forward to achieve control of severe uncontrolled asthma and recurrent CRSwNP. Dupilumab is one of recently introduced monoclonal antibodies, which has shown significant advances in the treatment of asthma and CRSwNP.
Dupilumab is a fully human monoclonal antibody targeted to interleukin-4 receptor alpha subunit (IL-4Rα) that is a receptor for both IL-4 and IL-13. Thus, it helps to inhibit cytokine T2-signaling (IL-4 and IL-13), since the IL-4/IL-13/STAT6 signaling pathway plays a crucial role in T2-inflammation.
In Russia, dupilumab is currently approved as a treatment for atopic dermatitis (in children over 6 years of age), asthma (in children over 12 years of age) and severe CRSwNP in adults. This article summarizes the main data on dupilumab and its efficacy in patients with asthma and CRSwNP and presents a relevant case report.
Russian Journal of Allergy. 2021;18(1):18-31

18-31


Abstract
In this article, current data on pulmonary eosinophilia are presented. Pulmonary eosinophilia is defined as the infiltration of eosinophils into the airways, interstitia, and alveoli. There are diverse processes in etiology, the common feature of which is the presence of pulmonary eosinophilic infiltrates, and as a rule, peripheral blood eosinophilia. Causes of pulmonary eosinophilia include various infections, medications, parasites, autoimmune processes, malignancies, and presence of obstructive pulmonary diseases. A unified classification of pulmonary eosinophilia is lacking, and instead, various versions of classifications have been presented. The most convenient classification option for use is also distinguished. This article discusses the historical transformation of the term "eosinophilic pneumonia" in the field of allergology, showing the lack of unambiguity in the concept of "eosinophilic pneumonia", as well as the location of eosinophilic pneumonia in the pulmonary eosinophilia section. Eosinophilic pneumonia is defined as a disease characterized by an increase in the eosinophil content in the pulmonary tissue or bronchoalveolar lavage fluid. Most eosinophilic pneumonias are associated with peripheral blood eosinophilia. Two main variants of the disease are acute and chronic eosinophilic pneumonias. Thus, various ways to formulate diagnoses in various cases of eosinophilic pneumonia have been proposed.
Russian Journal of Allergy. 2021;18(1):32-40

32-40


Abstract
This publication extends RAACI education in the field of allergology and immunology for allergologists, immunologists and other specialists, as well as for practitioners. It presents recent data and innovative approaches to the study of complex interactions of genetic, non-genetic and environment factors in allergies. It explains the importance of exposome-oriented approaches aimed to increase the treatment effectiveness and to decrease risks of allergy in addition to genome-oriented models of human diseases. Exposome concepts can be integrated into existing research programmes which are crucial in shaping new approaches to allergy treatment and prevention
Russian Journal of Allergy. 2021;18(1):41-55

41-55


Abstract
Anaphylactic shock is a severe life-threatening condition caused by medicines, food, hymenoptera, animal poisons, etc. Therefore, anaphylactic shock (anaphylaxis) can develop both in medical institution and outside it, and physicians of any specialties should be ready to treat this condition. In this regard, clinical guidelines for anaphylactic shock have been developed. These recommendations were approved by the Russian Association of Allergy and Clinical Immunology (Protocol No. 743/12 dated December 30, 2020) and the Federation of Anesthesiologists and Resuscitators (Protocol No. 1 dated January 13, 2021), approved at a meeting of the Scientific and Practical Council of the Ministry of Health of the Russian Federation (Protocol No. 743/12 dated December 10, 2020). Guidelines covered a number of nosologies corresponding to codes of the International Statistical Classification of Diseases and Related Health Problems: T 78.0; T 78.2; T 80.5; T 88.6. The clinical guidelines systematize modern data on etiology, epidemiology, classification, clinical picture, diagnosis, treatment, and prevention of anaphylactic shock. In addition, an algorithm for managing a patient with anaphylactic shock has been developed.
Clinical guidelines for anaphylactic shock are intended for practitioners of all specialties, students, and teachers of medical universities, residents, and graduate students.
Russian Journal of Allergy. 2021;18(1):56-72

56-72


Case reports
Abstract
Tropomyosins are a family of allergenic proteins found in large quantities in all invertebrates. Tropomyosins sensitization causes a life-threatening allergic reaction up to anaphylaxis after eating seafood. Identifying the source of primary sensitization is important to predict the allergic reaction severity. This article describes a clinical case of chronic recurrent urticaria in an 8-year-old boy with tropomyosins sensitization.
An 8-year-old boy was diagnosed with the following: controlled atopic phenotype bronchial asthma, food allergy (oral allergy syndrome), and chronic recurrent spontaneous urticaria. Component diagnostics revealed IgE-aB to tropomyosins in high concentrations from 38.79 to 43.38 kUA/l and cat and dog uteroglobin and lipocalins in high concentrations from 7.79 to 43.38 kUA/l.
It is necessary to specify the primary sensitizer to analyze the clinical significance of allergens that provoke sensitization to various groups of allergens. In this case, sensitization to tropomyosins is most likely described as caused by either a helminthic invasion or midge bites. Therefore, food allergic reactions to tropomyosins caused from crustaceans were not observed.
Russian Journal of Allergy. 2021;18(1):73-78

73-78


Letters to the editor
Abstract
Chronic urticaria (CU) is an urgent medical and social problem. The instruments of everyday clinical practice are international and domestic guidelines which briefly reflect modern ideas about various aspects of CU. Recently, a new opportunity has emerged to expand theoretical and practical experience in the management of patients with CU, to carry out educational activities to disseminate modern knowledge about urticaria, to conduct research in the field of studying the pathogenesis, treatment, and prevention of exacerbations of the disease. This opportunity is realized through the centers of excellence for working with such patients (GA2LEN UCARE centers). One of the five Russian centers, have prepared and conducted an online training program "Chronic urticaria: scientific and medical achievements and practical aspects of patient management" at the Federal State Budgetary Institution State Research Center "Institute of Immunology" FMBA of Russia. The event was held by the employees of the Federal State Budgetary Institution State Research Center "Institute of Immunology" of the FMBA of Russia on November, 2020.
Russian Journal of Allergy. 2021;18(1):79-96

79-96