Organization of immunobiological therapy for severe bronchial asthma in the Sverdlovsk region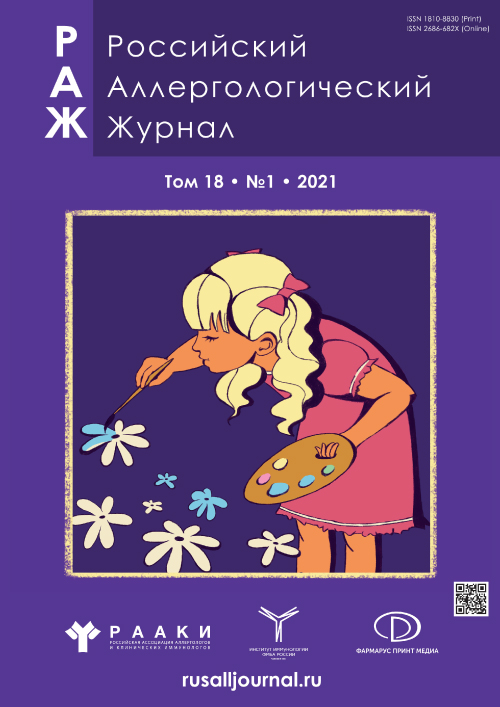 Abstract
BACKGROUND: Biologicals use in severe asthma (SA) is associated with targeted therapy (TT) availability problem. Ensuring the availability of biologicals can be resolved within the territorial compulsory medical insurance program (TCMIP) in day-stay or round-the-clock hospital.
AIMS: This study aimed to develop and implement a program for immunobiological therapy (IBT) introduction for SA in Sverdlovsk Region (SR).
MATERIALS AND METHODS: Program for introduction of IBT for SA was developed in SR in 2018 to provide patients with expensive biologicals within the TCMIP. Program includes the following: SA prevalence study in SR; practitioners training in differential diagnosis of SA; organization of affordable therapy for patients with SA; registration of patients with SA сreation and maintenance; and selection and management of patients with SA in accordance with federal clinical guidelines.
RESULTS: Atopic phenotype in SA was detected in 5%, eosinophilic ― in 2.3% of all analyzed cases of asthma (n=216). Practitioners of SR were trained in differential diagnosis of SA. Orders of the Ministry of Health of SR were issued as follows: regulating the procedure for referring patients with SA to IBT, with a list of municipal medical organizations providing IBT in a day-stay or round-the-clock hospital; approving regional registration form of patients with SA requiring biologicals use; ungrouping of clinical and statistical groups of day-stay hospital was depending on INN and dosage of biologicals; and selecting patients with SA for TT and including them in the regional register. Initiating of TT in round-the-clock hospital and continuation therapy in day-stay hospital provides a significant savings in compulsory medical insurance funds.
CONCLUSIONS: IBT introduction for SA in SR is carried out within the framework of the developed program. Principle of decentralization brings highly specialized types of medical care closer to patients making it possible to provide routine medical care in "allergology-immunology" profile in the context of restrictions caused by coronavirus disease 2019 pandemic.
Full Text

About the authors
Ural State Medical University
Email: asthma@mail.ru
ORCID iD: 0000-0003-2485-2243
SPIN-code: 6987-1057
Scopus Author ID: 6504558662
ResearcherId: AAI-1608-2020

Russian Federation, 3, Repina str., Ekaterinburg, 620028

MD, Dr. Sci. (Med.), Assistant Professor
Territorial Compulsory Health Insurance Fund of the Sverdlovsk Region
Email: shva71@gmail.com
ORCID iD: 0000-0003-0972-5449
SPIN-code: 5615-1159

Russian Federation, 54, Moskovskaya str., Ekaterinburg, 620102

Ural State Medical University
Author for correspondence.
Email: nika.naumova@gmail.com
ORCID iD: 0000-0002-3028-2657
SPIN-code: 8210-6478
ResearcherId: AAI-1588-2020

Russian Federation, 3, Repina str., Ekaterinburg, 620028

MD, Cand. Sci. (Med.)
Ministry of Health of the Sverdlovsk Region
Email: a.vinogradov@egov66.ru
ORCID iD: 0000-0002-2033-3422
SPIN-code: 9417-9671

Russian Federation, 34B, Vaynera str., Ekaterinburg, 620014

MD, Cand. Sci. (Med.)
Ural State Medical University
Email: o.smolenskaya@mail.ru
ORCID iD: 0000-0002-0705-6651
SPIN-code: 5443-9382

Russian Federation, 3, Repina str., Ekaterinburg, 620028

MD, Dr. Sci. (Med.), Professor
References
Humbert M, Taillé C, Mala L, et al. Omalizumab effectiveness in patients with severe allergic asthma according to blood eosinophil count: the STELLAIR study. European Respiratory Journal. 2018;51(5):1702523. doi: 10.1183/13993003.02523-2017
Schatz M, Rosenwasser L. The Allergic Asthma Phenotype. Journal of Allergy and Clinical Immunology. 2014;2(6):645–648. doi: 10.1016/j.jaip.2014.09.004
Buhl R, Humbert M, Bjermer L, et al. Severe eosinophilic asthma: a roadmap to consensus. European Respiratory Journal. 2017;49(5):1700634. doi: 10.1183/13993003.00634-2017
Matucci A, Vultaggio A, Maggi E, Kasujee I. Is IgE or eosinophils the key player in allergic asthma pathogenesis? Are we asking the right question? Respir Res. 2018;19(1):113. doi: 10.1186/s12931-018-0813-0
Casale T, Luskin A, Busse W, et al. Omalizumab effectiveness by biomarker status in patients with asthma: evidence from PROSPERO, a Prospective Real-World Study. Journal of Allergy and Clinical Immunology. 2019;7(1):156–164.e1. doi: 10.1016/j.jaip.2018.04.043
Beltyukov EK, Vinogradov AV, Tuzankina IA, Karakina ML. On organization the special healthcare for the adult patients in Sverdlovsk region by profile "allorgology and immunology". Russian Journal of Immunology. 2014;8(3):482–484. (In Russ).
Beltyukov E, Naumova V, Abdullaev V, et al. Prevalence of severe bronchial asthma phenotypes in the Middle Urals. Russian Journal of Allergy. 2019;16(2):67–74. (In Russ). doi: 10.36691/rja1200
Agache I, Akdis C, Akdis M, et al. EAACI Biologicals Guidelines – Recommendations for severe asthma. Allergy. 2021;76(1):14–44. doi: 10.1111/all.14425
Global Initiative for Asthma. Diagnosis and Management of Difficult-to-treat and Severe Asthma in adolescent and adult patients. V 2.0, April 2019. Available from: http://www.ginasthma.org
Nenasheva N, Kurbacheva O, Avdeev S, et al. Practical recommendations for choosing an immunobiological preparation for the treatment of severe bronchial asthma of T2-endotype. Russian Pulmonology. 2020;30(2):227–244. doi: 10.18093/0869-0189-2020-30-2-227-244