Clinical and immunological characteristics of sensitization to tropomyosins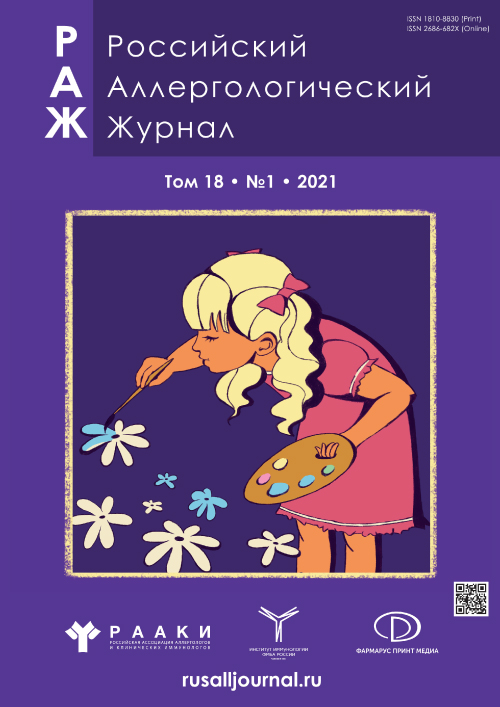 Cite item
Full Text

Open Access

Access granted

Subscription or Fee Access
Abstract
Tropomyosins are a family of allergenic proteins found in large quantities in all invertebrates. Tropomyosins sensitization causes a life-threatening allergic reaction up to anaphylaxis after eating seafood. Identifying the source of primary sensitization is important to predict the allergic reaction severity. This article describes a clinical case of chronic recurrent urticaria in an 8-year-old boy with tropomyosins sensitization.
An 8-year-old boy was diagnosed with the following: controlled atopic phenotype bronchial asthma, food allergy (oral allergy syndrome), and chronic recurrent spontaneous urticaria. Component diagnostics revealed IgE-aB to tropomyosins in high concentrations from 38.79 to 43.38 kUA/l and cat and dog uteroglobin and lipocalins in high concentrations from 7.79 to 43.38 kUA/l.
It is necessary to specify the primary sensitizer to analyze the clinical significance of allergens that provoke sensitization to various groups of allergens. In this case, sensitization to tropomyosins is most likely described as caused by either a helminthic invasion or midge bites. Therefore, food allergic reactions to tropomyosins caused from crustaceans were not observed.
Keywords
Full Text

About the authors
I. Mechnikov Research Institute of Vaccines and Sera
Email: mmokronosova@mail.ru
ORCID iD: 0000-0003-2123-8440
SPIN-code: 9147-7938

Dr. Sci. (Med.), Professor
Russian Federation, 5a, Malyi Kazennyi lane, Moscow, 105064
I. Mechnikov Research Institute of Vaccines and Sera
Author for correspondence.
Email: t-zheltikova@yandex.ru
ORCID iD: 0000-0001-5394-7132
SPIN-code: 2666-6960

Dr. Sci. (Biol.)
Russian Federation, 5a, Malyi Kazennyi lane, Moscow, 105064
References
Matricardi PM, Kleine-Tebbe J, Hoffmann HJ, et al. EAACI Molecular Allergology User's Guide. Pediatr Allergy Immunol. 2016;27(suppl 23):1–250. doi: 10.1111/pai.12563
McKenna OE, Asam C, Araujo GR, et al. How relevant is panallergen sensitization in the development of allergies? Pediatr Allergy Immunol. 2016;27(6):560–568. doi: 10.1111/pai.12589
Federal Service for Supervision of Consumer Rights Protection and Human Welfare. On the state of sanitary and epidemiological well-being of the population in the Russian Federation in 2016. State report. Moscow; 2017. 220 p. (In Russ).
Palm NW, Rosenstein RK, Medzhitov R. Allergic host defences. Nature. 2012;(484):465–472. doi: 10.1038/nature11047
Fitzsimmons CM, Falcone FH, Dunne DW. Helminth allergens, parasite-specific IgE, and its protective role in human immunity. Front Immunol. 2014;14(5):61. doi: 10.3389/fimmu.2014.00061
Supplementary files
Supplementary Files
Action