Organization of medical care for patients with hereditary angioedema and experience in treating patients with lanadelumab in the Sverdlovsk region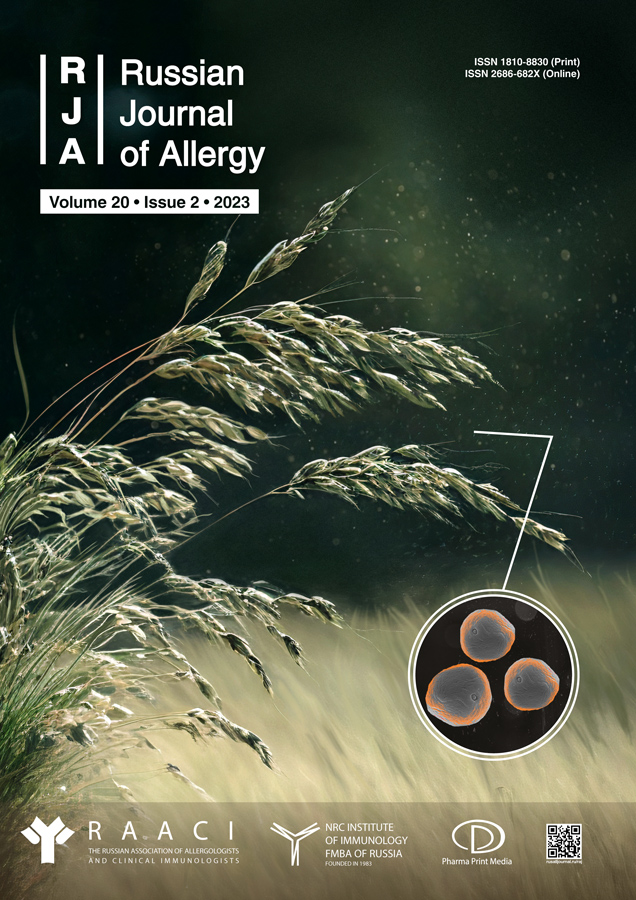 Cite item
Full Text

Open Access

Access granted

Subscription or Fee Access
Abstract
BACKGROUND: Hereditary angioedema is a rare autosomal dominant disease that can cause edema of skin and mucous membranes, including life-threatening localization, in pathogenesis of which plasma kallikrein is also important. The main therapy aim is to achieve complete control over symptoms and improve quality of life. In Russia, the first available specialized drug for long-term prophylaxis is lanadelumab blocking plasma kallikrein.
AIM: The aim is to show principles of medical care for patients with hereditary angioedema in Sverdlovsk region and to determine lanadelumab efficacy in patients with hereditary angioedema in real clinical practice.
MATERIALS AND METHODS: We conducted a single-center prospective non-interventional study. There are 22 patients with hereditary angioedema in register of primary immunodeficiencies in Sverdlovsk region. The analysis of patients' therapy was performed. Lanadelumab efficacy was studied in 5 patients received drug for at least 4 months. The validated questionnaires AAS, AECT, AE-QoL were used to assess lanadelumab efficacy.
RESULTS: Educational program for practitioners and implemented diagnostic algorithm led to increase hereditary angioedema detection: the number of hereditary angioedema patients doubled over past 3.5 years (11 patients in 2019, 22 patients in 2023). School for patients' education was organized. Lanadelumab has been introduced into clinical practice since December 2021. All patients included in lanadelumab efficacy study were female. According to AAS28 scale, patients had high disease activity before and there was an almost 10-fold decrease in disease activity in 4 month of lanadelumab therapy. A positive effect was observed after the first month of treatment with lanadelumab. Hereditary angioedema activity decreased to 0 after 4 months of therapy. The average score on AEST scale was 5.40±2.41, which indicated an uncontrolled course of hereditary angioedema. By the 4th month of therapy, control was achieved ― 13.60±2.61 points on AEST scale. Quality of life on AE-Qol scale improved from 81% to 38% by the 4th month of therapy (p=0.050).
CONCLUSION: Current system of medical care for patients with hereditary angioedema in Sverdlovsk Region makes it possible to improve hereditary angioedema detection and provide patients with special pharmacotherapy betimes. Lanadelumab significantly reduces hereditary angioedema activity, allows achieving controlled course and high quality of life in real clinical practice.
Keywords
Full Text

References
Bliznec EA, Viktorova EA, Vishneva EA, et al. Hereditary angioedema. Clinical guidelines. Russ J Allergy. 2021;18(2):77–114. (In Russ). doi: 10.36691/RJA1447
Piñero-Saavedra M, González-Quevedo T. The genetics of hereditary angioedema: A review. J Rare Dis Res Treat. 2017;2(4):14–19.
Zuraw BL. Hereditary angioedema with normal C1 inhibitor: Four types and counting. J Allergy Clin Immunol. 2018;141(3):884–885. doi: 10.1016/j.jaci.2018.01.015
Russian Association of Allergologists and Clinical Immunologists (RAAKI). Hereditary angioedema. Clinical recommendations. Available from: https://www.pediatr-russia.ru/information/klin-rek/proekty-klinicheskikh-rekomendatsiy/КР%20НАО%20%2008.10.2020.pdf?ysclid=lgzbkol1kp253215413. Accessed: 15.05.2023.
Manto IA, Latysheva EA, Bliznets EA, et al. The place of scales and questionnaires in assessing the disease's severity and the long-term prophylaxis's prescribing in patients with hereditary angioedema. Russ J Allergy. 2021;93(12):1498–1509. (In Russ). doi: 10.36691/RJA1446
Zuraw BL. Clinical practice. Hereditary angioedema. N Engl J Med. 2008;359(10):1027–1036. doi: 10.1056/NEJMcp0803977
Bork K, Hardt J, Witzke G. Fatal laryngeal attacks and mortality in hereditary angioedema due to C1-INH deficiency. J Allergy Clin Immunol. 2012;130(3):692–697. doi: 10.1016/j.jaci.2012.05.055
Minafra FG, Cunha LA, Mariano RG, et al. Investigation of mortality of hereditary angioedema in a reference center in Brazil. J Allergy Clin Immunol Pract. 2022;10(7):1805–1812. doi: 10.1016/j.jaip.2022.04.030
Farkas H, Máj C, Kenessey I, et al. A novel pathogenetic factor of laryngeal attack in hereditary angioedema? Involvement of protease activated receptor 1. Allergy Asthma Clin Immunol. 2022;18(1):60. doi: 10.1186/s13223-022-00699-7
Manto IA, Latysheva EA, Sorokina LE, Latysheva TV. The place of scales and questionnaires in assessing the disease's severity and the long-term prophylaxis's prescribing in patients with hereditary angioedema. Ther Arch. 2021;93(12):1498–1509. (In Russ). doi: 10.26442/00403660.2021.12.201294
Lumry WR. Management and prevention of hereditary angioedema attacks. Am J Manag Care. 2013;19(7, Suppl.):111–118.
Maurer M, Magerl M, Betschel S, et al. The international WAO/EAACI guideline for the management of hereditary angioedema: The 2021 revision and update. Allergy. 2022;77(7):1961–1990. doi: 10.1111/all.15214
Bodnya OS, Demina DV, Kuzmenko NB, et al. Long-term prophylaxis therapy in patients with hereditary angioedema in Russia: Resolution of the expert Council. Russ J Allergy. 2021;18(3):126–130. (In Russ). doi: 10.36691/RJA1485
Lumry WR, Maurer M, Weller K, et al.; HELP OLE Study Group. Long-term lanadelumab treatment improves health-related quality of life in patients with hereditary angioedema. Ann Allergy Asthma Immunol. 2023;1081-1206(23):00245-4. doi: 10.1016/j.anai.2023.03.028
Ushio Y, Wakiya R, Kameda T, et al. Systemic lupus erythematosus with various clinical manifestations in a patient with hereditary angioedema: A case report. Allergy Asthma Clin Immunol. 2022;18(1):84. doi: 10.1186/s13223-022-00725-8