Drug-induced urticaria and angioedema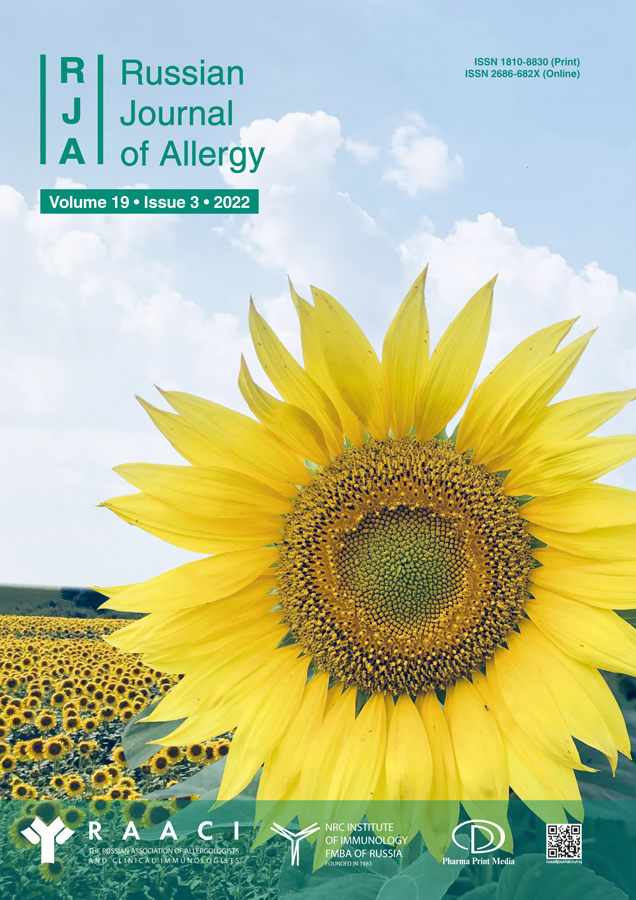 Authors: Vorzheva I.I.1, Chernyak B.A.1
Affiliations:

Irkutsk State Medical Academy of Postgraduate Education, Russian Medical Academy of Continuous Professional Education

Issue: Vol 19, No 3 (2022)
Pages: 346-366
Section: Reviews
Cite item
Full Text

Open Access

Access granted

Subscription or Fee Access
Abstract
Urticaria and angioedema are the most common manifestations of drug hypersensitivity and are caused by drugs that differ in chemical nature and mechanisms of action. The pathogenesis of drug-induced urticaria and angioedema can be based on immunological and non-immunological reactions. Immunological (allergic) urticaria and associated angioedema most often develop due to immunoglobulin E-mediated reactions. Non-immunological hypersensitivity is caused by the direct action of an agonist drug on target cells, followed by the release of a wide range of inflammatory mediators and cytokines, or the effect of drugs on the metabolism of several biologically active substances that stimulate inflammatory cells. Isolated angioedema (not accompanied by urticaria) may be a sign of drug allergy but is more often due to heterogeneous non-immunological reactions that activate mastocytes and basophils in various ways. Another common variant of drug-induced isolated angioedema is not associated with target cell degranulation but develops according to different mechanisms, leading to excessive bradykinin accumulation. Finally, some drugs may exacerbate the pathology of the complement system in patients with hereditary or acquired angioedema.
Here, the etiology, pathogenesis, clinical picture, diagnosis, principles of therapy, and prevention of heterogeneous variants of drug-induced urticaria and angioedema are considered from modern positions.
Full Text

About the authors
Irkutsk State Medical Academy of Postgraduate Education, Russian Medical Academy of Continuous Professional Education
Author for correspondence.
Email: vorzheva.irina@gmail.com
ORCID iD: 0000-0002-9405-854X
SPIN-code: 4872-0998

MD, Cand. Sci. (Med.), Associate Professor
Russian Federation, Irkutsk
Irkutsk State Medical Academy of Postgraduate Education, Russian Medical Academy of Continuous Professional Education
Email: ba.chernyak@gmail.com
ORCID iD: 0000-0002-5902-6198
SPIN-code: 5928-2586

MD, Dr. Sci. (Med.), Professor
Russian Federation, Irkutsk
References
Demoly P, Adkinson NF, Brockow K, et al. International Consensus on drug allergy. Allergy. 2014;69(4):420–437. doi: 10.1111/all.12350
Pichler WJ. Immune pathomechanism and classification of drug hypersensitivity. Allergy. 2019;74(8):1457–1471. doi: 10.1111/all.13765
Clinical guidelines. Allergology and clinical immunology. Ed. by R.M. Khaitov, N.I. Ilyina. Moscow: GEOTAR-Media; 2019. 352 p. (In Russ).
Clinical guidelines. Urticaria. (In Russ). Available from: https://raaci.ru/education/clinic_recomendations/470.html. Accessed: 14.05.2022.
Zuberbier T, Latiff A, Abuzakouk M, et al. The international EAACI/GA²LEN/EuroGuiDerm/APAAACI guideline for the definition, classification, diagnosis, and management of urticaria. Allergy. 2022;77(3):734–766. doi: 10.1111/all.15090
Clinical guidelines. Hereditary angioedema. (In Russ). Available from: https://cr.minzdrav.gov.ru/recomend/267_1. Accessed: 14.05.2022.
Maurer M, Magerl M. Differences and Similarities in the mechanisms and clinical expression of bradykinin-mediated vs. mast cell-mediated angioedema. Clin Rev Allergy Immunol. 2021;61(1): 40–49. doi: 10.1007/s12016-021-08841-w
Muraro A, Lemanske RF, Castells M, et al. Precision medicine in allergic disease-food allergy, drug allergy, and anaphylaxis-PRACTALL document of the European Academy of Allergy and Clinical Immunology and the American Academy of Allergy, Asthma and Immunology. Allergy. 2017;72(7):1006–1021. doi: 10.1111/all.13132
Valent P, Akin C, Nedoszytko B, et al. Diagnosis, classification and management of mast cell activation syndromes (MCAS) in the era of personalized medicine. Int J Mol Sci. 2020;21(23):9030. doi: 10.3390/ijms21239030
Pichler WJ. An approach to the patient with drug allergy. Available from: https://www.uptodate.com.
Kowalski ML, Asero R, Bavbek S, et al. Classification and practical approach to the diagnosis and management of hypersensitivity to nonsteroidal anti-inflammatory drugs. Allergy. 2013;68(10): 1219–1232. doi: 10.1111/all.12260
Bernstein JA, Cremonesi P, Hoffmann TK, Hollingsworth J. Angioedema in the emergency department: a practical guide to differential diagnosis and management. Int J Emerg Med. 2017;10(1):15. doi: 10.1186/s12245-017-0141-z
Weisman DS, Arnouk N, Asghar MB, et al. ACE inhibitor angioedema: characterization and treatment versus non-ACE angioedema in acute hospitalized patients. J Community Hosp Intern Med Perspect. 2020;10(1):16–18. doi: 10.1080/20009666.2020.1711641
Gimenez-Arnau A, Maurer M, De La Cuadra J, Maibach H. Immediate contact skin reactions, an update of contact urticaria, contact urticaria syndrome and protein contact dermatitis ― "a never ending story". Eur J Dermatol. 2010;20(5):552–562. doi: 10.1684/ejd.2010.1049
Myasnikova TN, Romanova TS, Khludova LG, Latysheva TV. Diagnosis of drug allergy: a modern view of the problem. Russian Medical Journal. 2018;(8):28–32. (In Russ).
Vorzheva II, Chernyak BA. Modern concepts about drug hypersensitivity: a cycle of lectures for practitioning physicians. Lecture 3. Practical Allergology. 2022;(1):52–64. (In Russ). doi: 10.46393/27129667_2022_1_52
Beltrami L, Zanichelli A, Zingale L, et al. Long-term follow-up of 111 patients with angiotensin-converting enzyme inhibitor-related angioedema. J Hypertens. 2011;29(11):2273–2277. doi: 10.1097/HJH.0b013e32834b4b9b
Brockow K, Garvey LH, Aberer W, et al. Skin test concentrations for systemically administered drugs ― an ENDA/EAACI Drug Allergy Interest Group position paper. Allergy. 2013;68(7):702–712. doi: 10.1111/all.12142
Blumenthal KG, Peter JG, Trubiano JA, Phillips EJ. Antibiotic allergy. Lancet. 2019;393(10167):183–198. doi: 10.1016/S0140-6736(18)32218-9
Chastain DB, Hutzley VJ, Parekh J, Alegro JV. Antimicrobial desensitization: a review of published protocols. Pharmacy (Basel). 2019;7(3):112. doi: 10.3390/pharmacy7030112
Castells Guitart MC. Rapid drug desensitization for hypersensitivity reactions to chemotherapy and monoclonal antibodies in the 21st century. J Investig Allergol Clin Immunol. 2014;24(2):72–79.
Akarsu A, Soyer O, Sekerel BE. Hypersensitivity reactions to biologicals: from bench to bedside. Curr Treat Options Allergy. 2020;7(1):71–83. doi: 10.1007/s40521-020-00242-2
Costantino MT, Romanini L, Gaeta F, et al. SIRM-SIAAIC consensus, an Italian document on management of patients at risk of hypersensitivity reactions to contrast media. Clin Mol Allergy. 2020;18:13. doi: 10.1186/s12948-020-00128-3
Lebedeva NV, Myasnikova TN, Latysheva TV. Features of delayed hypersensitivity reactions to iodinated contrast media diagnosis. Clinical Cases. Russ J Allergy. 2013;(3):35–40. (In Russ).
Guyer AC, Banerji A. ACE inhibitor-induced angioedema. Available from: https://www.uptodate.com.
Supplementary files
Supplementary Files
Action
1.
Fig. 1. Urticaria caused by Tempalgin. Multiple wheals of various sizes on erythematous background. (Photo from authors' archive).
3.
Fig. 3. Protein allergic contact systemic dermatitis caused by bee venom in medicine "Sofya Balm." Rubbing was done along the spine in the lower thoracic region and sacrum, which has the most pronounced confluent rashes are observed. The patient has history of contact urticaria when using "Apizartron" ointment, which also contains bee venom. (Photo from authors' archive).
4.
Fig. 4. Skin tests with levofloxacin. The prick test with whole solution (5 mg/1 ml) is ambiguous. IT at a dilution of 1:100 with a volume of 0.02 ml: after 20 minutes, a giant wheal with pseudopodia appeared, which resolved within 1 hour. There were no late skin reactions or systemic clinical manifestations the day after IT. IT was regarded as a false positive, owing to non-immunological mediator raised from skin mast cells. The intravenous provocation test with levofloxacin the next day was negative. Prior to coaxial arthroplasty surgery, an examination was carried out. The patient had a history of anaphylaxis during penicillin administration and urticaria during treatment with azithromycin. Prior to the skin test, no levofloxacin was administered. Following the examination, the patient given levofloxacin in the postoperative period, and no hypersensitivity was observed. (Photo from authors' archive).