Prevalence and risk factors for food allergy in children: a review of epidemiological studies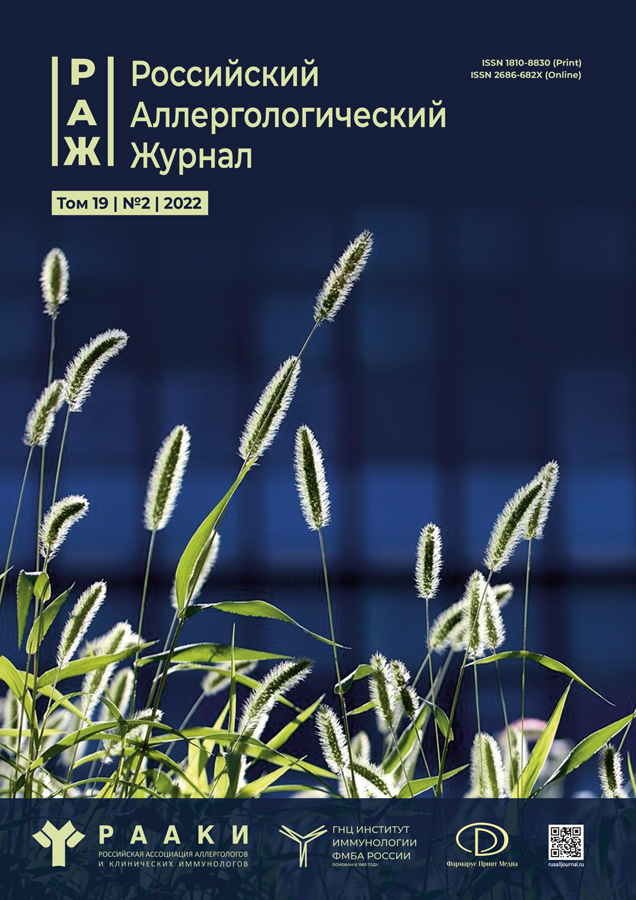 Cite item
Full Text

Open Access

Access granted

Subscription or Fee Access
Abstract
BACKGROUND: Food allergy is an actual problem in pediatric practice. In recent decades, there has been an increase in the prevalence of food allergies, as well as an increase in the number of severe cases.
AIM: To assess the prevalence of food allergy and the role of hereditary and environmental factors in food allergy development in children according to epidemiological cohorts and cross-sectional studies.
MATERIALS AND METHODS: A systematic review of epidemiological cohorts and cross-sectional studies published between January 1, 2000 and December 31, 2021, was conducted This review investigated the developmental factors and prevalence of food allergy.
RESULTS: This review made it possible to generalize and systematize the accumulated worldwide scientific data on food allergy. An analysis of epidemiological studies revealed a significant prevalence of food allergy, which reflected the natural course of the disease; the highest rates were found among young children, and by school age, the prevalence of symptoms and confirmed food allergy is gradually decreasing. Based on epidemiological data, the main risk factors for food allergy are hereditary predisposition and environmental factors that modify the microbial environment.
CONCLUSION: It is necessary to further study the genetic markers of food allergy, as well as the role of microbiotic factors in the implementation of hereditary predisposition to allergic diseases.
Keywords
Full Text

About the authors
Siberian State Medical University
Author for correspondence.
Email: valeriya.d.prokopyeva@gmail.com
ORCID iD: 0000-0002-0728-5825
SPIN-code: 1072-4300

Assistant Lecturer
Russian Federation, 2, Moscowski Trakt, Tomsk, 634050
Siberian State Medical University
Email: fedotova.letter@gmail.com
ORCID iD: 0000-0001-7655-7911
SPIN-code: 1488-8189

MD, Assistant Professor
Russian Federation, 2, Moscowski Trakt, Tomsk, 634050
Siberian State Medical University
Email: uliaka007@gmail.com
ORCID iD: 0000-0003-3495-0832
SPIN-code: 2301-5750

Assistant Lecturer
Russian Federation, 2, Moscowski Trakt, Tomsk, 634050
Siberian State Medical University
Email: slavadochkin@mail.ru
ORCID iD: 0000-0002-2050-3444
SPIN-code: 7595-5116

MD
Russian Federation, 2, Moscowski Trakt, Tomsk, 634050
Siberian State Medical University
Email: olga.sergeevna.fedorova@gmail.com
ORCID iD: 0000-0002-7130-9609
SPIN-code: 5285-4593

MD, Dr. Sci. (Med.), Professor
Russian Federation, 2, Moscowski Trakt, Tomsk, 634050
References
Muraro A, Werfel T, Hoffmann-Sommergruber K, еt al. EAACI Food allergy and anaphylaxis guidelines: diagnosis and management of food allergy. Allergy. 2014;69(8):1008–1025. doi: 10.1111/all.12429
Renz H, Allen KD, Sicherer SH, et al. Food allergy. Nature Reviews Dis Primers. 2018;4:17098. doi: 10.1038/nrdp.2017.98
Loh W, Tang ML. The epidemiology of food allergy in the global context. Int J Environ Res Public Health. 2018;15(9):2043. doi: 10.3390/ijerph15092043
Namazova-Baranova LS. Allergy in children: from theory to practice. Moscow: Union of Pediatricians of Russia; 2018–2019. (In Russ).
Sicherer SH, Sampson HA. Food allergy: a review and update on epidemiology, pathogenesis, diagnosis, prevention, and management. J Allergy Clin Immunol. 2018;141(1):41–58. doi: 10.1016/j.jaci.2017.11.003
Lopes JP, Sicherer S. Food allergy: epidemiology, pathogenesis, diagnosis, prevention, and treatment. Curr Opin Immunol. 2020;66: 57–64. doi: 10.1016/j.coi.2020.03.014
Revyakina VA. The problem of food allergy at the present stage. Questions Nutrition. 2020;89(4):186–192. (In Russ). doi: 10.24411/0042-8833-2020-10052
Venkataraman D, Erlewyn-Lajeunesse M, Kurukulaaratchy RJ, et al. Prevalence and Longitudinal Trends of Food Allergy During Childhood and Adolescence: results of the isle of wight birth cohort study. Clin Exp Allergy. 2018;48(4):394–402. doi: 10.1111/cea.13088
Gupta RS, Warren CM, Smith BM, еt al. The public health impact of parent-reported childhood food allergies in the United States. Pediatrics. 2018;142(6):e20181235. doi: 10.1542/peds.2018-1235
Joseph CL, Zoratti EM, Ownby DR, еt al. Exploring racial differences in IgE-mediated food allergy in the WHEALS birth cohort. Ann Allergy Asthma Immunol. 2016;116(3):219–224.e1. doi: 10.1016/j.anai.2015.12.019
Mathias JG, Zhang H, Soto-Ramirez N, Karmaus W. The association of infant feeding patterns with food allergy symptoms and food allergy in early childhood. Int Breastfeed J. 2019;14:43. doi: 10.1186/s13006-019-0241-x
Simons E, Balshaw R, Lefebvre DL, еt al. Timing of introduction, sensitization and allergy to highly-allergenic foods at age 3 years in a general-population Canadian cohort. J Allergy Clin Immunol Pract. 2019;8(1):166–175.e10. doi: 10.1016/j.jaip.2019.09.039
Gao X, Yan Y, Zeng G, еt al. Influence of prenatal and early-life exposures on food allergy and eczema in infancy: a birth cohort study. BMC Pediatrics. 2019;19(1):239. doi: 10.1186/s12887-019-1623-3
Chiu CY, Yang CH, Su KW, еt al. Early-onset eczema is associated with increased milk sensitization and risk of rhinitis and asthma in early childhood. J Microbiol Immunol Infect. 2020;53(6):1008–1013. doi: 10.1016/j.jmii.2019.04.007
Hua MC, Yao TC, Chen CC, еt al. Introduction of various allergenic foods during infancy reduces risk of IgE sensitization at age 12 months: a birth cohort study. Pediatr Res. 2017;82(5):733–740. doi: 10.1038/pr.2017.174
Jonsson K, Barman M, Brekke HK, еt al. Late introduction of fish and eggs is associated with increased risk of allergy development ― results from the FARMFLORA birth cohort. Food Nutr Res. 2017;61(1):1393306. doi: 10.1080/16546628.2017.1393306
Tham EH, Lee BW, Chan YH, еt al. Low food allergy prevalence despite delayed introduction of allergenic foods ― data from the GUSTO cohort. J Allergy Clin Immunol Pract. 2018;6(2):466–475.e1. doi: 10.1016/j.jaip.2017.06.001
Nwaru BI, Erkkola M, Ahonen S, еt al. Maternal diet during lactation and allergic sensitization in the offspring at age of 5. Pediatr Allergy Immunol. 2011;22(3):334–341. doi: 10.1111/j.1399-3038.2010.01114.x
Doğruel D, Bingöl G, Altıntaş DU, еt al. Clinical features of food allergy during the 1st year of life: the ADAPAR birth cohort study. Int Arch Allergy Immunol. 2016;169(3):171–180. doi: 10.1159/000444639
Schoemaker AA, Sprikkelman AB, Grimshaw KE, еt al. Incidence and natural history of challenge-proven cow's milk allergy in European children ― EuroPrevall birth cohort. Allergy. 2015;70(8):963–972. doi: 10.1111/all.12630
Clausen M, Jonasson K, Keil T, еt al. Fish oil in infancy protects against food allergy in Iceland ― Results from a birth cohort study. Allergy. 2018;73(6):1305–1312. doi: 10.1111/all.13385
Venter C, Michaela PP, Katherine AS, et al. Incidence and timing of offspring asthma, wheeze, allergic rhinitis, atopic dermatitis, and food allergy and association with maternal history of asthma and allergic rhinitis. World Allergy Organ J. 2021;14(3):100526. doi: 10.1016/j.waojou.2021.100526
Treneva MS, Moonblit DB, Ivannikov NY, еt al. The prevalence of atopic dermatitis and reactions to food in Moscow children aged 2 years. Pediatrics. 2014;93(3):11–13. (In Russ).
Ziyab AH. Prevalence of food allergy among schoolchildren in Kuwait and its association with the coexistence and severity of asthma, rhinitis, and eczema: A cross-sectional study. World Allergy Organization J. 2019;12(4):100024. doi: 10.1016/j.waojou.2019.100024
Park M, Kim D, Ahn K, еt al. Prevalence of immediate-type food allergy in early childhood in seoul. Allergy Asthma Immunol Res. 2014;6(2):131–136. doi: 10.4168/aair.2014.6.2.131
Wang XY, Zhuang Y, Ma TT, еt al. Prevalence of self-reported food allergy in six regions of inner Mongolia, Northern China: a population-based survey. Med Sci Monitor. 2018;24:1902–1911. doi: 10.12659/MSM.908365
Sha L, Shao M, Liu C, еt al. A cross-sectional study of the prevalence of food allergies among children younger than ages 14 years in a Beijing urban region. Allergy Asthma Proc. 2019;40(1):e1–e7. doi: 10.2500/aap.2019.40.4193
Sasaki M, Kopli JJ, Dharmage SC, еt al. Prevalence of clinic-defined food allergy in early adolescence: the SchoolNuts study. J Allergy Clin Immunol. 2018;141(1):391–398.e4. doi: 10.1016/j.jaci.2017.05.041
Le TK, Nguyen HN, Vu TL, еt al. A cross-sectional, population-based study on the prevalence of food allergies among children in two different socio-economic regions of Vietnam. Pediatr Allergy Immunol. 2019;30(3):348–355. doi: 10.1111/pai.13022
Kaya A, Erkoçoğlu M, Civelek E, еt al. Prevalence of confirmed IgE-mediated food allergy among adolescents in Turkey. Pediatr Allergy Immunol. 2013;24(5):456–462. doi: 10.1111/pai.12097
Kim M, Lee JY, Jeon H, еt al. Prevalence of immediate-type food allergy in Korean schoolchildren in 2015: a nationwide, population-based study. Allergy Asthma Immunol Res. 2017;9(5):410–416. doi: 10.4168/aair.2017.9.5.410
Wu TC, Tsai TC, Huang CF, еt al. Prevalence of food allergy in Taiwan: a questionnaire-based survey. Int Med J. 2012;42(12): 1310–1315. doi: 10.1111/j.1445-5994.2012.02820.x
Hoyos-Bachiloglu R, Ivanovic-Zuvic D, Álvarez J, еt al. Prevalence of parent-reported immediate hypersensitivity food allergy in Chilean school-aged children. Allergol Immunopathol. 2014;42(6):527–532. doi: 10.1016/j.aller.2013.09.006
Basera W, Botha M, Gray CL, еt al. The South African food sensitisation and food allergy population-based study of IgE-mediated food allergy: validity, safety, and acceptability. Ann Allergy Asthma Immunol. 2015;115(2):113–119. doi: 10.1016/j.anai.2015.06.003
Li J, Ogorodova LM, Mahesh PA, еt al. Comparative study of food allergies in children from China, India and Russia: the EuroPrevall-INCO surveys. J Allergy Clin Immunol Pract. 2019; 8(4):1349–1358.e16. doi: 10.1016/j.jaip.2019.11.042
Botha M, Basera W, Facey-Thomas HE, еt al. Rural and urban food allergy prevalence from the South African food allergy study (Saffa). J Allergy Clin Immunol. 2018;43(2):662–668.e2. doi: 10.1016/j.jaci.2018.07.023
Bulatova EM, Boytsova EA, Shabalov AM. The prevalence of food intolerance and food allergy in children St. Petersburg. Pediatrics. 2014;93(3):14–19. (In Russ).
Fedorova OS. Prevalence of food allergy in children in the global focus of opisthorchiasis. Bulletin Siberian Med. 2010;9(5):102–107. (In Russ). doi: 10.20538/1682-0363-2010-5-102-107
Simon D, Cianferoni A, Spergel JM, et al. Eosinophilic esophagitis is characterized by a non-IgE-mediated food hypersensitivity. Allergy. 2016;71(5):611–620. doi: 10.1111/all.12846
Agache I, Akdis CA, Chivato T, et al. EAACI white paper on research, innovation and quality care. European Academy of Allergy & Clinical Immunology; 2019.
Gupta RS, Warren CM, Smith BM, еt al. Prevalence and severity of food allergies among US adults. JAMA Network Open. 2019; 2(1):e185630. doi: 10.1001/jamanetworkopen.2018.5630
Revyakina VA, Gamaleeva AV. Prevention of food allergies in children at risk of developing atopy. Attending Physician. 2006;(1):15–21.
Henzgen M, Vieths S, Rees I, et al. Nahrungsmittelallergien durch immunologische Kreuzreaktionen. Allergologie. 2005;28(5):177–190. doi: 10.5414/ALP28177
Gaspar-Margues J, Carreiro- Martins P, Papoila AL, еt al. Food allergy and anaphylaxis in infants and preschool age children. Clinical Pediatrics (Phila). 2014;53(7):652–657. doi: 10.1177/0009922814527502
Leung AS, Wong GW, Tang ML. Food allergy in the developing world. J Allergy Clin Immunol. 2018;141(1):76–78. doi: 10.1016/j.jaci.2017.11.008
Baranov AA, Namazova-Baranova LS, Haitian MR, еt al. Food allergies in children. Methodical leadership. Moscow: Pediatr; 2021. 160 р. (In Russ).
Makarova SG, Namazova-Baranova LS, Vishneva EA, et al. Topical issues of food allergy diagnosis in pediatric practice. Bulletin Russ Academy Med Sci. 2015;(1):41–46. (In Russ).
Kanchan К, Clay S, Irizar H, еt al. Current insights into the genetics of food allergy. J Allergy Clin Immunol. 2021;147(1):15–28. doi: 10.1016/j.jaci.2020.10.039
Marrs T, Bruce KD, Logan K. Is there an association between microbial exposure and food allergy? A systematic review. Pediatr Allergy Immunol. 2013;24(4):311–320.e8. doi: 10.1111/pai.12064.
Qi C, Zhou J, Tu H, еt al. Lactation-dependent vertical transmission of natural probiotics from the mother to the infant gut through breast milk. Food Funct. 2022;13(1):304–315. doi: 10.1039/d1fo03131g
Dunlop JH, Keet CA. Epidemiology of food allergy. Immunol Allergy Clin North Am. 2018;38(1):13–25. doi: 10.1016/j.iac.2017.09.002
Hu Y, Chen Y, Liu S, еt al. Breastfeeding duration modified the effects of neonatal and familial risk factors on childhood asthma and allergy: a population-based study. Respir Res. 2021;22(1):41. doi: 10.1186/s12931-021-01644-9
WHO recommendations on postnatal care of the mother and newborn. Geneva: World Health Organization; 2014. Available from: https://www.who.int/mater nal_child_adolescent/documents/postnatal-care-recommendations/en/. Accessed: 15.04.2022.
Owora AH, Zhang Y. Childhood wheeze trajectory-specifc risk factors: a systematic review and meta-analysis. Pediatr Allergy Immunol. 2020;32(1):34–50. doi: 10.1111/pai.13313
Heine RG. Preventing atopy and allergic disease. Nestle Nutr Inst Workshop Ser. 2014;78:141–153. doi: 10.1159/000354954
Gray LE, Ponsonby AL, Collier F, et al. Deserters on the atopic march: risk factors, immune profle and clinical outcomes of food sensitized-tolerant infants. Allergy. 2020;75(6):1404–1413. doi: 10.1111/all.14159
Supplementary files
Supplementary Files
Action