Grass pollen allergy: a disease-modifying sublingual allergen-specific immunotherapy with the SQ timothy grass extract tablet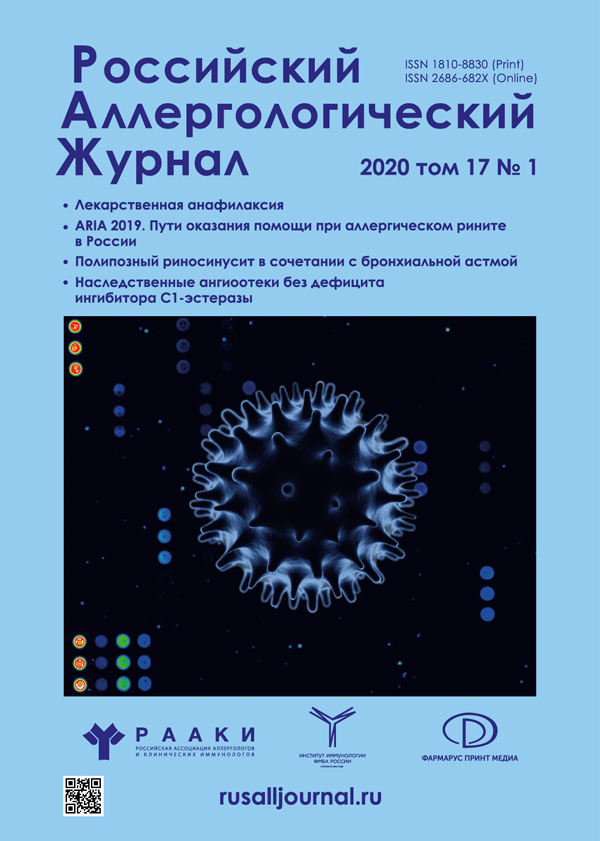 Authors: Litovkina A.O.1, Smolnikov E.V.1, Elisyutina O.G.1, Fedenko E.S.1
Affiliations:

NRC Institute of Immunology FMBA of Russia

Issue: Vol 17, No 1 (2020)
Pages: 85-92
Section: Articles
Abstract
Introduction. Nowadays pollen allergy (hay fever) is one of the most common allergic diseases. Due to the ubiquity of grass species and the long pollination season, grass pollen allergy is an important social and economic problem. Summary. In this review we discuss the clinical data on the use of the SQ timothy grass sublingual immunotherapy (SLIT) tablet for the treatment of allergic diseases caused by grass pollen. The data of various studies demonstrate a significant long-term clinical effect after 1 course of SLIT with this allergen. Conclusions. Based on the studies, the SQ grass SLIT-tablet is established to be a disease-modifying therapy.

Alla Olegovna Litovkina
NRC Institute of Immunology FMBA of Russia
Eugenii Valentinovich Smolnikov
NRC Institute of Immunology FMBA of Russia
Olga Gurievna Elisyutina
NRC Institute of Immunology FMBA of Russia
Elena Sergeevna Fedenko
NRC Institute of Immunology FMBA of Russia
Costanza R, Diamond J. Human History as a Natural Science. BioScience. 1999;49(10):828. doi: 10.2307/1313576.
Badgley C, Perfecto I. Can organic agriculture feed the world? Renewable Agriculture and Food Systems. Cambridge University Press. 2007;22(2):80-86. DOI: 10.1017/ s1742170507001986.
Kilby P The Green Revolution Narratives of Politics, Technology and Gender. - 1. Abingdon: Routledge. 2019:78. doi: 10.4324/9780429200823-2.
Puc M. Characterization of pollen allergens. Ann Agric Environ Med. 2003;10:143-149.
Matricardi PM, Kleine-Tebbe J, Hoffmann HJ, Valenta R, Hilger C, Hofmaier S et al. EAACI Molecular Allergology User's Guide. Pediatr Allergy Immunol. 2016;23:1-250. doi: 10.1111/pai.12563.
Cuesta-Herranz J, Lazaro M, Figueredo E, Igea JM, Umpierrez A, De-Las-Heras M. Allergy to plant-derived fresh foods in a birch- and ragweed-free area. Clin Exp Allergy. 2000;30(10):1411-1416. doi: 10.1046/j.1365-2222.2000.00868.x.
Elisyutina O, Erina O, Fedenko E, Litovkina A, Valenta R, Lupinek C, Khaitov M. Molecular profiling of allergic sensitizations in a Moscow pediatric casecontrol population. Allergy 2018;73(105):193.
Ezeamuzie CI, Thomson MS, Al-Ali S, Dowaisan A, Khan M, Hijazi Z. Asthma in the desert: spectrum of the sensitizing aeroallergens. Allergy. 2000;55(2):157-162. doi: 10.1034/j.1398-9995.2000.00375.x.
Ezeamuzie CI, Al-Mousawi M, Dashti H, Al-Bashir A, Al-Hage M, Al-Ali S. Prevalence of allergic sensitization to inhalant allergens among blood donors in Kuwait - a desert country. Allergy. 1997;52(12):1194-1200. DOI: 10.1111/ j.1398-9995.1997.tb02523.x.
Dowaisan A, Al-Ali S, Khan M, Hijazi Z, Thomson MS, Ezeamuzie IC. Sensitization to aeroallergens among patients with allergic rhinitis in a desert environment. Annals of Allergy, Asthma & Immunology. 2000;84(4):433-438. DOI: 10.1016/ s1081-1206(10)62277-6.
Kwaasi AA, Parhar VRS, Al-Mohanna FAA, Harfi HA, Collison KS, Al-Sedairy ST Aeroallergens and viable microbes in sandstorm dust. Allergy. 1998;53(3):255-265. doi: 10.1111/j.1398-9995.1998.tb03885.x.
Onyemelukwe GC, Shakib F, Saeed TK, Salloum ZA, Lawande RV, Obineche E. RAST-specific IgE in Nigerian asthmatic patients. Ann Allergy. 1986;56(2):167-170.
Neira M, Pruss-Ustun A. Preventing disease through healthy environments: A global assessment of the environmental burden of disease. Toxicology Letters. 2016;259:1. DOI: 10.1016/j. toxlet.2016.07.028.
Savi E, Peveri S, Senna G, Passalacqua G. Causes of SLIT discontinuation and strategies to improve the adherence: a pragmatic approach. Allergy. 2013;68(9):1193-1195. doi: 10.1111/all.12198.
Dahl R, Roberts G, de Blic J, Canonica GW, Kleine-Tebbe J, Nolte H, Nelson HS. SQ grass sublingual allergy immunotherapy tablet for disease-modifying treatment of grass pollen allergic rhinoconjunctivitis. Allergy and Asthma Proceedings. 2016;37(2):92-104. doi: 10.2500/aap.2016.37.3937.
Johansen N, Weber RW, Ipsen H, Barber D, Broge L, Hejl C. Extensive IgE Cross-Reactivity towards the Pooideae Grasses Substantiated for a Large Number of Grass-Pollen-Sensitized Subjects. International Archives of Allergy and Immunology 2009;150(4):325-334. doi: 10.1159/000226233.
Hejl C, Ipsen H, Larsen J, Johansen N. Phleum pratense alone is sufficient for allergen specific immunotherapy against allergy to Pooideae grass pollens. Clin Exp Allergy. 2009;39(5):752-759. doi: 10.1111/j.1365-2222.2008.03195.x.
Nelson H, Blaiss M, Nolte H, Wurtz S0, Andersen JS, Durham SR. Efficacy and safety of the SQ-standardized grass allergy immunotherapy tablet in mono- and polysensitized subjects. Allergy. 2013;68(2):252-255. doi: 10.1111/all.12074.
Durham SR, Emminger W, Kapp A, de Monchy JG, Rak S, Scadding GK, Wurtzen PA, Andersen JS, Tholstrup B, Riis B, Dahl R. SQ-standardized sublingual grass immunotherapy: confirmation of disease modification 2 years after 3 years of treatment in a randomized trial. J Allergy Clin Immunol. 2012;129(3):717-725.e5. doi: 10.1016/j.jaci.2011.12.973.
Maloney J, Durham S, Skoner D, Dahl R, Bufe A, Bernstein D, Nolte H. Safety of sublingual immunotherapy Timothy grass tablet in subjects with allergic rhinitis with or without conjunctivitis and history of asthma. Allergy. 2015;70(3):302-309. doi: 10.1111/all.12560.