Surprises of food anaphylaxis: a clinical case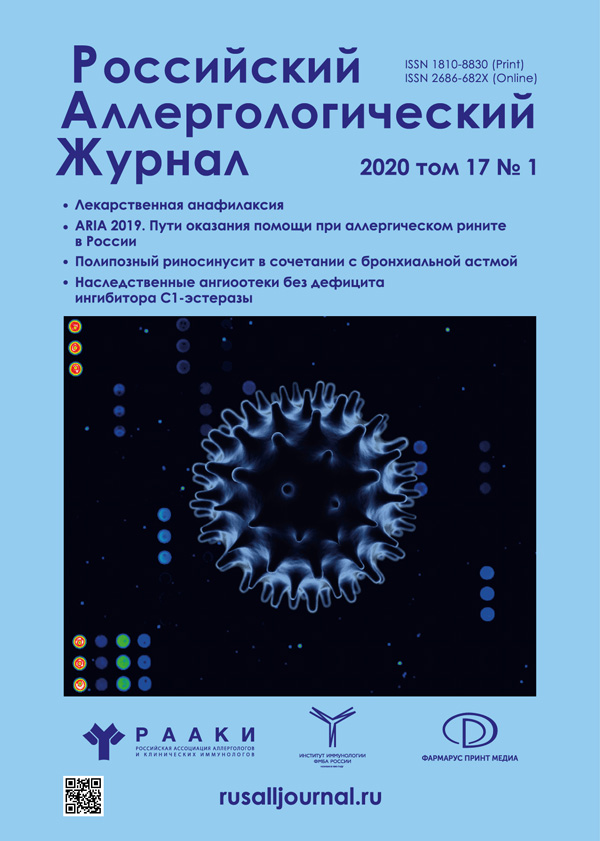 Authors: Lepeshkova T.S 1,2, Beltyukov EK 1
Affiliations:

Ural State Medical University
«Children's hospital № 13»

Issue: Vol 16, No 4 (2019)
Pages: 42-47
Section: Articles
Abstract
Anaphylaxis is a severe systemic hypersensitivity reaction that is characterized by rapid onset and life-threatening respiratory and blood circulation problems. We present to your attention a clinical case of the polyvalent allergy development in a three-year-old child with repeated episodes of food anaphylaxis. The child was born and he constantly lives in central Russia, but has a profile of sensitization unusual for a Ural resident. The clinical case is described in detail in order to demonstrate the stages of a child's life, on which sensitization was likely to be first formed, and later the manifestation of clinical symptoms arose. Determination of the sensitization profile by means of the component allergy diagnostics methods (ISAC, ImmunoCAP) showed that the boy is sensitized to a large number of food allergens, including milk and egg proteins; storage proteins for peanuts, soy, hazelnuts and sesame; proteins related to the nsLTP-proteins. The obtained results made it possible to recognize and differentiate true IgE-mediated sensitization, to propose the optimal therapeutic tactics and to select an elimination diet. Application of molecular allergy diagnostic methods is useful in clinical practice in case of patients with multivalent sensitization and a history of severe allergic reactions.
Keywords
Full Text

About the authors
Ural State Medical University; «Children's hospital № 13»
Email: levlpa@mail.ru
Ekaterinburg, 620028, Russian Federation

Ural State Medical University
Ekaterinburg, 620028, Russian Federation

References
Food Allergy and Anaphylaxis Guidelines. Translating knowledge into clinical practice. EAACI. 2014;69(8):1008-1025. doi: 10.1111/all.12429.
Simons FE, Sampson HA. Anaphylaxis epidemic: factor fiction? J Allergy Clin Immunol. 2008;122(6):1166-1168. doi: 10.1016/j.-jaci.2008.10.019.
L0vik M, Namork E, Faste C, Egaas E. The Norwegian National Reporting System and Register of Severe Allergic Reactions to Food. Norsk Epidemiologi. 2004;14:155-160. doi: 10.5324/nje.v14i2.238.
Sicherer SH, Sampson HA. Food allergy. J Allergy Clin Immunol. 2010;125(2 Suppl 2):116-125. doi: 10.1016/j.-ja-ci.2009.08.028.
Järvinen KM, Sicherer SH, Sampson HA, Nowak-Wegrzyn A. Use of multiple doses of epinephrine in food-induced anaphylaxis in children. J Allergy Clin Immunol. 2008;122:133-138. doi: 10.1016/j.jaci.2008.04.031.
Simons FER, Ebisawa M, Sanchez-Borges M et al. 2015 Update of the evidence base: World Allergy Organization anaphylaxis guidelines. World Allergy Organ J. 2015;8(1):32. doi: 10.1186/s40413-015-0080-1.
Sampson HA, Munoz-Furlong A, Campbell RL et al. Second symposium on the definition and management of anaphylaxis: summary report - Second National Institute of Allergy and Infectious Disease/Food Allergy and Anaphylaxis Network symposium. J Allergy Clin Immunol. 2006;117:391-397. doi: 10.1016/j.-jaci.2005.12.1303.
Jerschow E, Lin RY, Scaperotti MM et al. Fatal anaphylaxis in the United States, 1999-2010: Temporal patterns and demographic associations. J Allergy Clin Immunol. 2014; 134:1318-1328.e7. doi: 10.1016/j.jaci.2014.08.018.
Khodoun MV, Strait R, Armstrong L et al. Identification of markers that distinguish IgE from IgG mediated anaphylaxis. Proc Natl Acad Sci USA. 2011;108:12411248. DOI: 10.1073/ pnas.1105695108.
Simons FER, Ardusso LRF, Bilo MB et al. World Allergy Organization Guidelines for the assessment and management of anaphylaxis World Allergy Organ J. 2011;2:13-37. doi: 10.1097/WOX.0b013e318211496c.
Muraro A, Roberts G, Worm M et al. Anaphylaxis: guidelines from the European Academy of Allergy and Clinical Immunology. Allergy. 2014;69:1026-1045. doi: 10.1111/all.12437.
Пампура АН, Конюкова НГ Анафилаксия к пищевым продуктам у детей раннего возраста. Российский вестник перинатологии и педиатрии. 2011;5:76-84
Simons F, Peterson S, Black CD. Epinephrine dispensing patterns for an out of hospital population: a novel approach to studying the epidemiology of anaphylaxis. J Allergy Clin Immunol. 2002;110:647-651.
Pumphrey RS, Roberts IS. Postmortem findings after fatal anaphylactic reactions. J Clin Pathol. 2000;53:273-276. doi: 10.1136/jcp.53.4.273.
Варламов ЕЕ, Пампура АН. Значение клинико-лабораторного фенотипа прогнозирования течения аллергии к белкам коровьего молока. Вопросы современной педиатрии. 2013;12(6):19-22
Dalal I, Binson I, Levine A et al. The pattern of sesame sensitivity among infants and children. Pediat Allergy Immunol. 2003;14:312-316. doi: 10.1016/S0091-6749(03)80902-8.
Asero R, Mistrello G, Roncarolo D. Lipid transfer protein: a pan-allergen in plant-derived foods that is highly resistant to pepsin digestion. Int Arch Allergy Immunol. 2000;122(1):20-32.
Werfel T, Asero R, Ballmer-Weber BK, Beyer K, Enrique E, Knulst AC et al. Position paper of the EAACI: food allergy due to immunological cross-reactions with common inhalant allergens. Allergy. 2015;70:1079-1090. doi: 10.1111/all.12666.6.
Price A, Ramachandran S, Smith GP, Stevenson ML, Pomeranz MK, Cohen DE. Oral allergy syndrome (Pollen-food allergy syndrome). Dermatitis. 2015;26(2):78-88. DOI: 10.1097/ der.0000000000000087.