Clinical features of various phenotypes of atopic dermatitis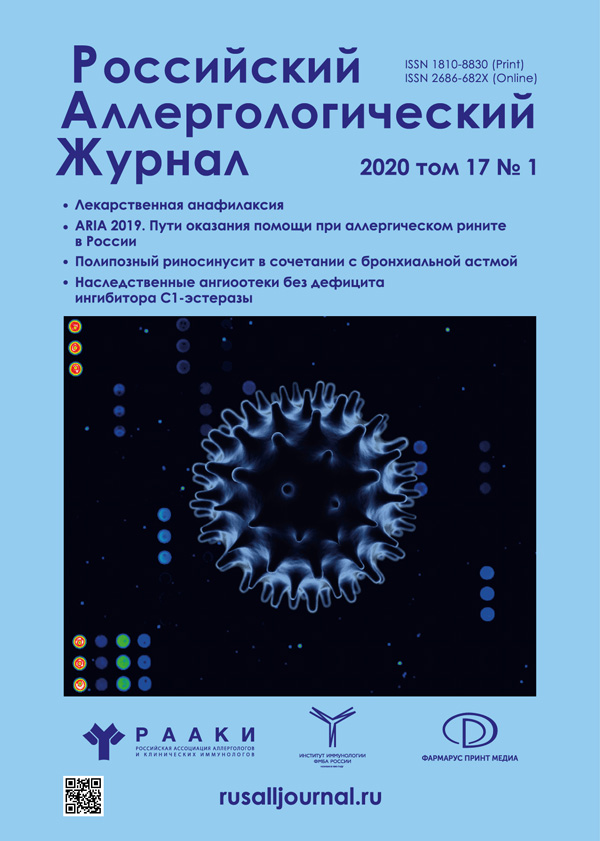 Abstract
Genetic predisposition, twophase immune response, T1 and T2 lymphocytes dysbalance, epidermal barrier dysfunction, trigger factors, antigens play an important role in the atopic dermatitis pathogenesis. Recently, genotypes, phenotypes of the disease, as well as the relationship of genetic factors, pathogenesis and clinical features of AD, which determine the phenotype of the disease, are actively studied. The purpose of this research was to evaluate the clinical features of different AD phenotypes. Materials and methods. The research was conducted as an open prospective study. 86 patients suffered from moderate and severe AD, including 25 children aged 2 to 18 years and 61 adults aged 19 to 54 years were involved. Patients in the skin allergy and immunopathology department of «The Institute of Immunology of the FMBA of Russia» in the period from 2012 to 2016 were observed. The followup period was at least 1 year. The inclusion criteria of this group were the ability to collect a full anamnesis, the allergological examination, assessment of the severity of the disease and the response to the therapy, the adequacy of the fulfilment of the doctor's recommendations by the patients, including compliance with elimination measures, diet, rational skin care, as well as the use of topical treatment. All patients received standard therapy according to Russian and international clinical guidelines. The severity of the disease was assessed on the basis of SCORAD and IGA scales, effectiveness of topical treatment and adverse events frequency. Results. The main criteria for determining of AD clinical phenotypes were established: severity of the disease (based on SCORAD, IGA); frequency and duration of exacerbations; age of onset of the disease; secondary skin infection; concomitant respiratory allergic diseases and sensitization to different groups of allergens; resistance to therapy. Recurrent course of AD and resistance to standard topical corticosteroids therapy were observed in 8 (32%) children and in 20 (32.7%) adults. The results of examination of representative sample of patients allowed to identify and characterize several AD phenotypes: isolated uncomplicated AD - in 15% of patients; AD complicated by secondary infection and the presence of sensitization to bacterial or fungal allergens - in 7% of patients; AD accompanied by the concomitant respiratory allergic diseases and the presence of sensitization to food and respiratory allergens - in 29% of patients; extremely severe AD, accompanied by secondary infection, respiratory allergic diseases and polyvalent sensitization, resistance to therapy - in 36% of patients. Conclusion. Identification of the clinical phenotype allows to determine the patients on the grounds of the clinical characteristics and AD features, which can be useful for understanding the etiopathogenesis of the disease in a particular patient and can be the basis for development of personalized approaches to the diagnosis and treatment of AD.
Keywords
Full Text

About the authors
NRCI Institute of Immunology FMBA of Russia
Email: el-olga@yandex.ru
Moscow, Russian Federation

NRCI Institute of Immunology FMBA of Russia
Moscow, Russian Federation

NRCI Institute of Immunology FMBA of Russia
Moscow, Russian Federation

NRCI Institute of Immunology FMBA of Russia
Moscow, Russian Federation

NRCI Institute of Immunology FMBA of Russia
Moscow, Russian Federation

Pirogov Russian National Research Medical University (RNRMU)
Moscow, Russian Federation

References
Asher MI, Montefort S, Bjorksten B, Lai CK, Strachan DP, Weiland SK et al. Worldwide time trends in the prevalence of symptoms of asthma, allergic rhinoconjunctivitis, and eczema in childhood: ISAAC Phases One and Three repeat multicountry cross-sectional surveys. Lancet. 2006;368:733-743.
Намазова-Баранова ЛС, Баранов АА, Кубанова АА, Ильина НИ, Курбачёва ОМ, Вишнёва ЕА и соавт. Атопический дерматит у детей: современные клинические рекомендации по диагностике и терапии. Вопросы современной педиатрии. 2016;15(3):279-294
Mortz CG, Andersen KE, Dellgren C, Barington T, Bindslev- Jensen C. Atopic dermatitis from adolescence to adulthood in the TOACS cohort: prevalence, persistence and comorbidities. Allergy. 2015;70(7):836-845. DOI: 10.1111/ all.12619.
Arkwright PD, Motala C, Subramanian H, Spergel J, Schneider LC, Wollenberg A et al. Management of difficult-to treat atopic dermatitis. J Allergy Clin Immunol in practice. 2013;1(2):142-151. doi: 10.1016/j.jaip.2012.09.002.
Schneider L, Hanifin J, Boguniewicz M, Eichenfield, Spergel JM, Dakovic R et al. Study of the Atopic March: Development of Atopic Comorbidities. Pediatr Dermatol. 2016;33(4):388-398. doi: 10.1111/pde.12867.
Spergel JM. From atopic dermatitis to asthma: the atopic march. Ann Allergy Asthma Immunol. 2010;105(2):99-106; quiz 107-9, 117. doi: 10.1016/j.anai.2009.10.002.
Eller E, Kjaer HF, Hest A, Andersen KE, Bindslev-Jensen C. Food allergy and food sensitization in early childhood: results from the DARC cohort. Allergy. 2009;64(7):1023-1029. doi: 10.1111/j.1398-9995.2009.01952.x.
Pönyai G, Hidvegi B, Nemeth I, Sas A, Temesvari E, Karpati S. Contact and aeroallergens in adulthood atopic dermatitis. J Eur Acad Dermatol Venereol. 2008;22:1346-1355. doi: 10.1111/j.1468-3083.2008.02886.x.
Grice EA, Segre JA. The skin microbiome. Nat Rev Microbiol. 2011;9:244-253. doi: 10.1038/nrmicro2537.
Kobayashi T, Glatz M, Horiuchi K, Kawasaki H, Akiyama H, Kaplan DH et al. Dysbiosis and Staphylococcus aureus colonization drives inflammation in atopic dermatitis. Immunity. 2015;42:756-766. doi: 10.1016/j.immuni.2015.03.014.
Kabashima K. New concept of the pathogenesis of atopic dermatitis: Interplay among the barrier, allergy, and pruritus as a trinity. J Dermatol Sci. 2013;70(1):3-11. DOI: 10.1016/j. jdermsci.2013.02.001.
Bieber Th. Atopic dermatitis 2.0: from the clinical phenotype to the molecular taxonomy and stratified medicine. Allergy. 2012;67:1475-1482. doi: 10.1111/all.12049. Epub 2012 Oct 29.
Cabanillas B, Brehler AC, Novak N. Atopic dermatitis phenotypes and the need for personalized medicine. Curr Opin Allergy Clin Immunol. 2017;17(4):309-315. DOI: 10.1097/ ACI.0000000000000376.
Suarez-Farinas M, Dhingra N, Gittler J, Shemer A, Cardinale I, de Guzman Strong C et al. Intrinsic atopic dermatitis shows similar TH2 and higher TH17 immune activation compared with extrinsic atopic dermatitis. J Allergy Clin Immunol. 2013;132:361-370. doi: 10.1016/j.jaci.2013.04.046.
Thijs JL, de Bruin-Weller MS, Hijnen D. Current and Future Biomarkers in Atopic Dermatitis. Immunol. Allergy Clin North Am. 2017;37(1):51-61. doi: 10.1016/j.iac.2016.08.008.
Svenningsen S, Nair P Asthma Endotypes and an Overview of Targeted Therapy for Asthma Front Med (Lausanne). 2017;26(4):158. doi: 10.3389/fmed.2017.00158. eCollection 2017.
Tomassen P, Vandeplas G, Van Zele T, Cardell LO, Arebro J, Olze H et al. Inflammatory endotypes of chronic rhinosinusitis based on cluster analysis of biomarkers. J Allergy Clin Immunol. 2016;137(5):1449-1456.e4. DOI: 10.1016/j. jaci.2015.12.1324.
Eichenfield LF, Tom WL, Chamlin SL, Feldman SR, Hanifin JM, Simpson EL et al. Guidelines of care for the management of atopic dermatitis: section 1. Diagnosis and assessment of atopic dermatitis. J Am Acad Dermatol. 2014;70(2):338-351. doi: 10.1016/j.jaad.2013.10.010.
Muraro A, Halken S, Arshad SH, Beyer K, Dubois AE et al. EAACI food allergy and anaphylaxis guidelines. Primary prevention of food allergy. Allergy. 2014;69(5):590-601. doi: 10.1111/all.12398.
Kantor R, Kim A, Thyssen JP, Silverberg JI. Association of atopic dermatitis with smoking: a systematic review and meta-analysis. J Am Acad Dermatol. 2016;75(6):1119-1125.e1. doi: 10.1016/j.jaad.2016.07.017.
Kathuria P, Silverberg JI. Association of pollution and climate with atopic eczema in US children. Pediatr Allergy Immunol. 2016;27(5):478-85. doi: 10.1111/pai.12543.
Morgenstern V, Zutavern A, Cyrys J, Brockow I, Koletzko S et al. Atopic diseases, allergic sensitization, and exposure to traf c-related air pollution in children. Am J Respir Crit Care Med. 200815;177(12):1331-1337. doi: 10.1164/rc-cm.200701-036OC.
Hidaka T, Ogawa E, Kobayashi EH, Suzuki T, Funayama R et al. The aryl hydrocarbon receptor AhR links atopic dermatitis and air pollution via induction of the neurotrophic factor artemin. Nat Immunol. 2017;18(1):64-73. doi: 10.1038/ni.3614.
Ricci G, Bendandi B, Aiazzi R, Patrizi A, Masi M. Three years of Italian experience of an educational program for parents of young children affected by atopic dermatitis: improving knowledge produces lower anxiety levels in parents of children with atopic dermatitis. Pediatr Dermatol. 2009;26(1):1-5. doi: 10.1111/j.1525-1470.2008.00813.x.
Staab D, Diepgen TL, Fartasch M, Kupfer J, Lob-Corzilius T et al. Age related, structured educational programmes for the management of atopic dermatitis in children and adolescents: multicentre, randomised controlled trial. BMJ. 2006;332(7547):933-938. doi: 10.1136/bmj.332.7547.933.
Lambert J, Bostoen J, Geusens B, Bourgois J, Boone J et al. A novel multidisciplinary educational programme for patients with chronic skin diseases: Ghent pilot project and first results. Arch Dermatol Res. 2011;303(1):57-63. DOI: 10.1007/ s00403-010-1082-z.
Kupfer J, Gieler U, Diepgen TL, Fartasch M, Kupfer J et al. Structured education program improves the coping with atopic dermatitis in children and their parents-a multicenter, randomized controlled trial. J Psychosom Res. 2010;68(4):353-358. doi: 10.1016/j.jpsychores.2009.04.014.
Werfel T, Allam jP, Biedermann T, Eyerich K, Gilles S et al. Cellular and molecular immunologic mechanisms in patients with atopic dermatitis. J Allergy Clin Immunol. 2016;138(2):336-349. doi: 10.1016/j.jaci.2016.06.010.
Wollenberg A, Barbarot S, Bieber T, Christen-Zaech S, Deleuran M et al. Consensus-based European guidelines for treatment of atopic eczema (atopic dermatitis) in adults and children: part I. J Eur Acad Dermatol Venereol. 2018;32(6):850-878. doi: 10.1111/jdv.14888.
Patel RR, Vander Straten MR, Korman NJ. The safety and efficacy of tacrolimus therapy in patients younger than 2 years with atopic dermatitis. Arch Dermatol. 2003;139:1184-1186. doi: 10.1001/archderm.139.9.1184.
Palmer CN, Irvine AD, Terron-Kwiatkowski A, Zhao Y, Liao H et al. Common loss-of-function variants of the epidermal barrier protein filaggrin are a major predisposing factor for atopic dermatitis. Nat Genet. 2006;38(4):441-446. doi: 10.1038/ng1767.
McGirt LY, Beck LA. Innate immune defects in atopic dermatitis. J Allergy Clin Immunol. 2006;118:202-208. doi: 10.1016/j.jaci.2006.04.033.
Bao L, Zhang H, Chan LS. The involvement of the JAKSTAT signaling pathway in chronic inflammatory skin disease atopic dermatitis. JAKSTAT. 2013;2(3):e24137. DOI: 10.4161/ jkst.24137.
Gandhi NA, Pirozzi G, Graham КМ. Commonality of the IL-4/ IL-13 pathway in atopic diseases. Expert Rev Clin Immunol. 2017; 13(5):425-437. doi: 10.1080/1744666X.2017.1298443.