Etiological diagnosis of acute drug contact allergic reaction occurred during ophthalmic surgery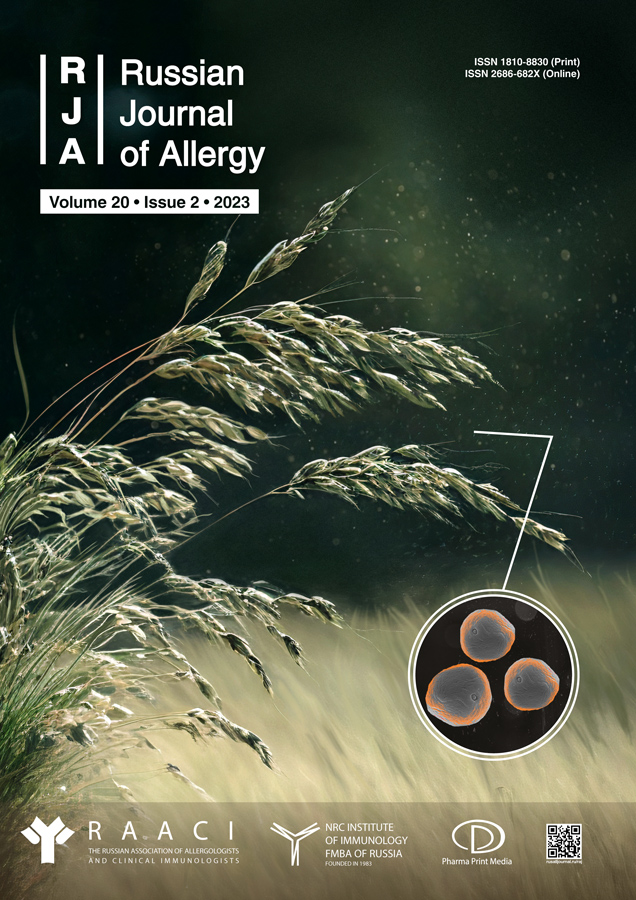 Authors: Vorzheva I.I.1, Barachtenko I.V.2
Affiliations:

Irkutsk State Medical Academy of Postgraduate Education ― Russian Medical Academy of Continuing Professional Education
Irkutsk City Clinical Hospital № 10

Issue: Vol 20, No 2 (2023)
Pages: 210-217
Section: Case reports
ID: 7527
Cite item
Full Text

Open Access

Access granted

Subscription or Fee Access
Abstract
Drug allergy is one of the most common problems in clinical medicine including ophthalmology. The frequency and severity of drug-induced eye lesions continuously increase as the arsenal of active drugs increases.
Among the common causes of eye contact allergy, along with traditionally noted antibiotics and anesthetics, an expanded list of the most remarkable drug allergens, including mydriatics (tropicamide and phenylephrine), beta blockers, dorzolamide, latanoprost, and topical corticosteroids, have been registered recently. In addition to active ingredients, ophthalmic preparations contain various auxiliary substances, such as benzalkonium chloride, chlorhexidine, and thiomersal, which possess sensitizing properties.
This study presents a clinical case of a patient suffering from cataracts who developed an acute local allergic reaction during the introductory period of lens replacement surgery, resulting in the cancelation of surgical intervention. In addition, several drugs are used simultaneously, each of which can cause allergies and excipients in their composition. Approaches to specific diagnostics including the choice of skin tests are described depending on the clinical phenotype of drug allergy. After determining the cause of allergy, recommendations are given to the patient and ophthalmologist for further treatment, enabling the subsequent performance of the operation without complications.
Full Text

About the authors
Irkutsk State Medical Academy of Postgraduate Education ― Russian Medical Academy of Continuing Professional Education
Author for correspondence.
Email: vorzheva.irina@gmail.com
ORCID iD: 0000-0002-9405-854X
SPIN-code: 4872-0998

MD, Cand. Sci. (Med.), Associate Professor
Russian Federation, Yubileinyi-100, 664079 Irkutsk
Irkutsk City Clinical Hospital № 10
Email: irina.barachtenko2011@gmail.com
ORCID iD: 0009-0008-7585-8948

Head of the Department of Allergology and Immunology
Russian Federation, Irkutsk
References
Muraro A, Lemanske RF, Castells M, et al. Precision medicine in allergic disease: Food allergy, drug allergy, and anaphylaxis--PRACTALL document of the European Academy of Allergy and Clinical Immunology and the American Academy of Allergy, Asthma and Immunology. Allergy. 2017;72(7):1006–1021. doi: 10.1111/all.13132
Yani EV, Pozdnyakova VV, Seliverstova KE. New possibilities of drug therapy ophthalmoallergosis. Russ Ophthalmol J. 2017;10(3): 108–112. (In Russ). doi: 10.21516/2072-0076-2017-10-3-108-112
Terekhova EP. Allergic conjunctivitis. In: Nenasheva N.M., Chernyak B.A., editors. Clinical Allergology. Guidelines for practitioners. Moscow: GEOTAR-Media; 2022. P. 143–181. (In Russ).
Ahlström MG, Skov L, Heegaard S, et al. Topical eye medications causing allergic contact dermatitis. Contact Dermatitis. 2023; 88(4):294–299. doi: 10.1111/cod.14245
Gilissen L, De Decker L, Hulshagen T, Goossens A. Allergic contact dermatitis caused by topical ophthalmic medications: Keep an eye on it! Contact Dermatitis. 2019;80(5):291–297. doi: 10.1111/cod.13209
Mughal AA, Kalavala M. Contact dermatitis to ophthalmic solutions. Clin Exp Dermatol. 2012;37(6):593–597; quiz 597–598. doi: 10.1111/j.1365-2230.2012.04398.x
Botelho C, Rodrigues J, Castel Branco MG. Allergic contact blepheroconjunctivitis with phenylephrine eyedrops: The relevance of late readings of intradermal tests. Allergol Immunopathol (Madr). 2007;35(4):157–158. doi: 10.1157/13108227
Sebekina OV, Peredkova EV, Vorzheva II. Modern methods of diagnosing allergic diseases. In: Nenasheva N.M., Chernyak B.A., editors. Clinical Allergology. Guidelines for practitioners. Moscow: GEOTAR-Media; 2022. P. 16–113. (In Russ).
Ilyina NI, Latysheva TV, Myasnikova TN, Romanova TS. Guidelines for the diagnosis of drug allergies. Moscow: State Scientific Center Institute of Immunology; 2022. 33 р. (In Russ).
Barbaud A, Castagna J, Soria A. Skin tests in the work-up of cutaneous adverse drug reactions: A review and update. Contact Dermatitis. 2022;86(5):344–356. doi: 10.1111/cod.14063
Vu B, Wong A, Marcus-Freeman S. Allergic reaction to phenylephrine. Fed Pract. 2017;34(2):41–44.
Kato M, Nitta K, Kano Y, et al. Case of phenylephrine hydrochloride-induced periorbital contact dermatitis with fulminant keratoconjunctivitis causing pseudomembrane formation. J Dermatol. 2018;45(2):e27–e28. doi: 10.1111/1346-8138.14077
Veramme J, de Zaeytijd J, Lambert J, Lapeere H. Contact dermatitis in patients undergoing serial intravitreal injections. Contact Dermatitis. 2016;74(1):18–21. doi: 10.1111/cod.12478
Rojas-Hijazo B, Garcés MM, Segura N, et al. Anaphylactic reaction after intake of phenylephrine and tolerance of other sympathomimetic drugs. J Investig Allergol Clin Immunol. 2007;17(6):421–422.
Abad RL, Sotés PI, Murga MC, et al. Fixed drug eruption induced by phenylephrine: A case of polysensitivity. J Investig Allergol Clin Immunol. 2009;19(4):322–323.
Supplementary files
Supplementary Files
Action
1.
Fig. 1. Prick test results with possible causal drugs. Late reaction score at 24 hours. A positive result with the drug Midrimax (tropicamide+phenylephrine) ― a papule with a diameter of 15 mm. Negative result with the drug Inocaine (oxybuprocaine). A positive result with the drug Irifrin (phenylephrine) ― a papule with a diameter of 12 mm. (Photo from the authors' archive).