Delayed allergic reaction to eating lemon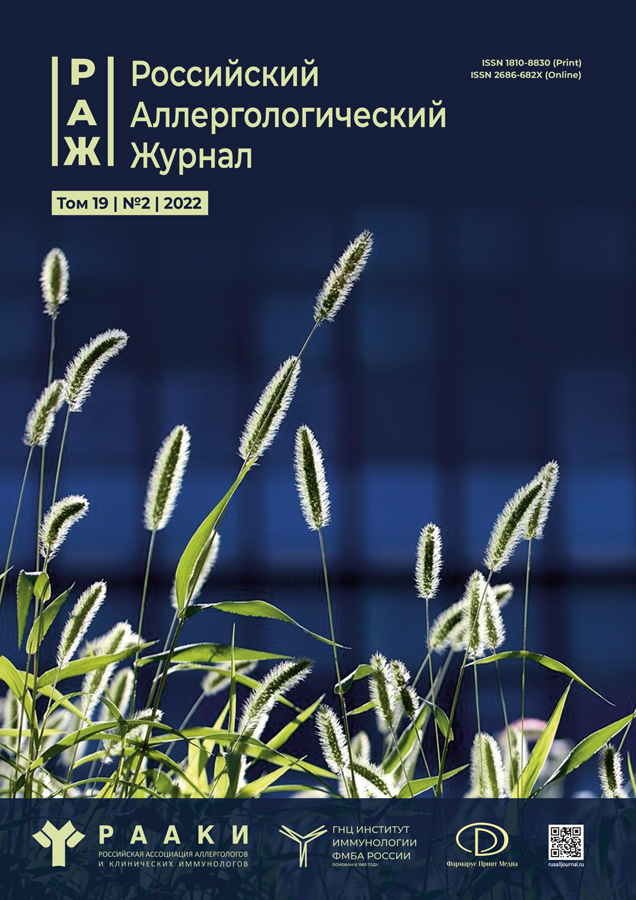 Cite item
Full Text

Open Access

Access granted

Subscription or Fee Access
Abstract
Lemon allergy can be caused by both IgE-mediated and IgG-dependent mechanisms, or by a combination of the two. Allergic reactions to lemon are clinically evidenced by a variety of symptoms, including digestive system disorders (cheilitis, eosinophilic esophagitis, gastroenteritis, colitis, and irritable bowel syndrome). Contact dermatitis is the only condition included among delayed allergic reactions to components of the fruit or lemon essential oils. Data on reactions to lemon and its components from the gastrointestinal tract are scarce in modern publications, and most of what is available are either a description of a single case or an analysis of the frequency of sensitization to lemon among groups of patients with allergic pathology of the digestive system.
For the first time, a clinical instance of a simultaneous acute and delayed allergic reaction to eating a lemon, manifesting as an oral allergy condition and gastrointestinal symptoms, in a 31-year-old woman, was described. The patient was diagnosed with polysensitization to various food, household, and pollen antigens, and cross-allergy to fruits of the Rutaceae family (orange, tangerine, and grapefruit). She was diagnosed with allergy and sensitivity to the allergens in the lemon pulp after undergoing a prick + prick test and an enzyme-linked immunosorbent assay. It has been found that lemon pulp contains one or more thermolabile antigens that cause both acute and delayed allergic symptoms. It has also been demonstrated that thermolabile allergens and/or particular antigenic determinants can cause delayed allergy reactions, despite the action of proteolytic enzymes of the gastrointestinal tract and hydrochloric acid. To confirm these properties of allergenic epitopes, additional research, not limited to research on thermal effects alone, but also treatment with hydrochloric acid and enzymes, is highly recommended.
Thus, for the first time, we have demonstrated that allergic reactions to lemon, with the accompanying gastrointestinal manifestations, are not limited to IgE-dependent or cell-mediated types of hypersensitivity. Clarification of specific mechanisms of allergy development and characteristics of epitopes of molecules that cause allergic reactions necessitates comprehensive diagnostics research that includes both laboratory methods (including molecular-based methods) and conducting provocative tests.
Additional studies are required to determine the sensitivity of protein molecules of allergens to the effects of various factors in the gastrointestinal tract. This will enable us to further determine the resistance of individual antigenic epitopes of lemon allergens to these factors.
Keywords
Full Text

About the authors
M. Gorky Donetsk National Medical University
Author for correspondence.
Email: aspr@mail.ru
ORCID iD: 0000-0003-1409-504X
SPIN-code: 3914-7807

MD, Dr. Sci. (Med.), Professor
Donetsk People's Republic, Donetsk
M. Gorky Donetsk National Medical University
Email: alikora@ukr.net
ORCID iD: 0000-0002-2909-0682
SPIN-code: 6957-5817

MD
Donetsk People's Republic, Donetsk
References
Sidorovich OI, Luss LV. Food allergy: principles of diagnosis and treatment. Medical Advice. 2016;(16):141–147. (In Russ). doi: 10.21518/2079-701X-2016-16-141-147
Smolkin YS, Masalsky SS, Cheburkin AA, Gorlanov IA. The role of food allergy in the development of atopic dermatitis. Positional article of the Association of Pediatric Allergologists and Immunologists of Russia. Pediatrics. Consilium Medicum. 2020;(1):26–35. (In Russ). doi: 10.26442/26586630.2020.1.200019
Prilutskiy AS, Lygina YA. Allergy to lemon: literature review. Allergol Immunol Pediatrics. 2019;(4):4–14. (In Russ). doi: 10.24411/2500-1175-2019-00017
Pampura AN, Varlamov EE, Konyukova NG. Food allergy in young children. Pediatrics. The journal named after G.N. Speransky. 2016;95(3):152–157. (In Russ).
Gromov DA, Borisova AV, Bakharev VV. Food allergens and methods of obtaining hypoallergenic food products. Technique Technol Food Production. 2021;51(2):232–247. (In Russ). doi: 10.21603/2074-9414-2021-2-232-247
Macharadze DS. Clinic for food allergies in children and adults. Immunopathol Allergol Infectol. 2016;(2):35–55. (In Russ).
Khakimova RF, Fatkullina RG, Anokhina SG, et al. Clinical case of eosinophilic esophagitis in a 6-year-old child. Pract Med. 2016;(8):123–126. (In Russ).
Revyakina VA. Food allergy, gastrointestinal manifestations (part 2). Attending Physician. 2013;(8):160–164. (In Russ).
Rybnikova EA, Prodeus AP, Fedoskova TG. Modern approaches to laboratory diagnostics of allergy ― to help a practicing doctor. RMJ. Medical Review. 2021;5(1):43–49. (In Russ). doi: 10.32364/2587-6821-2021-5-1-43-49
Kumar A, Teuber SS, Naguwa S, et al. Eosinophilic gastroenteritis and citrus-induced urticaria. Clin Rev All Immunol. 2006;30(1):61–70. doi: 10.1385/CRIAI:30:1:061
Naruse A, Osako J, Tsuruta D, et al. A case of anaphylaxis caused by lemon sorbet. J Allergy Ther. 2012;3(1):112–117. doi: 10.4172/2155-6121.1000112
Tammaro A, Narcisi A, Di Russo PP, et al. Contact allergy to limonene from a home-made cosmetic. Eur J Inf. 2012;10(2): 243–245. doi: 10.1177/1721727X1201000211
Heinzerling L, Mari A, Bergmann KC, et al. The skin prick test ― European standards. Clin Transl Allergy. 2013;3(1):3. doi: 10.1186/2045-7022-3-3
Prilutsky AS. The use of diets for the prevention and treatment of food allergies. Permissive-elimination diet. Bulletin Hygiene Epidemiol. 2020;24(4):469–477. (In Russ).
Prilutsky AS, Lygina YA. Investigation of the presence of thermolabile lemon allergens or their epitopes in various parts of the fruit. Archive Clin Experimental Med. 2020:29(3):282–288. (In Russ).
Akkerdaas J, Totis M, Barnett B, et al. Protease resistance of food proteins: a mixed picture for predicting allergenicity but a useful tool for assessing exposure. Clin Translational Allergy. 2018;8(1): 1–12. doi: 10.1186/s13601-018-0216-9
Hasler WL. The physiology of gastric motility and gastric emptying. Textbook of Gastroenterology. Ed. by T. Yamada, D.H. Alpers, L. Laine, C. Owyang. Third Edition. Philadelphia: Lippincott Williams and Wilkins; 1999. Р. 18–215. doi: 10.1002/9781444303254.ch10
Helm RM. Topic 5: stability of known allergens (digestive and heat stability). Report of a joint FAO/WHO expert consultation on allergenicity of food derived from biotechnology. Geneva; 2001. Р. 22–25.
Arroyave Hernández CM, Pinto ME, Hernández Montiel HL. Food allergy mediated by IgG antibodies associated with migraine in adults. Revista Alergia México. 2007;54(5):162–168.
Brandström J, Lilja G, Nilsson C, et al. IgE to novel citrus seed allergens among cashew-allergic children. Pediatric Allergy Immunol. 2016;27(5):550–553. doi: 10.1111/pai.12553
Supplementary files
Supplementary Files
Action
1.
Fig. Results of prick+prick test with fresh and heat-treated parts of lemon fruit in patient L.: а ― registration of the reaction after 15 minutes, b ― after 24 hours. Note: Г ― positive control with histamine, К ― negative control with a diluting solution, 0 ― fresh lemon, 1 ― lemon treated in the 1st heat treatment mode, 2 ― lemon treated in the 2nd heat treatment mode, Ц ― lemon zest, М ― lemon pulp, Кс ― lemon seed.