Some features of hematological parameters and production of cytokines regulating inflammation in allergic rhinitis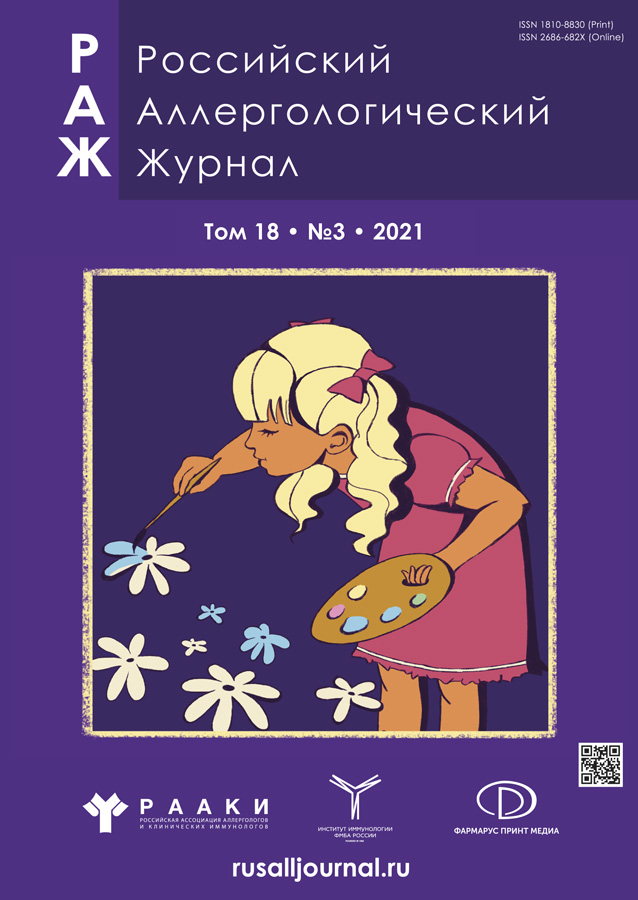 Authors: Iraklionova N.S.1, Belan E.B.2
Affiliations:

Volgograd Regional Clinical Hospital № 1
Volgograd State Medical University

Issue: Vol 18, No 3 (2021)
Pages: 35-43
Section: Original studies
ID: 1444
Cite item
Full Text

Open Access

Access granted

Subscription or Fee Access
Abstract
BACKGROUND: Allergic rhinitis is a common IgE-mediated disease. Multiple mechanisms are involved in the regulation of IgE synthesis, and cytokines produced by immune cells play an important role in this process. In addition, the study of the features of immunological reactivity in seasonal allergic rhinitis is of interest both for getting new data about the pathogenesis of the disease and optimization of the treatment.
AIMS: This study aimed to determine the cytokine status and hematological parameters in patients with seasonal allergic rhinitis outside the exacerbation period.
MATERIALS AND METHODS: This study included 43 adult patients with seasonal allergic rhinitis (remission stage) and compared them with 47 healthy individuals. Patients with perennial symptoms and/or sensitization to perennial allergens were excluded. Complete blood cell count and serum interleukin (IL)-4, IL-5, IL-6, IL-8, IL-10, IL-18, monocyte chemoattractant protein-1 (MCP-1), total immunoglobulin (Ig) E, and eosinophil cationic protein levels were measured.
RESULTS: The remission stage in patients with seasonal allergic rhinitis is characterized by higher serum levels of total IgE and IL-8 compared with the healthy group. The normal serum total IgE level of patients with seasonal allergic rhinitis in remission is associated with activation of the monocyte–macrophage link (increased serum levels of MCP-1, IL-6, IL-8, and absolute and relative numbers of monocytes). Increased serum total IgE level is associated with the predominant signs of the Th2 phenotype of the immune response (increased serum levels of IL-4 and IL-5).
CONCLUSIONS: The immune reactivity of patients with natural remission of seasonal allergic rhinitis is characterized by Th2 phenotype features if the serum level of IgE is increased and features of activation of monocyte–macrophage system if the level of IgE is normal.
Keywords
Full Text

References
König K, Klemens C, Eder K, et al. Cytokine profiles in nasal fluid of patients with seasonal or persistent allergic rhinitis. Allergy Asthma Clin Immunol. 2015;11(1):26. doi: 10.1186/s13223-015-0093-x
Gushchin IS, Kurbacheva OM. Allergy and allergen-specific immunotherapy with. Moscow: Farmarus Print Media; 2010. 228 p. (In Russ).
Sadchikova TL. Allergen-specific immunotherapy in the primary prevention of bronchial asthma in children with polyvalent sensitization [dissertation]. Volgograd; 2009. 123 р. (In Russ).
Ilina NI, Kurbacheva OM, Pavlova KS, Polner SA. Federal clinical guidelines for the diagnosis and treatment of allergic rhinitis. Moscow: Russian Association of Allergologists and Clinical Immunologists; 2018. 23 p. (In Russ).
Iraklionova NS, Belan EB, Turkina SV, et al. The features of the pollen sensitization in seasonal allergic rhinitis patients with gastrointestinal tract inflammatory diseases comorbidity. Russian Journal of Allergy. 2020;17(3):57–63. (In Russ). doi: 10.36691/RJA1371
Boitsova EA, Azimurodova GO, Kosenkova TV. Interleukin 4. Biological functions and clinical significance in the development of allergy (scientific review). Preventive and Clinical Medicine. 2020;(2):70–79. (In Russ).
Kratzer B, Pickl WF. Years in review: recent progress in cellular allergology. Int Arch Allergy Immunol. 2016;169(1):1–12. doi: 10.1159/000444753
Kimata H, Yoshida A, Ishioka C, et al. Interleukin 8 (IL-8) selectively inhibits immunoglobulin E production induced by IL-4 in human B cells. J Exp Med. 1992;176(4):1227–1231. doi: 10.1084/jem.176.4.1227
Kzhyshkowska JG, Gratchev AN. Markers of monocytes and macrophages for the diagnosis of immunopathology. Pathogenesis. 2012;10(1):14–19.
Gonza´lez-Quintela A, Vidal C, Lojo S, et al. Serum cytokines and increased total serum IgE in alcoholics. Ann Allergy Asthma Immunol. 1999;83(1):61–67. doi: 10.1016/S1081-1206(10)63514-4
Tsukamoto H, Senju S, Matsumura K, et al. IL-6-mediated environmental conditioning of defective Th1 differentiation dampens antitumour immune responses in old age. Nat Commun. 2015;6:6702. doi: 10.1038/ncomms7702
Dodge IL, Carr MW, Cernadas M, Brenner MB. IL-6 production by pulmonary dendritic cells impedes Th1 immune responses. J Immunol. 2003;170(9):4457–4464. doi: 10.4049/jimmunol.170.9.4457
Chereshnev VA, Gusev EYu. Immunology of inflammation: the role of cytokines. Medical Immunology. 2001;3(3):361–368. (In Russ).
Matveeva LV, Kapkaeva RC, Chudajkin AN, Mishanina LS. Changes monocyte chemoattractants protein-1 in Helicobacter pylori-associated gastroduodenal diseases. Russian Journal of Infection and Immunity. 2018;8(2):150–156. (In Russ). doi: 10.15789/2220-7619-2018-2-150-156
Bester J, Pretorius E. Effects of IL-1β, IL-6 and IL-8 on erythrocytes, platelets and clot viscoelasticity. Sci Rep. 2016;6(1):32188. doi: 10.1038/srep32188
Sadchikova TL, Belan EB, Panina AA, et al. Role of the dynamics of some biomarkers of allergic inflammation in the prognosis of the effectiveness of allergen-specific immunotherapy. Bulletin of the Volgograd State Medical University. 2014;(4):65–67. (In Russ).
Supplementary files
Supplementary Files
Action