Drug intolerance: age-related aspects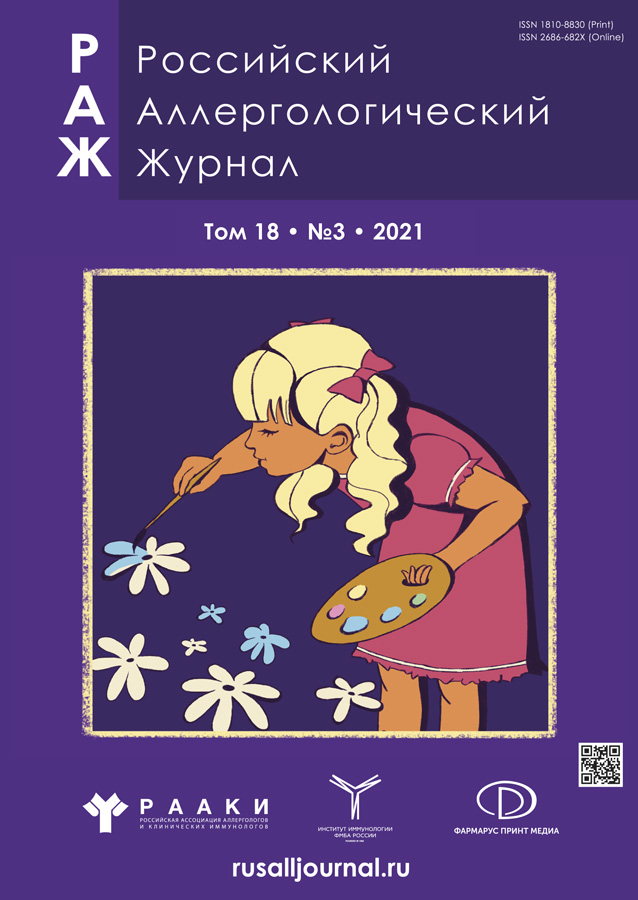 Cite item
Full Text

Open Access

Access granted

Subscription or Fee Access
Abstract
BACKGROUND: Drug hypersensitivity is an adverse reaction caused by immune or non-immune mechanisms to the intake of adequate doses of drugs. To avoid a dangerous situation, correctly collected pharmacological history, taking into account all the characteristics of the patient (gender, age, concomitant pathology), and knowledge of the mechanism of action of drugs can help a practicing physician who does not currently have a reliable method for diagnosing drug hypersensitivity.
AIM: Identification of age-specific drug intolerance.
MATERIALS AND METHODS: The study was conducted from 2017 to 2020 and included 200 outpatient medical history forms of individuals diagnosed with an unspecified pathological reaction to a drug or medication. All drug reactions were based on patient's own statements and were allocated as dichotomous variables. The results were analyzed by nonparametric statistics (Pearson's chi-square).
RESULTS: Three groups of patients were identified: 18–44 years (n=49), 45–60 years (n=60), ≥61 (n=91). The odds of incomprehensible reactions were 2.2 times higher in patients in group 3 than in patients in the other groups. Group 3 patients were 12 times more likely to have an itchy reaction to medications than patients in the other groups. Group 1 patients were 3 times more likely to have urticaria than patients in groups 2 and 3. The odds of drug intolerance to angiotensin-converting enzyme (ACE) inhibitors were 2.6 times higher in patients in group 3 than in patients in the other groups. When comparing clinical manifestations of drug intolerance to penicillin and cephalosporin antibiotics, no significant differences were found in all patients. The presence of allergies and somatic pathology of ≥3 systems did not significantly affect the possibility of reactions of varying severity to ≥3 drugs in these groups.
CONCLUSIONS: Patient's age has no effect on the possibility of reactions to certain groups of drugs. The exception was ACE inhibitors, which is most likely due to the higher frequency of prescribing antihypertensive therapy in patients in this age group. The aggravation of clinical manifestations and the occurrence of polypharmacy are not associated with age and comorbid background. Age and non-life-threatening clinical manifestations of drug intolerance were correlated, which indicates the absence of the reliable effect of age on the possibility of anaphylactic shock or angioedema.
Keywords
Full Text

About the authors
Regional Clinical Hospital No 1
Author for correspondence.
Email: mari.grahova@yandex.ru
ORCID iD: 0000-0002-1657-0695
SPIN-code: 3567-8379
Scopus Author ID: 57204454570

MD
Russian Federation, 55 Kotovskogo, Tyumen, 625023
Tyumen State Medical University
Email: richkovaoa@mail.ri
ORCID iD: 0000-0002-2566-5370
SPIN-code: 1382-1555

MD, Dr. Sci. (Med.), Professor
Russian Federation, Tyumen
INVITRO-Ural LLC
Email: badulina_anastasiya@mail.ru
ORCID iD: 0000-0002-5909-2048
SPIN-code: 8332-6947

MD
Russian Federation, Tyumen
Tyumen State Medical University
Email: ya.al.sagitowa@yandex.ru
ORCID iD: 0000-0002-6741-8458
SPIN-code: 8210-5726

MD, Cand. Sci. (Med.)
Russian Federation, Tyumen
Tyumen Region Infection Pathology Research Institute
Email: maria.nesterova72@yandex.ru
ORCID iD: 0000-0002-0668-6213
SPIN-code: 2103-4460

MD
Russian Federation, Tyumen
References
Khaitov RM, Ilyina NI, editors. Allergology and immunology: national guidelines. Moscow: GEOTAR-Media; 2012. 634 р. (In Russ).
Montanez MI, Mayorga C, Bogas G, et al. Epidemiology, mechanisms, and diagnosis of drug-induced anaphylaxis. Front Immunol. 2017;(8):614. doi: 10.3389/fimmu.2017.00614
Schnyder B. Approach to the patient with drug allergy. Immunol Allergy Clin North Am. 2009;29(3):405–418. doi: 10.1016/j.iac.2009.04.005
Rawlins MD, Thompson JW. Mechanisms of adverse drug reactions. In: Textbook of adverse drug reactions. Davies D.M., editor. Oxford: Oxford University Press; 1991.
Khaitov RM, editor. Drug allergy: guidelines for physicians. Moscow: Farmarus Print Media; 2012. 126 р. (In Russ).
Bulgakova VA, Eliseeva TI, Balabolkin II, Smirnov IE Mechanisms of development, opportunities for diagnostics, treatment, and prevention of allergic responses to drugs (review). Russian Pediatric Journal. 2019;22(1):42–50.(In Russ). doi: 10.18821/1560-9561-2018-22-1-42-50
Khan DA, Solensky R. Drug allergy. J Allergy Clin Immunol. 2010;125(2):126–137. doi: 10.1016/j.jaci.2009.10.028
Myasnikova TN, Romanova TS, Khludova LG, Latysheva TV. Diagnosis of drug allergy: a current view of the problem. RMJ. 2018;(8):28–32. (In Russ).
Koransky R, Ferastraoaru D, Jerschow E. Single nonsteroidal anti-inflammatory drug induced serum sickness-like reaction to naproxen in a patient able to tolerate both aspirin and ibuprofen. J Allergy Clin Immunol Pract. 2016;4(1):160–161. doi: 10.1016/j.jaip.2015.07.019
Torres MJ, Adkinson NF, Caubet JC, et al. Controversies in drug allergy: beta-lactam hypersensitivity testing. J Allergy Clin Immunol Pract. 2019;7(1):40–45. doi: 10.1016/j.jaip.2018.07.051
Castellazzi ML, Esposito S, Claut LE, et al. Drug reaction with eosinophilia and systemic symptoms (DRESS) syndrome in two young children: the importance of an early diagnosis. Ital J Pediatr. 2018;44(1):93. doi: 10.1186/s13052-018-0535-4
Clark S, Wei W, Rudders SA, Camargo CA. Risk factors for severe anaphylaxis in patients receiving anaphylaxis treatment in US emergency departments and hospitals. J Allergy Clin Immunol. 2014;134(5):1125–1130. doi: 10.1016/j.jaci.2014.05.018
Brown SG, Stone SF, Fatovich DM, et al. Anaphylaxis: clinical patterns, mediator release, and severity. J Allergy Clin Immunol. 2013;132(5):1141–1149. doi: 10.1016/j.jaci.2013.06.015
Cavkaytar O, Karaatmaca B, Cetinkaya PG, et al. Characteristics of drug-induced anaphylaxis in children and adolescents. Allergy Asthma Proceedings. 2017;38(5):56–63. doi: 10.2500/aap.2017.38.4064
Oussalah A, Mayorga C, Blanca M, et al. Task force "Genetic predictors of drug hypersensitivity" of the European Network on Drug Allergy (ENDA) of EAAC I. Genetic variants associated with drugs-induced immediate hypersensitivity reactions: a PRISMA-compliant systematic revie. Allergy. 2016;71(4):443–462. doi: 10.1111/all.12821
Supplementary files
Supplementary Files
Action