Features of the fungal spectrum in the air environment in the Rostov region according to the results aeropalynologic monitoring 2019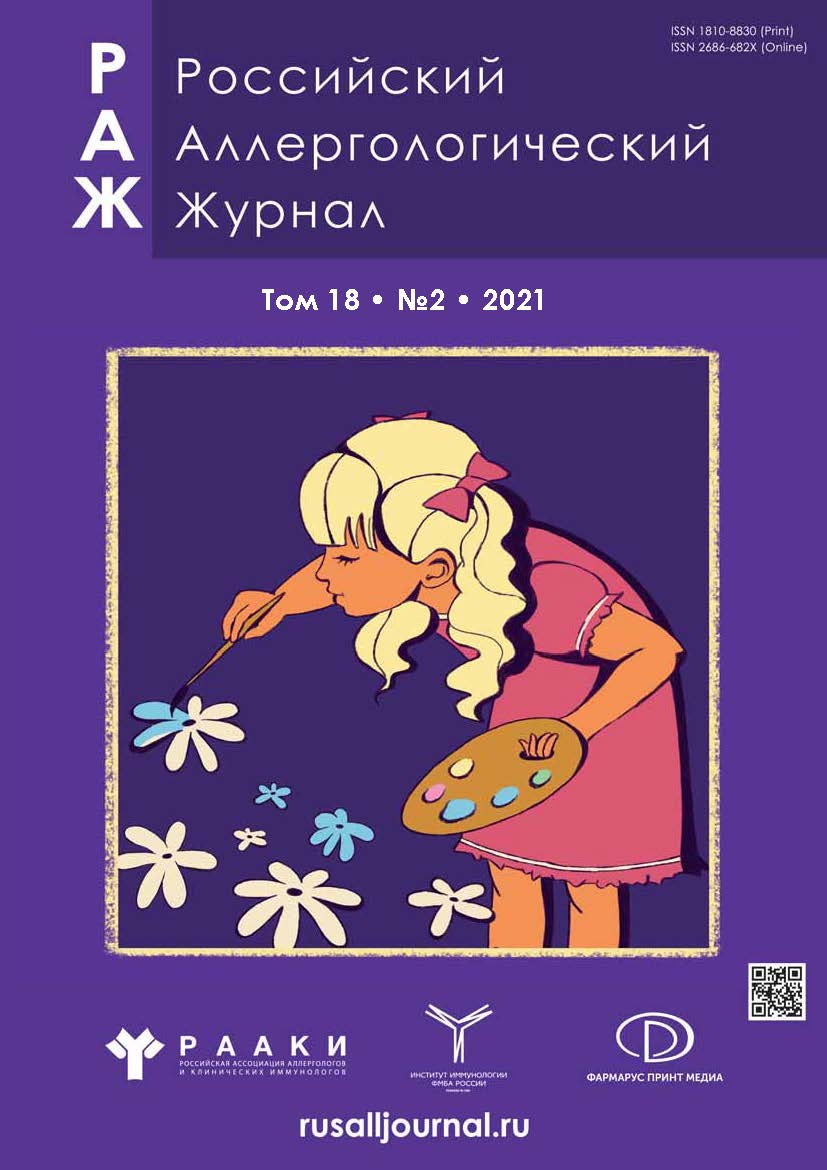 Authors: Churyukina E.V.1, Nazarova E.V.2
Affiliations:

Rostov State Medical University
National Research Center — Institute of Immunology Federal Medical-Biological Agency of Russia

Issue: Vol 18, No 2 (2021)
Pages: 32-45
Section: Original studies
Cite item
Full Text

Open Access

Access granted

Subscription or Fee Access
Abstract
BACKGROUND: In recent decades, there has been an epidemic growth of allergic diseases, in which fungi along with other allergens significantly play a role in their etiology. Spores of a number of micromycetes are present in the air. Aeropalynology environmental monitoring enables examination of the composition of airborne microorganisms, their dynamics, and role in the formation of allergic diseases. The Rostov region has climatic and geographical features that affect the qualitative and quantitative compositions of the fungal spectrum in the air environment.
AIM: This study aimed to investigate the composition and features of the fungal spectrum of the air environment in Rostov-on-Don, to assess the dynamics of the concentration of fungal spores during the monitoring period (March to October), and to make a calendar of plant pollination and fungal spore production for this region.
MATERIALS AND METHODS: In this longitudinal, observational, single-center study, aeroallergens were detected using a volumetric Burkard trap. Identification of plant pollen and fungal spores was performed by microscopy of colored slides obtained from a sticky tape covered with a special mixture.
RESULTS: Results of aeropalynological monitoring in 2019 in the air environment of Rostov-on-Don revealed the presence of pollen taxa and fungal spores, represented by the mold fungi Cladosporium herbarum and Alternaria alternata in high increasing concentrations. Their dynamics were recorded throughout the observation period (March to October). The specific weight of fungal sensitization in patients with seasonal allergic rhinitis was 11.6%.
CONCLUSIONS: This study identifies the regional features of the fungal spectrum of air allergens, and a calendar of dusting and sporulation was compiled for the city of Rostov-on-Don.
Full Text

About the authors
Rostov State Medical University
Author for correspondence.
Email: echuryukina@mail.ru
ORCID iD: 0000-0001-6407-6117

PhD, Docent, Head of Division for Allergic and Autoimmune diseases Rostov State Medical University
Russian Federation, 29, Nakhichevansky lane, Rostov on Don, 344022
National Research Center — Institute of Immunology Federal Medical-Biological Agency of Russia
Email: evallergo@yandex.ru
ORCID iD: 0000-0003-0380-6205

PhD, Head of the Department of hospitalization of NRC Institute of Immunology FMBA of Russia
Russian Federation, 24, Kashirskoye sh., Moscow, 115522
References
EAACI White paper on Research, Innovation and Quality Care. Ed. J.Agache, C.A. Akdis, T. Chivato, et al. Publisher EAACI; 2018, 152 р.
Gibson GJ, Loddenkemper R, Lundbäck B, Sibille Y. Respiratory health and disease in Europe: the new European Lung White Book. European Respiratory Society Journals Ltd; 2003. Р.34–43. doi: 10.1183/09031936.00105513
Mayansky AN, Zaslavskaya MI, Salina EV. Introduction to medical mycology. Nizhny Novgorod: NGMA; 2003. 54р. (In Russ).
Kulaga VV, Romanenko IM, Afonin SL, Kulaga SM. Allergy and fungal diseases. A guide for doctors. Lugansk: Elton-2; 2005. 520 р. (In Russ).
McLaughlin DJ, McLaughlin EG, PA Lemke. Systematics and Evolution. ResearchGate GmbH; 2001. doi: 10.1007/978-3-662-10189-6
Tsarev SV. Allergy to micromycetes. Russian Allergological Journal. 2010;(1):5–16. (In Russ).
Katial RK, Zhang Y, Jones RH, Dyer PD. Atmospheric mold spore counts in relation to meteorological parameters. Int J Biometeorology. 1997;41:17–22. doi: 10.1007/s004840050048
Freye HB, King J, Litwin CM. Variations of pollen and mold concentrations in 1998 during the strong El Nino event of 1997–1998 and their impact on clinical exacerbations of allergic rhinitis, asthma, and sinusitis. Allergy Asthma Proc. 2001;22(4):239–247.
Corden JM, Millington WM. The long-term trends and seasonal variation of the aeroallergen Alternaria in Derby, UK. Aerobiologia. 2001;17:127–136. doi: 10.1023/A:1010876917512
Wolf J, O'Neill NR, Rogers CA, et al. Elevated atmospheric carbon dioxide concentrations amplify Alternaria alternate sporulation and total antigen production. Environ Health Perspect. 2010;118(9):1223–1238. doi: 10.1289/ehp.0901867
Ilina NI, Luss LV, Kurbacheva OM, et al. Influence of climatic factors on the spectrum and structure of allergic diseases on the example of the Moscow region. Russian Allergological Journal. 2014;(2):25–32. (In Russ).
Rodriguez-Rajo FJ, Iglesias I, Jato V. Varition assessment of airborne Alternaria and Cladosporium spores at different bioclimatical conditions. Mycol Res. 2005;109(4):497–507. doi: 10.1017/s0953756204001777
Perevoznaya IG. Socio-ecological and economic well-being of the Rostov region in the conditions of post-transformation dynamics. Terra economicus. 2010;4(8):139–146. (In Russ).
Churyukina EV, Ukhanova OP, Goloshubova EA. Aeropalinological monitoring of the air environment in the Rostov region: results of the 2019 palination season. Russian Allergological Journal. 2020;4(17):57–65. (In Russ). doi: 10.36691/RJA1387
Principles and methods of aeropalinological research. Ed. by N.R. Meyer-Melikyan, E.E. Severova. Moscow: Meditsina; 1999. 48 p. (In Russ).
Dziado LK, Bush RK. Assessment and control of fungal allergen. Curr Allergy Asthma Rep. 2001;1(5):455–460. doi: 10.1007/s11882-001-0033-3
Aukrust L. Crossed radioimmunoelectrophoretic studies of distinct allergens in two extracts of Cladosporium herbarum. Int Arch Allergy Appl Immunol. 1979;58(4):375–390. doi: 10.1159/000232217
Zureik M, Neukirch C, Leynaert B, et al.; European community respiratory health survey. Sensitisation to airborne moulds and severity of asthma: cross sectional study from European Community respiratory health survey. BMJ. 2002;325(7361):411–414. doi: 10.1136/bmj.325.7361.411
Moreno A, Pineda F, Alcover J, et al. Orthologous allergens and diagnostic utility of major allergen alt a 1. Allergy Asthma Immunol Res. 2016;8(5):428–437. doi: 10.4168/aair.2016.8.5.428
Twaroch TE, Curin M, Sterflinger K, et al. Specific antibodies for the detection of alternaria allergens and the identification of cross-reactive antigens in other fungi. Int Arch Allergy Immunol. 2016;170(40):269–278. doi: 10.1159/000449415
Weber RW. Cross-reactivity of plant and animal allergens. Clin Rev Allergy Immunol. 2001;21(2-3):153–202. doi: 10.1385/CRIAI:21:2-3:153
Simon-Nobbe B, Probst G, Kajava AV, et al. IgE-binding epitopes of enolases, a class of highly conserved fungal allergens. J Allergy ClinImmunol. 2000;106(5):887–895. doi: 10.36233/0372-9311-2020-97-2-119-124
Wagner S, Breiteneder H, Simon-Nobbe B, et al. Hev b 9, an enolase and a new cross-reactive allergen from hevea latex and molds. Purification, characterization, cloning and expression. Eur J Biochem. 2000;267(24):7006–7014. doi: 10.1046/j.1432-1327.2000.01801.x
Dales RE, Cakmak S, Burnett RT, et al. Influence of ambient fungal spores on emergency visits for asthma to a regional children's hospital. Am J Respir Crit Care Med. 2000;162(6):2087–2090. doi: 10.1164/ajrccm.162.6.2001020
Aggarwal AN, Chakrabarti A. Does climate mould the influence of mold on asthma? Lung India. 2013;30(4):273–276. doi: 10.4103/0970-2113.120594
Dales RE, Cakmak S, Judek S, et al. The role of fungal spores in thunderstorm asthma. Chest. 2003;123(3):745–750. doi: 10.1378/chest.123.3.745.
Supplementary files
Supplementary Files
Action