Eosinophilic pneumonia in allergological practice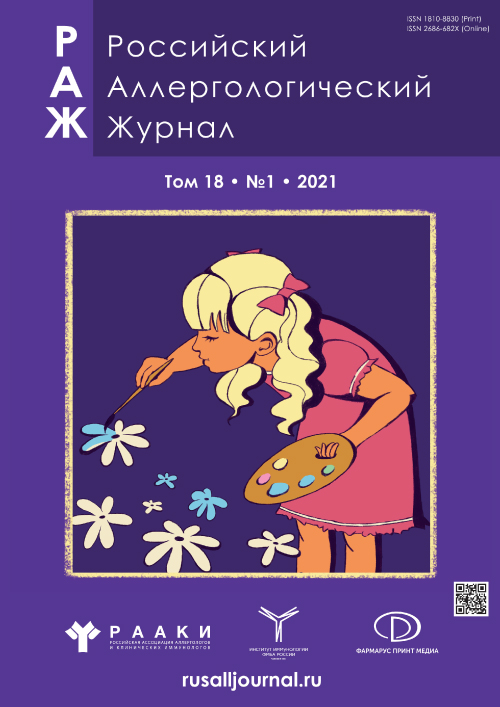 Authors: Tsarev S.V.1
Affiliations:

National Research Center – Institute of Immunology Federal Medical-Biological Agency of Russia

Issue: Vol 18, No 1 (2021)
Pages: 32-40
Section: Reviews
Cite item
Full Text

Open Access

Access granted

Subscription or Fee Access
Abstract
In this article, current data on pulmonary eosinophilia are presented. Pulmonary eosinophilia is defined as the infiltration of eosinophils into the airways, interstitia, and alveoli. There are diverse processes in etiology, the common feature of which is the presence of pulmonary eosinophilic infiltrates, and as a rule, peripheral blood eosinophilia. Causes of pulmonary eosinophilia include various infections, medications, parasites, autoimmune processes, malignancies, and presence of obstructive pulmonary diseases. A unified classification of pulmonary eosinophilia is lacking, and instead, various versions of classifications have been presented. The most convenient classification option for use is also distinguished. This article discusses the historical transformation of the term "eosinophilic pneumonia" in the field of allergology, showing the lack of unambiguity in the concept of "eosinophilic pneumonia", as well as the location of eosinophilic pneumonia in the pulmonary eosinophilia section. Eosinophilic pneumonia is defined as a disease characterized by an increase in the eosinophil content in the pulmonary tissue or bronchoalveolar lavage fluid. Most eosinophilic pneumonias are associated with peripheral blood eosinophilia. Two main variants of the disease are acute and chronic eosinophilic pneumonias. Thus, various ways to formulate diagnoses in various cases of eosinophilic pneumonia have been proposed.
Full Text

About the authors
National Research Center – Institute of Immunology Federal Medical-Biological Agency of Russia
Author for correspondence.
Email: sv.tsarev@nrcii.ru
ORCID iD: 0000-0003-2235-243X
SPIN-code: 4590-9457
Scopus Author ID: 42462654000

MD, Dr. Sci. (Med.), Assistant professor
Russian Federation, 24, Kashirskoye shosse, Moscow, 115522
References
Pytskiy VI, Adrianova NV, Artomasova AV. Allergic diseases. Series: Library of the practical doctor. The most important issues of internal medicine. Moscow: Meditsina; 1991. 368 p. (In Russ).
Samsonova MV, Chernyaev AL. Eosinophilia of the lungs. Prakticheskaya pulmonologiya. 2016;(1):56–60. (In Russ).
Rose DM, Hrncir DE. Primary eosinophilic lung diseases. Allergy Asthma Proc. 2013;34(1):19–25. doi: 10.2500/aap.2013.34.3628
Crowe M, Robinson D, Sagar M, et al. Chronic eosinophilic pneumonia: clinical perspectives. Ther Clin Risk Manag. 2019;15:397–403. doi: 10.2147/TCRM.S157882
Jeong YJ, Kim KI, Seo IJ, et al. Eosinophilic lung diseases: a clinical, radiologic, and pathologic overview. Radiographics. 2007;27(3):617–637. doi: 10.1148/rg.273065051
Lоffler W. Zur differentialdiagnose der lungeninfiltrierungen II. Ueber fluchtige succedanininfiltrate (mit Eosinophilie). Beitr Klin Tuberk. 1932;79:368–382. doi: 10.1007/bf02079221
Weingarten RJ. Tropical eosinophilia. Lancet. 1943;241:103–105. doi: 10.1016/s0140-6736(00)70615-5
Cottin V. Diseases Elung. Eosinophilic lung diseases. Clin Chest Med. 2016;37(3):535–556. doi: 10.1016/j.ccm.2016.04.015
Carrington CB, Addington WW, Goff AM, et al. Chronic eosinophilic pneumonia. N Engl J Med. 1969;280(15):787–798. doi: 10.1056/nejm196904102801501
Leon-Kindberg M, Adida P, Rosenthal L. Pneumopathie et eosinophiles. Presse Med (Paris) 1940;48:277–278.
To M, Kono Y, Yamawaki S, et al. A case of chronic eosinophilic pneumonia successfully treated with mepolizumab. J Allergy Clin Immunol Pract. 2018;6(5):1746–1748.e1. doi: 10.1016/j.jaip.2018.06.017
Kaya H, Gümüş S, Uçar E. Omalizumab as a steroid-sparing agent in chronic eosinophilic pneumonia. Chest. 2012;142(2):513–516. doi: 10.1378/chest.11-1881
Allen JN, Pacht ER, Gadek JE, Davis WB. Acute eosinophilic pneumonia as a reversible cause of noninfectious respiratory failure. N Engl J Med. 1989;321(9):569–574. doi: 10.1056/nejm198908313210903
Badesch DB, King TE Jr, Schwarz MI. Acute eosinophilic pneumonia: a hypersensitivity phenomenon? Am Rev Respir Dis. 1989;139(1):249–252. doi: 10.1164/ajrccm/139.1.249
Uchiyama H, Suda T, Nakamura Y, et al. Alterations in smoking habits are associated with acute eosinophilic pneumonia. Chest. 2008;133(5):1174–1180. doi: 10.1378/chest.07-2669
De Giacomi F, Vassallo R, Yi ES, Ryu JH. Acute Eosinophilic Pneumonia. Causes, Diagnosis, and Management. Am J Respir Crit Care Med. 2018;197(6):728–736. doi: 10.1164/rccm.201710-1967CI
Solomon J, Schwarz M. Drug-, toxin-, and radiation therapy-induced eosinophilic pneumonia. Semin Respir Crit Care Med. 2006;27:192–197. doi: 10.1055/s-2006-939522
Bartal C, Sagy I, Barski L. Drug-induced eosinophilic pneumonia. Medicine. 2018;97(4):e9688. doi: 10.1097/MD.0000000000009688
Jin F, Wang ST. Chronic eosinophilic pneumonia after trastuzumab and radiation therapy for breast cancer. Medicine. 2019;98(1):e14017. doi: 10.1097/MD.000000000001401
Alonso RA, Zea-Mendoza AC, Salazar-Vallinas JM, et al. Toxic oil syndrome: a syndrome with features overlapping those of various forms of scleroderma. Semin Arthr Rheum. 1986;15(3):200–212. doi: 10.1016/0049-0172(86)90017-x
Allen JA, Peterson A, Sufit R, et al. Post-epidemic eosinophilia-myalgia syndrome associated with L-tryptophan. Arthr Rheum. 2011;63(11):3633–3639. doi: 10.1002/art.30514
Dallos T, Heiland G, Strehl J, et al. CCL17/thymus and activation-related chemokine in Churg-Strauss syndrome. Arthritis Rheum. 2010;62(11):3496–3503. doi: 10.1002/art.27678
Wechsler ME, Akuthota P, Jayne D, et al. Mepolizumab or placebo for eosino philic granulomatosis with polyangiitis. N Engl J Med. 2017;376(20):1921–1932. doi: 10.1056/NEJMoa1702079
Wechsler ME. Pulmonary eosinophilic syndromes. Immunol. Allergy Clin. North Am. 2007;27(3):477–492. doi: 10.1016/j.iac.2007.07.005
Supplementary files
There are no supplementary files to display.