A clinical case of the X-linked moesin deficiency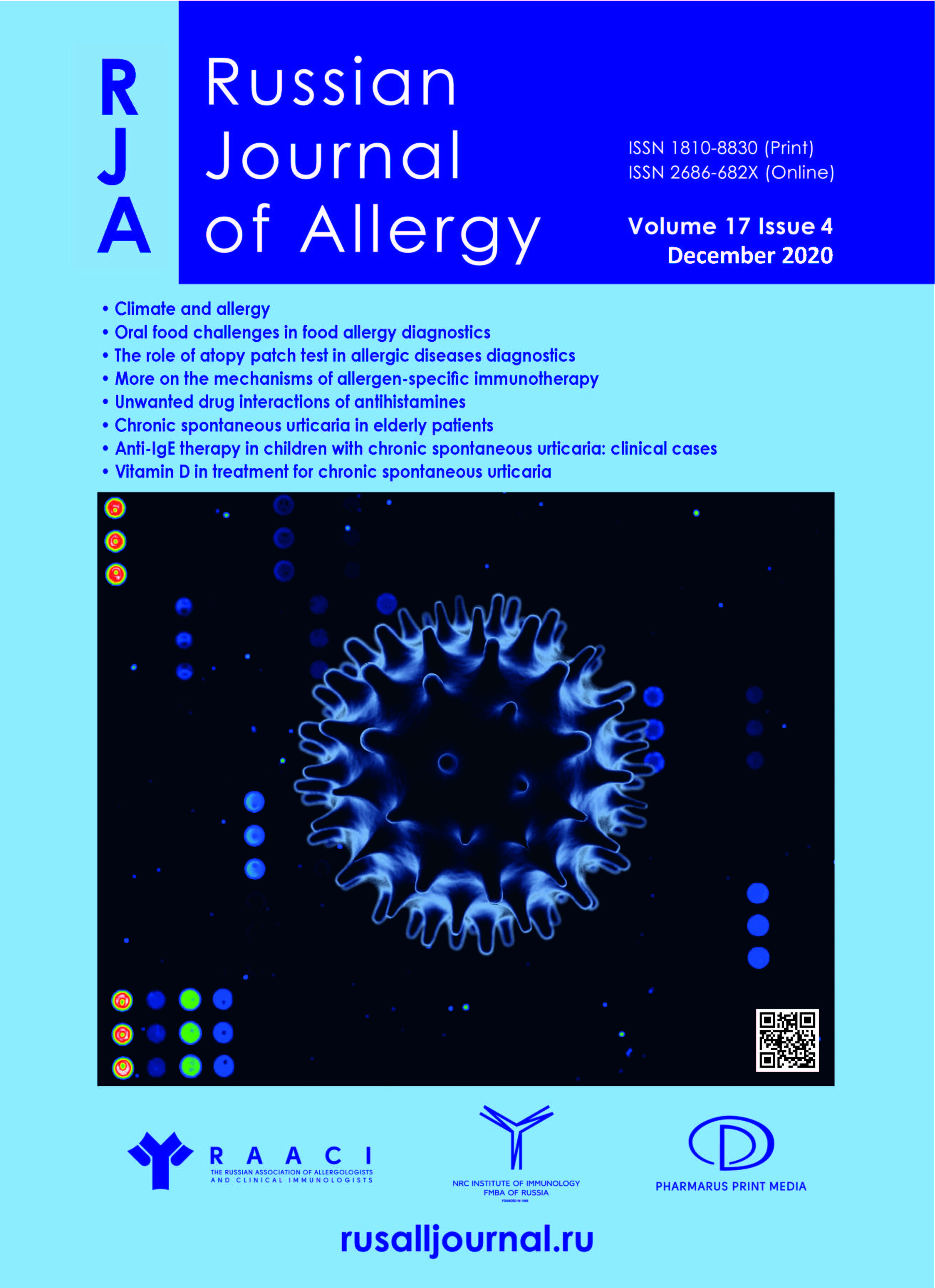 Cite item
Full Text

Open Access

Access granted

Subscription or Fee Access
Abstract
With the increasing availability of genetic testing, the population of patients diagnosed with CVID breaks down into groups depending on monogenic defects. There is more and more evidence that adults can have combined immunodeficiencies with a late onset.
This article discusses a clinical case of X-linked moesin-associated immunodeficiency (X-MAID). This is a recently described immunodeficiency, which mostly manifests itself at an early age with severe lymphopenia and hypogammaglobulinemia, fluctuating monocytopenia and neutropenia, a weak immune response to vaccine antigens, and increased susceptibility to bacteria and type 3 human herpesvirus.
X-MAID, X-linked immunodeficiency with a recessive mode of inheritance, is caused by genetic defects in the MOESIN gene (membrane organizing spike elongation protein, MSN). Until recently, there were records of 10 people with this mutation, 9 of which have the phenotype of severe combined immunodeficiency (SCID). The patient described in this article has been under observation since the age of 12 and diagnosed with SCID due to an IgG decrease accompanied by infectious-purulent processes of the respiratory tract and diarrheal syndrome.
However, the patient did not entirely fit into the typical clinical picture of CVID due to a severe therapy-torpid papillomavirus infection, the increased number of switched memory B-cells, IgG isolated decrease, persistent severe leukopenia and lymphopenia of CD4+ cells. In accordance with the clinical picture and the results of the immunological examination, combined immunodeficiency was surmised. After a full exome DNA sequencing chrX: g.64951012C> T missense type mutation was found in exon 5 of the MSN gene (change in the ENSP00000353408.5:p.Arg171Trp protein). X-MAID was therefore confirmed.
Of the 9 described patients with a similar mutation, 8 had a clinical picture of severe combined immune deficiency. This clinical case confirms the possibility of a milder clinical phenotype development with a late onset under the guise of CVID and shows the need for molecular genetic examination of the adult population of patients with impaired antibody synthesis. The verification of the diagnosis allows not only to determine the prognosis and tactics of the therapy, but also to carry out genetic family counseling and to offer a possibility of giving birth to healthy offspring.
Full Text

About the authors
NRC Institute of Immunology FMBA of Russia
Email: tvlat@mail.ru
ORCID iD: 0000-0003-1508-0640

Head of the Immunopathology and Intensive Care Department, MD, PhD, Professor
Russian Federation, Moscow
NRC Institute of Immunology FMBA of Russia
Email: Ealat@mail.ru
ORCID iD: 0000-0002-1606-205X

Chief researcher of the Immunopathology and Intensive Care Department, MD, PhD
Russian Federation, Moscow
NRC Institute of Immunology FMBA of Russia
Email: nsetdikova@mail.ru
ORCID iD: 0000-0003-2587-7928

Senior Researcher of the Immunopathology and Intensive Care Department, MD, PhD
Russian Federation, Moscow
NRC Institute of Immunology FMBA of Russia
Author for correspondence.
Email: esaulova.d.r@gmail.com
ORCID iD: 0000-0003-0283-5637

Medical resident of the Immunopathology and Intensive Care Department
Russian Federation, Moscow
References
Delmonte OM, Biggs CM, Hayward A, et al. First case of X-linked moesin deficiency identified after newborn screening for SCID. J Clin Immunol. 2017;37(4):336–338.doi: 10.1007/s10875-017-0391-9
OMIM, Online Mendelian Inheritance in Man [Internet]. Membrane-Organizing Extension Spike Protein. [Cited 2020 Aug 10]. Available from: https://omim.org/entry/309845
Lagresle-Peyrou C, Luce S, Ouchani F, et al. X-linked primary immunodeficiency associated with hemizygous mutations in the moesin (MSN) gene. J Allergy Clin Immunol. 2016;138(6);1681–1689. doi: 10.1016/j.jaci.2016.04.032