Molecular allergodiagnostics capabilities in determining the indications for allergen-specific immunotherapy with house dust mites allergen and its effectiveness in atopic dermatitis patients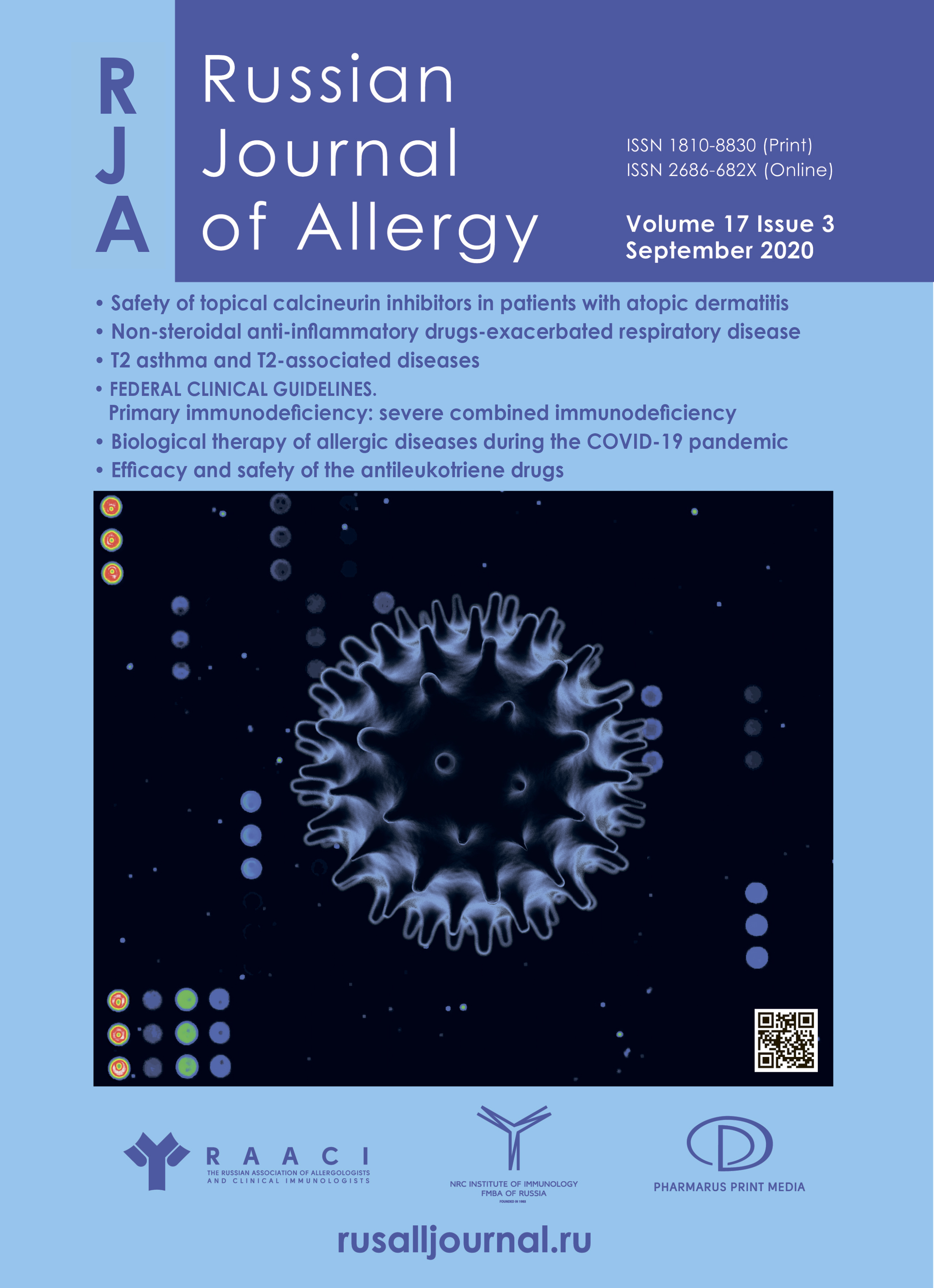 Abstract
BACKGROUND: Atopic dermatitis (AD) is a widespread chronic inflammatory skin disease, in the development of which complex genetic and immune mechanisms, environmental factors, allergens, are involved. An effective method of treating IgE­-mediated allergic diseases is allergen-­specific immunotherapy (ASIT), which affects all pathogenetically significant links of the allergic process. It is known that as a result of ASIT tissue sensitivity to an allergen, nonspecific tissue hyperreactivity and the intensity of allergic inflammation decrease, which testifies to the rearrangement of the cellular response from Th2 to Th1 with a corresponding change in the cytokine profile. Currently, dozens of scientific papers on the efficacy and safety of subcutaneous and sublingual ASIT in AD have been published; however, the question of the advisability of its appointment still remains unresolved.
AIM: To investigate the ASIT with house dust mite (HDM) allergens efficacy in AD patients, considering the results of molecular allergy diagnosis.
MATERIALS AND METHODS: The study was conducted as a prospective comparative open study, including 32 patients with AD (20 children and 12 adults), 90.6% were diagnosed with concomitant respiratory allergic diseases. Molecular allergodiagnostics was performed using microchip technology with purified natural or recombinant allergen components immobilized in the solid phase (Immuno­-Solid phase Allergen Chip, ISAC) to quantify allergen-­specific IgE (asIgE) against 112 allergen molecules from 51 allergen sources in one study (ImmunoCAP ISAC (Thermofisher, Phadia, Uppsala, Sweden). Patients were divided into two groups depending on the profile of molecular sensitization: with the presence or absence of asIgE to the major allergens of D. farinae and/or D. pteronyssinus Der p 1 (p 2) and/or Der f 1 (f 2). All patients passed three consecutive courses of subcutaneous ASIT with water­-salted HDM allergens produced by I.I. Mechnikov Biomed (Russia) under an accelerated scheme for 3 years. To assess the severity of the disease, the SCORAD indices, the Investigator's Global Assessment (IGA), and the dermatological quality of life index (DLQI) were used.
RESULTS: Patients with sensitization to major allergens of D. farinae and/or D. pteronyssinus Der p 1 (f 1) and/or Der p 2 (f 2) more often achieved a significant improvement of AD symptoms according to the SCORAD index (OR 3.929, 95% CI: 0.879; 17.56), as well as they more often achieved IGA values of 1 or 0 after three courses of ASIT (OR 3.556, CI 95% 0.730–17.324) and more often assessed the effectiveness of ASIT as excellent and good in comparison with patients without sensitization to these components. The median and interquartile range of the DLQI index before treatment in group 1 was 17 [14; 20] points, in group 2 – 14 [12; 18], after the 3rd course of ASIT: 6 [2; 10] and 8 [3; 10] points in groups 1 and 2, respectively. Adverse events were rare, their frequency did not significantly differ in both groups.
CONCLUSION: ASIT with HDM allergens is an effective and safe method of treatment of AD patients. Determination of the molecular spectrum of sensitization to HDM allergens components allows to justify the indications and predict the effectiveness of ASIT.
Full Text

About the authors
NRCI Institute of Immunology FMBA of Russia
Author for correspondence.
Email: ovs-495@yandex.ru
ORCID iD: 0000-0001-8254-9715

Russian Federation, Moscow

allergologist – immunologist of Skin Allergy and Immunopathology Department, NRC Institute of Immunology FMBA of Russia, MD
Pirogov Russian National Research Medical University
Email: dvornikov_as@rsmu.ru
ORCID iD: 0000-0002-0429-3117

Russian Federation, Moscow

ead of the Department of Dermatovenereology, Pirogov Russian National Research Medical University, MD, PhD
NRCI Institute of Immunology FMBA of Russia
Email: mr.khaitov@nrcii.ru
ORCID iD: 0000-0003-4961-9640

Russian Federation, Moscow

director of NRC Institute of Immunology FMBA of Russia, MD, PhD, professor, Corresponding Member of the Russian Academy of Sciences
NRCI Institute of Immunology FMBA of Russia
Email: el-olga@yandex.ru
ORCID iD: 0000-0002-4609-2591

Russian Federation, Moscow

leading researcher of Skin Allergy and Immunopathology Department, NRC Institute of Immunology FMBA of Russia, MD, PhD
NRCI Institute of Immunology FMBA of Russia
Email: efedks@gmail.com
ORCID iD: 0000-0003-3358-5087

Russian Federation, Moscow

head of Skin Allergy and Immunopathology Department, NRC Institute of Immunology FMBA of Russia, MD, PhD, professor
References
Eller E, Kjaer HF, Høst A, Andersen KE, Bindslev-Jensen C. Food allergy and food sensitization in early childhood: results from the DARC cohort. Allergy. 2009;64(7):1023–1029. doi: 10.1111/j.1398-9995.2009.01952.x
Schäfer T. The impact of allergy on atopic eczema from data from epidemiological studies. Curr Opin Allergy Clin Immunol. 2008;8(5):418–422. doi: 10.1097/ACI.0b013e32830e71a7
Nwaru BI, Hickstein L, Panesar SS, Roberts G, Muraro A, Sheikh A, et al. Prevalence of common food allergies in Europe: a systematic review and meta-analysis. Allergy. 2014;69(8):992–1007. doi: 10.1111/all.12423
Dhami S, Kakourou A, Asamoah F, Agache I, Lau S, Jutel M, et al. Allergen immunotherapy for allergic asthma: a systematic review and meta-analysis. Allergy. 2017;72(12):1825–1848. doi: 10.1111/all.13208
Ring J. Successful hyposensitization treatment in atopic eczema: results of a trial in monozygotic twins. Br J Dermatol. 1982;107(5):597–602. doi: 10.1111/j.1365-2133.1982.tb00412.x
Zachariae H, Cramers M, Herlin T, Jensen J, Kragballe K, Ternowitz T, et al. Non-specific immunotherapy and specific hyposensitization in severe atopic dermatitis. Acta Derm Venereol Suppl (Stockh). 1985;114:48–54.
Glover MT, Atherton DJ. A double-blind controlled trial of hyposensitization to Dermatophagoides pteronyssinus in children with atopic eczema. Clin Exp Allergy. 1992;22(4):440–446. doi: 10.1111/j.1365-2222.1992.tb00145.x
Bussmann C, Böckenhoff A, Henke H, Werfel T, Novak N. Does allergen-specific immunotherapy represent a therapeutic option for patients with atopic dermatitis? J Allergy Clin Immunol. 2006;118(6):1292–1298. doi: 10.1016/j.jaci.2006.07.054
Darsow U, Forer I, Ring J. Allergen-specific immunotherapy in atopic eczema. Curr Allergy Asthma Rep. 2011;11(4):277–283. doi: 10.1007/s11882-011-0194-7
Qin YE, Mao JR, Sang YC, Li WX. Clinical efficacy and compliance of sublingual immunotherapy with Dermatophagoides farinae drops in patients with atopic dermatitis. Int J Dermatol. 2014;53(5):650–655. doi: 10.1111/ijd.12302
Bousquet J, Khaltaev N, Cruz AA, Denburg J, Fokkens WJ, Togias A, et al. Allergic Rhinitis and its Impact on Asthma (ARIA) 2008 update (in collaboration with the World Health Organization, GA2LEN and AllerGen). Allergy. 2008;63 Suppl 86:8–160. doi: 10.1111/j.1398-9995.2007.01620.x
Valenta R, Karaulov A, Niederberger V, Zhernov Y, Elisyutina O, Campana R, et al. Allergen extracts for in vivo diagnosis and treatment of allergy: is there a future? J Allergy Clin Immunol Pract. 2018;6(6):1845–1855.e2. doi: 10.1016/j.jaip.2018.08.032
Resch Y, Michel S, Kabesch M, Lupinek C, Valenta R, Vrtala S. Different IgE recognition of mite allergen components in asthmatic and nonasthmatic children. J Allergy Clin Immunol. 2015;136(4):1083–1091. doi: 10.1016/j.jaci.2015.03.024
Chen KW, Zieglmayer P, Zieglmayer R, Lemell P, Horak F, Bunu CP, et al. Selection of house dust mite-allergic patients by molecular diagnosis may enhance success of specific immunotherapy. J Allergy Clin Immunol. 2019;143(3):1248–1252.e12. doi: 10.1016/j.jaci.2018.10.048
Wollenberg A, Barbarot S, Bieber T, Christen-Zaech S, Deleuran M, Fink-Wagner A, et al. Consensus-based European guidelines for treatment of atopic eczema (atopic dermatitis) in adults and children: part I. J Eur Acad Dermatol Venereol. 2019. Vol. 33. N. 7. P. 1436. Corrected and republished from: J Eur Acad Dermatol Venereol. 2018. Vol. 32. N. 5. P. 657–682. doi: 10.1111/jdv.14891
Severity scoring of atopic dermatitis: the SCORAD index. Consensus Report of the European Task Force on Atopic Dermatitis. Dermatology. 1993;186(1):23–31. doi: 10.1159/000247298
Futamura M, Leshem YA, Thomas KS, Nankervis H, Williams HC, Simpson EL. A systematic review of Investigator Global Assessment (IGA) in atopic dermatitis (AD) trials: many options, no standards. J Am Acad Dermatol. 2016;74(2):288–294. doi: 10.1016/j.jaad.2015.09.062
Finlay AY, Khan GK. Dermatology Life Quality Index (DLQI) – a simple practical measure for routine clinical use. Clin Exp Dermatol. 1994;19(3):210–216. doi: 10.1111/j.1365-2230.1994.tb01167.x
Bae JM, Choi YY, Park CO, Chung KY, Lee KH. Efficacy of allergen-specific immunotherapy for atopic dermatitis: a systematic review and meta-analysis of randomized controlled trials. J Allergy Clin Immunol. 2013;132(1):110–117. doi: 10.1016/j.jaci.2013.02.044
Tam H, Calderon MA, Manikam L, Nankervis H, García Núñez I, Williams HC, et al. Specific allergen immunotherapy for the treatment of atopic eczema: a Cochrane systematic review. Allergy. 2016;71(9):1345–1356. doi: 10.1111/all.12932