The features of the pollen sensitization in seasonal allergic rhinitis patients with gastrointestinal tract inflammatory diseases comorbidity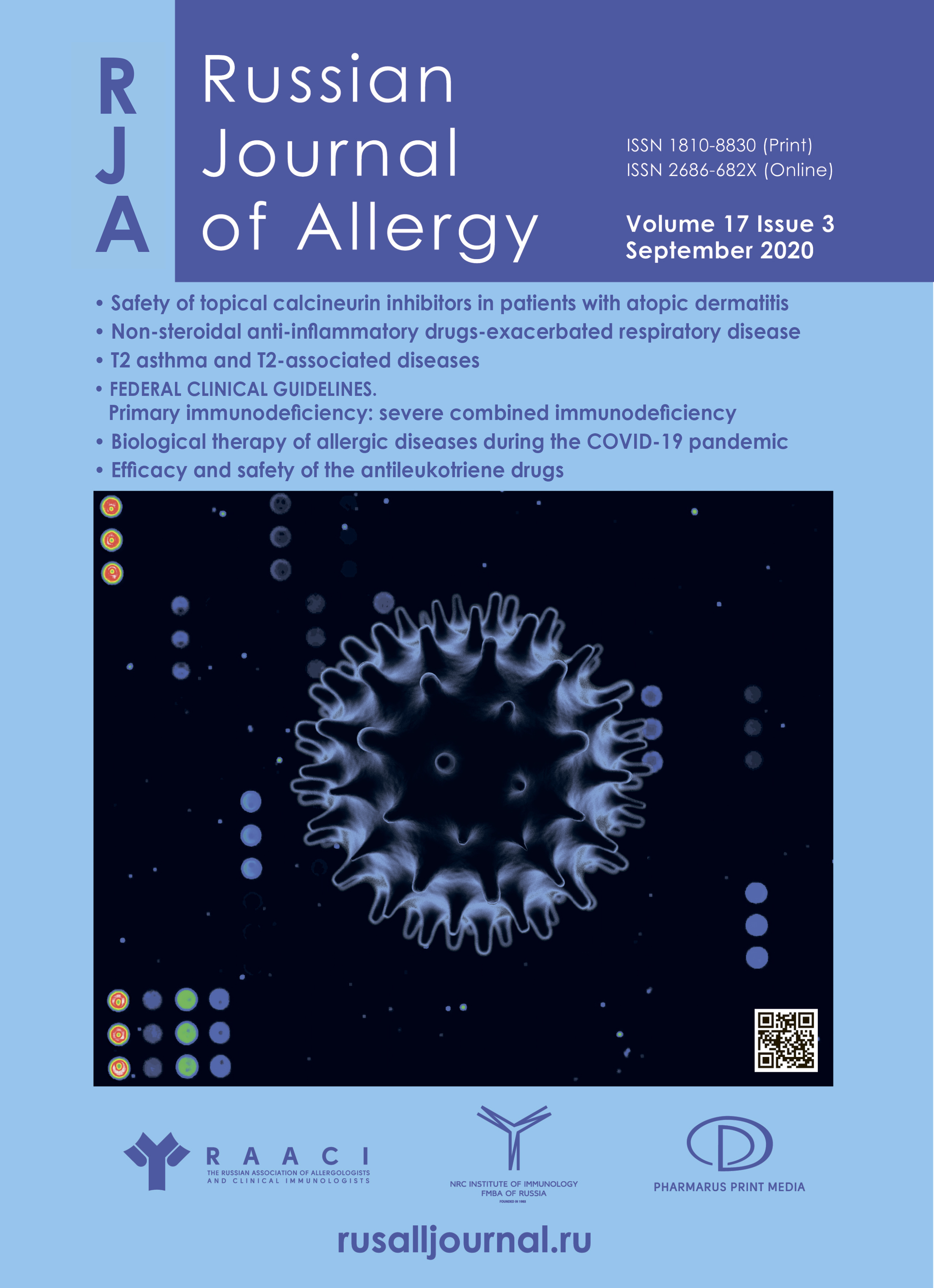 Cite item
Full Text

Open Access

Access granted

Subscription or Fee Access
Abstract
BACKGROUND: Allergic diseases and gastrointestinal tract diseases can influence on the natural course of each other.
AIM: To study the sensitization profile in patients with comorbidity of seasonal allergic rhinitis (SAR) and upper gastrointestinal tract inflammatory diseases (UGITID).
MATERIALS AND METHODS: 112 adult residents of Volgograd city suffering from SAR but without perennial symptoms and sensitization to indoor allergens have been included in the study. 31/112 patients had H. pylori­-negative and 38/112 H. pylori­-positive UGITID. Control group consisted of 43/112 patients without gastrointestinal diseases. Skin prick-­testing with 3 groups of pollen allergens have been carried out.
RESULTS: 75.9% of patients were sensitized to weed pollen; sensitization to grass pollen was in 1.5–3 times less, and 10.5% of patients (4/38) had positive tests with birch pollen. The sensitization to quinoa and ragweed in SAR and H. pylori«–»­-UGITID patients was comparable with control group but less common with wormwood, sumpfweed allergens. The sensitization in SAR patients and H. pylori«+»­-UGITID was similar to the control group, but positive SPT with sunflower and corn allergens were rare then in control group.
CONCLUSION: Weed pollen allergens prevail in sensitization spectrum of adult Volgograd residents with SAR. Sensitization to goose-foot and ragweed is common less in SAR patients and H. pylori«–»­-UGITID but to graminea grass and birch pollen is more often. It may be supposed that the UGITID are predisposing factors to the sensitization to cross-­reacting plant food allergens. At the same time supposed immunomodulating action of H. pylori make the differences between AR patients with H. pylori«+»­-UGITID or H. pylori«–»­-UGITID minor.
Full Text

About the authors
Volgograd State Medical University
Email: ins2904@rambler.ru
ORCID iD: 0000-0003-3186-260X

assistant of the Department of Immunology and Allergology, Volgograd State Medical University
Russian Federation, Volgograd
Volgograd State Medical University
Author for correspondence.
Email: belan.eleonora@yandex.ru
ORCID iD: 0000-0003-2674-4289

head of the Department of Immunology and Allergology, Volgograd State Medical University MD, PhD, Professor
Russian Federation, Volgograd
Volgograd State Medical University
Email: turkinasv@rambler.ru
ORCID iD: 0000-0002-8844-2465

pofessor of the Department of Internal Medicine of the Pediatrics and Dental Faculties, Volgograd State Medical University, MD, PhD
Russian Federation, Volgograd
Volgograd State Medical University; Consultative Diagnostic Clinics № 2
Email: godkota@rambler.ru
ORCID iD: 0000-0003-2750-8579

head of the Consultative Diagnostic Clinic № 2, Volgograd, PhD
Russian Federation, Volgograd
Volgograd State Medical University
Email: sadchikovatl@mail.ru
ORCID iD: 0000-0001-5762-0196

associate professor of the Immunology and Allergology Department, Volgograd State Medical University, PhD
Russian Federation, Volgograd
Volgograd State Medical University
Email: ak-flash@mail.ru
ORCID iD: 0000-0003-1631-6010

associate professor of the Immunology and Allergology Department, Volgograd State Medical University, PhD
Russian Federation, Volgograd
References
Loo EX, Wang DY, Siah KT. Association between irritable bowel syndrome and allergic diseases: to make a case for aeroallergen. Int Arch Allergy Immunol. 2020;181(1):31–42. doi: 10.1159/000503629
Hill DA, Grundmeier RW, Ramos M, Spergel JM. Eosinophilic esophagitis is a late manifestation of the allergic march. J Allergy Clin Immunol Pract. 2018;6(5):1528–1533. doi: 10.1016/j.jaip.2018.05.010
Heck S, Al-Shobash S, Rapp D, Le DD, Omlor A, Bekhit A, et al. High probability of comorbidities in bronchial asthma in Germany. NPJ Prim Care Respir Med. 2017;27(1):28. doi: 10.1038/s41533-017-0026-x
Ma ZF, Majid NA, Yamaoka Y, Lee YY. Food allergy and Helicobacter pylori infection: a systematic review. Front Microbiol. 2016;7:1232. doi: 10.3389/fmicb.2016.00368
Il'ina NI, Kurbacheva OM, Pavlova KS, Pol'ner SA. Federal'nye klinicheskie rekomendatsii po diagnostike i lecheniyu allergicheskogo rinita. Moscow: Rossiiskaya Assotsiatsiya Allergologov i Klinicheskikh Immunologov; 2018. 23 p. (In Russ.).
Haitov RM, Il'ina NI, editors. Allergologiya i immunologiya: natsional'noe rukovodstvo. Moscow: GEOTAR-Media; 2014. 656 p. (In Russ.).
Ivashkin VT, Mayev IV, Lapina TL, Sheptulin AA, Trukhmanov AS, Baranskaya YK, et al. Diagnostics and treatment of Helicobacter pylori infection in adults: clinical guidelines of the Russian gastroenterological association. Russian journal of gastroenterology, hepatology, coloproctology. 2018;28(1):55–70.
Chekhonina IV, Antonov YV, Sadchikova TL. Regional features of the spectrum of sensitization in hay fever. Flowering calendar of plants of the Volgograd region. Russian Journal of Allergy. 2008;(S1):347–348 (In Russ.).
Brylev VA, Zhbanov FI. Geografiya i ekologiya Volgogradskoi oblasti. Volgograd: Peremena; 2005. 260 p. (In Russ.).
Iraklionova NS, Belan EB, Turkina SV, Dotsenko AM, Rudobaba EL, Panina AA, Myazin RG. The features of the immune status of patients with combination of allergic rhinitis and inflammatory diseases of the upper gastrointestinal tract. Vestnik VolgGMU. 2020;(1):55–58 (In Russ.). doi: 10.19163/1994-9480-2020-1(73)-55-58
Supplementary files
Supplementary Files
Action