Allergic rhinitis masks: Nasal polyposis in two preschool children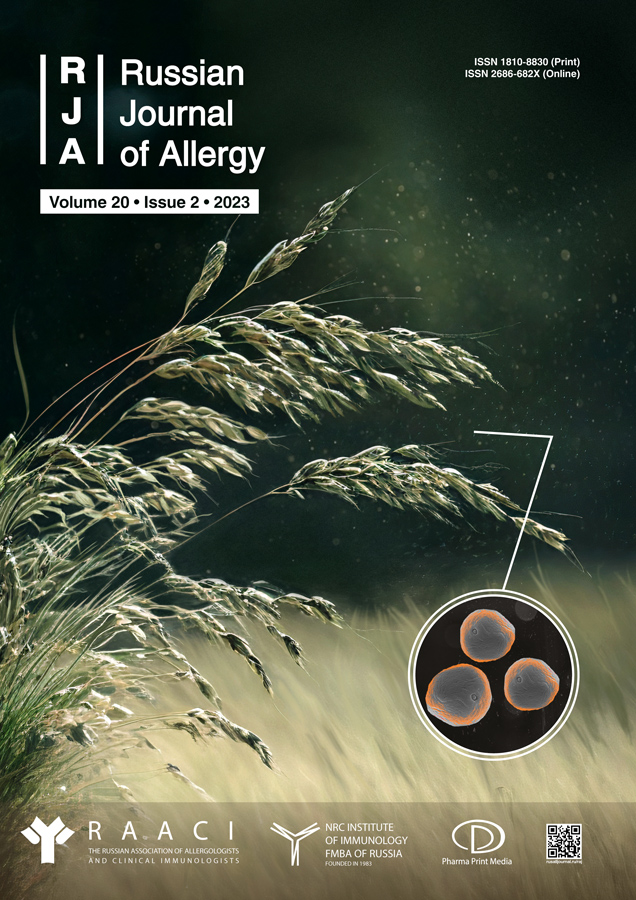 Cite item
Full Text

Open Access

Access granted

Subscription or Fee Access
Abstract
Nasal symptoms such as nasal congestion, rhinorrhea, and cough are especially common in children. Despite symptomatic treatment (various nasal sprays, physiotherapy, antibiotics and topical glucocorticosteroids), nasal congestion can persist for a long time. In such cases, several diseases are most likely: adenoids, allergic rhinitis, various anomalies in the structure of intranasal structures and sinuses (for example, curvature of the nasal septum), rhinosinusitis (acute, subacute). If a child has two main symptoms ― congestion and discharge from the nose ― and such additional symptoms as a headache with predominant localization in the paranasal sinuses and a deterioration in smell (possibly also the taste of food) for more than 3 months, it is necessary to exclude the diagnosis of chronic rhinosinusitis, which can be combined with a nasal polyp.
The purpose of this article is to analyze clinical cases of chronic rhinosinusitis with nasal polyp in two preschool children, including one of them with intolerance to non-steroidal anti-inflammatory drugs, and to raise physicians' awareness of this nosology.
In children with symptoms such as prolonged nasal congestion, rhinorrhea, possibly impaired sense of smell, headache, intolerance to non-steroidal anti-inflammatory drugs, in the absence of sensitization and immunodeficiency, a computed tomography scan of the paranasal sinuses is recommended to exclude nasal polyp.
Full Text

About the authors
Peoples' Friendship University of Russia
Author for correspondence.
Email: dalim_a@mail.ru
ORCID iD: 0000-0001-5999-7085
SPIN-code: 2399-5783

MD, Dr. Sci. (Med), Professor
Russian Federation, 6 Miklukho-Maklaya street, 117198 Moscow
Peoples' Friendship University of Russia
Email: popadyuk-vi@rudn.ru
ORCID iD: 0000-0003-3309-4683
SPIN-code: 6284-8040

Professor, Head of the Faculty of Continuing Medical Education
Russian Federation, 6 Miklukho-Maklaya street, 117198 Moscow
References
Villwock J, Kuppersmith R. Diagnostic algorithm for evaluating nasal airway obstruction. Otolaryngol Clin N Am. 2018;51(5):867–872. doi: 10.1016/j.otc.2018.05.002
Brietzke S, Shin J, Choi S, et al. Clinical consensus statement: Pediatric chronic rhinosinusitis. Otolaryngol Head Neck Surg. 2014; 151(4):542–553. doi: 10.1177/0194599814549302
Poachanukoon O, Nanthapisal S, Chaumrattanakul U. Pediatric acute and chronic rhinosinusitis: Comparison of clinical characteristics and outcome of treatment. Asian Pac J Allergy Immunol. 2012;30(2):146–151.
Leo G, Triulzi F, Incorvaia C. Diagnosis of chronic rhinosinusitis. Pediatr Allergy Immunol. 2012;(Suppl 22):20–26. doi: 10.1111/j.1399-3038.2012.01320
Magit A. Pediatric rhinosinusitis. Otolaryngol Clin N Am. 2014;47(5):733–746. doi: 10.1016/j.otc.2014.06.003
Fokkens W, Lund V, Hopkins C, et al. European position paper on rhinosinusitis and nasal polyps 2020. Rhinology. 2020; 58(Suppl S29):1–464. doi: 10.4193/Rhin20.401
Heath J, Hartzell L, Putt C, Kennedy J. Chronic rhinosinusitis in children: Pathophysiology, evaluation, and medical management. Curr Allergy Asthma Rep. 2018;18(7):37. doi: 10.1007/s11882-018-0792-8
Akdis C, Bachert C, Cingi C, et al. Endotypes and phenotypes of chronic rhinosinusitis: A PRACTALL document of the European Academy of Allergy and Clinical Immunology and the American Academy of Allergy, Asthma & Immunology. J Allergy Clin Immunol. 2013;131(6):1479–1490. doi: 10.1016/j.jaci.2013.02.036
Chandra R, Lin D, Tan B, et al. Chronic rhinosinusitis in the setting of other chronic inflammatory diseases. Am J Otolaryngol. 2011;32(5):388–391. doi: 10.1016/j.amjoto.2010.07.013
McCormick J, Thompson H, Cho D, et al. Phenotypes in chronic rhinosinusitis. Curr Allergy Asthma Rep. 2020;20(7):20. doi: 10.1007/s11882-020-00916-6
Poddighe D, Brambilla I, Licari A, Marseglia G. Pediatric rhinosinusitis and asthma. Respir Med. 2018;(141):94–99. doi: 10.1016/j.rmed.2018.06.016
Karakaya G, Celebioglu E, Kalyoncu AF. Non-steroidal anti-inflammatory drug hypersensitivity in adults and the factors associated with asthma. Respir Med. 2013;107(7):967–974. doi: 10.1016/j.rmed.2013.03.014
Di Cicco M, Bizzoco F, Morelli E, et al. Nasal polyps in children: The early origins of a challenging adulthood condition. Children (Basel). 2021;8(11):997. doi: 10.3390/children8110997
Kowalski M, Agache I, Bavbek S, et al. Diagnosis and management of NSAID-exacerbated respiratory disease (N-ERD): A EAACI position paper. Allergy. 2019;74(1):28–39. doi: 10.1111/all.13599
Varghese M, Lockey R. Aspirin-execerbated asthma. Allergy Asthma Clin Immunol. 2008;4(2):75–83. doi: 10.1186/1710-1492-4-2-75
McGarry G, Melia L. Nasal polyps: An update. Br J Hosp Med (Lond). 2009;70(9):500–504. doi: 10.12968/hmed.2009.70.9.43865
Dávila I, Rondón C, Navarro А, et al. Aeroallergen sensitization influences quality of life and comorbidities in patients with nasal polyposis. Am J Rhinol Allergy. 2012;26(5):126–131. doi: 10.2500/ajra.2012.26.3792
De Cock J, Zanca F, Canning J, et al. A comparative study for image quality and radiation dose of a cone beam computed tomography scanner and a multislice computed tomography scanner for paranasal sinus imaging. Eur Radiol. 2015;25(7):1891–900. doi: 10.1007/s00330-015-3593-7
Lawrence M, Palacios-Kibler T, Workman L, et al. Low serum IgE is a sensitive and specific marker for common variable immunodeficiency (CVID) // J Clin Immunol. 2018;38(3):225–233. doi: 10.1007/s10875- 018-0476-0
Niu X, Wu Z, Xiao X, et al. The relationship between adenoid hypertrophy and gastroesophageal reflux disease: A meta-analysis. Medicine (Baltimore). 2018;97(41):e12540. doi: 10.1097/MD.0000000000012540
Macharadze DS, Sidorenko IV. The prevalence of intolerance to aspirin and aspirin asthma in children with bronchial asthma. Allergy Asthma Clin Immunol. 2002;(6):3. (In Russ).
Supplementary files
There are no supplementary files to display.