Angioedema induced by angiotensin-converting enzyme inhibitors: an analysis of hospitalizations during the COVID-19 pandemic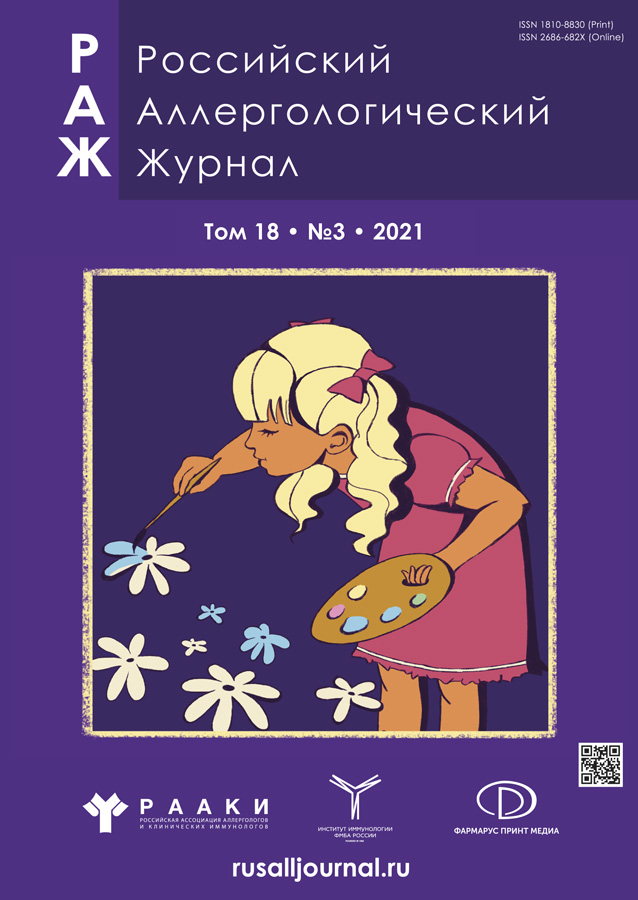 Cite item
Full Text

Open Access

Access granted

Subscription or Fee Access
Abstract
BACKGROUND: The pathogenesis of angioedema induced by angiotensin-converting enzyme inhibitors is based on the accumulation of bradykinin as a result of angiotensin-converting enzyme blockade. The severe acute respiratory syndrome coronavirus 2 (SARS-CoV-2) binds to the angiotensin-converting enzyme 2 receptor, which may inhibit its production and thereby lead to an increase in bradykinin levels. Thus, SARS-CoV-2 infection may be a likely trigger for the development of angioedema.
AIMS: This study aimed to analyze cases of hospitalizations of patients with angioedema associated with the use of angiotensin-converting enzyme inhibitors and angiotensin receptor blockers during the coronavirus disease 2019 (COVID-19) pandemic.
MATERIALS AND METHODS: This study retrospectively analyzed medical records of patients admitted to the Vitebsk Regional Clinical Hospital between May 2020 and December 2020 with isolated (without urticaria) angioedema while receiving angiotensin-converting enzyme inhibitors or angiotensin receptor blockers. In all patients, smears from the naso- and oropharynx for COVID-19 were analyzed by polymerase chain reaction.
RESULTS: Fifteen inpatients (9 men and 6 women) aged 44–72 years were admitted because of emergent events, of which 53.6% had isolated angioedema. In two cases, a concomitant diagnosis of mild COVID-19 infection was established with predominant symptoms of angioedema, including edema localized in the face, tongue, sublingual area, and soft palate. All patients had favorable disease outcomes.
CONCLUSIONS: Patients with аngiotensin-converting enzyme inhibitor-induced angioedema may require hospitalization to monitor upper respiratory tract patency. There were cases of a combination of аngiotensin-converting enzyme inhibitor-induced angioedema and mild COVID-19. Issues requiring additional research include the effect of SARS-CoV-2 infection on the levels of bradykinin and its metabolites, the triggering role of COVID-19 in the development of angioedema in patients receiving angiotensin-converting enzyme inhibitors/angiotensin receptor blockers, recommendations for the management of patients with аngiotensin-converting enzyme inhibitor-induced angioedema, and a positive result for COVID-19.
Full Text

About the authors
Educational Establishment Vitebsk State Order of Peoples' Friendship Medical University
Author for correspondence.
Email: t.sobolen@tut.by
ORCID iD: 0000-0002-8702-6486
SPIN-code: 9309-5550

MD, Cand. Sci. (Med.), Associate Professor
Belarus, 27, Frunze av., Vitebsk, 210009
Vitebsk Regional Clinical Hospital
Email: zakharovkan@mail.ru
ORCID iD: 0000-0002-6696-0704
SPIN-code: 8993-3484

MD
Belarus, Vitebsk
Educational Establishment Vitebsk State Order of Peoples' Friendship Medical University
Email: drnatalipr@gmail.com
ORCID iD: 0000-0002-3471-6977
SPIN-code: 4022-5469

MD, Cand. Sci. (Med.)
Belarus, 27, Frunze av., Vitebsk, 210009
References
Banerji A, Blumenthal K, Lai K, Zhou L. Epidemiology of ACE inhibitor angioedema utilizing a large electronic health record. J Allergy Clin Immunol Pract. 2017;5(3):744–749. doi: 10.1016/j.jaip.2017.02.018
Montinaro V, Cicardi M. ACE inhibitor-mediated angioedema. Int Immunopharmacol. 2020;78:106081. doi: 10.1016/j.intimp.2019.106081
Brown T, Gonzalez J, Monteleone C. Angiotensin-converting enzyme inhibitor-induced angioedema: A review of the literature. J Clin Hypertens (Greenwich). 2017;19(12):1377–1382. doi: 10.1111/jch.13097
Banerji A, Clark S, Blanda M, et al. Multicenter study of patients with angiotensin-converting enzyme inhibitor-induced angioedema who present to the emergency department. Ann Allergy Asthma Immunol. 2008;100(4):327–332. doi: 10.1016/s1081-1206(10)60594-7
Kostis W, Shetty M, Chowdhury Y, Kostis J. ACE inhibitor-induced angioedema: a review. Curr Hypertens Rep. 2018;20(7):55. doi: 10.1007/s11906-018-0859-x
Sobolenko ТМ, Vykhristenko LR. Angioedema associated with treatment of angiotensin converting enzyme inhibitors. Meditsinskie novosti. 2014;(6):6–8. (In Russ).
Kieu M, Bangiyev J, Thottam P, Levy P. Predictors of airway intervention in angiotensin-converting enzyme inhibitor–induced angioedema. Otolaryngol Head Neck Surg. 2015;153(4):544–550. doi: 10.1177/0194599815588909
Gill P, Betschel S. The clinical evaluation of angioedema. Immunol Allergy Clin North Am. 2017;37(3):449–466. doi: 10.1016/j.iac.2017.04.007
Irons B, Kumar A. Valsartan-induced angioedema. Ann Pharmacother. 2003;37(7-8):1024–1027. doi: 10.1345/aph.1c520
Shino M, Takahashi K, Murata T, et al. Angiotensin II receptor blocker-induced angioedema in the oral floor and epiglottis. Am J Otolaryngol. 2011;32(6):624–626. doi: 10.1016/j.amjoto.2010.11.014
Stone C, Brown N. Angiotensin-converting enzyme inhibitor and other drug-associated angioedema. Immunol Allergy Clin North Am. 2017;37(3):483–495. doi: 10.1016/j.iac.2017.04.006
Knecht S, Dunn S, Macaulay T. Angioedema related to angiotensin inhibitors. J Pharm Pract. 2014;27(5):461–465. doi: 10.1177/0897190014546101
Long BJ, Koyfman A, Gottlieb M. Evaluation and management of angioedema in the emergency department. West J Emerg Med. 2019;20(4):587–600. doi: 10.5811/westjem.2019.5.42650
Cicardi M, Aberer W, Banerji A, et al.; HAWK under the patronage of EAACI (European Academy of Allergy and Clinical Immunology). Classification, diagnosis, and approach to treatment for angioedema: consensus report from the Hereditary Angioedema International Working Group. Allergy. 2014;69(5):602–616. doi: 10.1111/all.12380
Baş M, Greve J, Stelter K, et al. A randomized trial of icatibant in ACE-inhibitor-induced angioedema. N Engl J Med. 2015;372(5):418–425. doi: 10.1056/NEJMoa1312524
Straka BT, Ramirez CE, Byrd JB, et al. Effect of bradykinin receptor antagonism on ACE inhibitor-associated angioedema. J Allergy Clin Immunol. 2017;140(1):242–248. doi: 10.1016/j.jaci.2016.09.051
Sinert R, Levy P, Bernstein JA, et al.; CAMEO study group. Randomized trial of icatibant for angiotensin-converting enzyme inhibitor-induced upper airway angioedema. J Allergy Clin Immunol Pract. 2017;5(5):1402–1409. doi: 10.1016/j.jaip.2017.03.003
Grewal E, Sutarjono B, Mohammed I. Angioedema, ACE inhibitor and COVID-19. BMJ Case Rep. 2020;13(9):e237888. doi: 10.1136/bcr-2020-237888
Chung M, Karnik S, Saef J, et al. SARS-CoV-2 and ACE2: the biology and clinical data settling the ARB and ACEI controversy. EBioMedicine. 2020;58:102907. doi: 10.1016/j.ebiom.2020.102907
Cohen A, DiFrancesco M, Solomon S, Vaduganathan M. Angioedema in COVID-19. Eur Heart J. 2020;41(34):3283–3284. doi: 10.1093/eurheartj/ehaa452
Kuzemczak M, Kavvouras C, Alkhalil M, Osten M. ACE inhibitor-related angioedema in a COVID-19 patient—a plausible contribution of the viral infection? [letter]. Eur J Clin Pharmacol. 2021. doi: 10.1007/s00228-020-03082-w
Naranjo C, Busto U, Sellers E, et al. A method for estimating the probability of adverse drug reactions. Clin Pharmacol Ther. 1981;30(2):239–245. doi: 10.1038/clpt.1981.154
Pfaue A, Schuler PJ, Mayer B, et al. Clinical features of angioedema induced by renin-angiotensin-aldosterone system inhibition: a retrospective analysis of 84 patients. J Community Hosp Intern Med Perspect. 2019;9(6):453–459. doi: 10.1080/20009666.2019.1698259
Mihaela LP, Florin AV, Bocsan C, et al. Acquired angioedema induced by angiotensin-converting enzyme inhibitors ― experience of a hospital-based allergy center. Exp Ther Med. 2020;20(1):68–72. doi: 10.3892/etm.2020.8474
Balla Z, Zsilinszky Z, Pólai Z, et al. The importance of complement testing in acquired angioedema related to angiotensin-converting enzyme inhibitors. J Allergy Clin Immunol Pract. 2021;9(2):947–955. doi: 10.1016/j.jaip.2020.08.052
Guryanova IE, Zharankova YuS, Polyakova EA, et al. Molecular genetic diagnosis of hereditary angioedema. Proceedings of the National Academy of Sciences of Belarus. Medical series. 2021;18(1):25–35. (In Russ). doi: 10.29235/1814-6023-2021-18-1-25-35
Bas M, Hoffmann TK, Bier H, Kojda G. Increased C-reactive protein in ACE-inhibitor-induced angioedema. Br J Clin Pharmacol. 2005;59(2):233–238. doi: 10.1111/j.1365-2125.2004.02268.x
Guzik T, Mohiddin S, Dimarco A, et al. COVID-19 and the cardiovascular system: implications for risk assessment, diagnosis, and treatment options. Cardiovasc Res. 2020;116(10):1666–1687. doi: 10.1093/cvr/cvaa106
Hassan K. Urticaria and angioedema as a prodromal cutaneous manifestation of SARS-CoV-2 (COVID-19) infection. BMJ Case Rep. 2020;13(7):e236981. doi: 10.1136/bcr-2020-236981
Supplementary files
Supplementary Files
Action