Analysis of the prevalence of food hypersensitivity and food anaphylaxis in the children's population of Ekaterinburg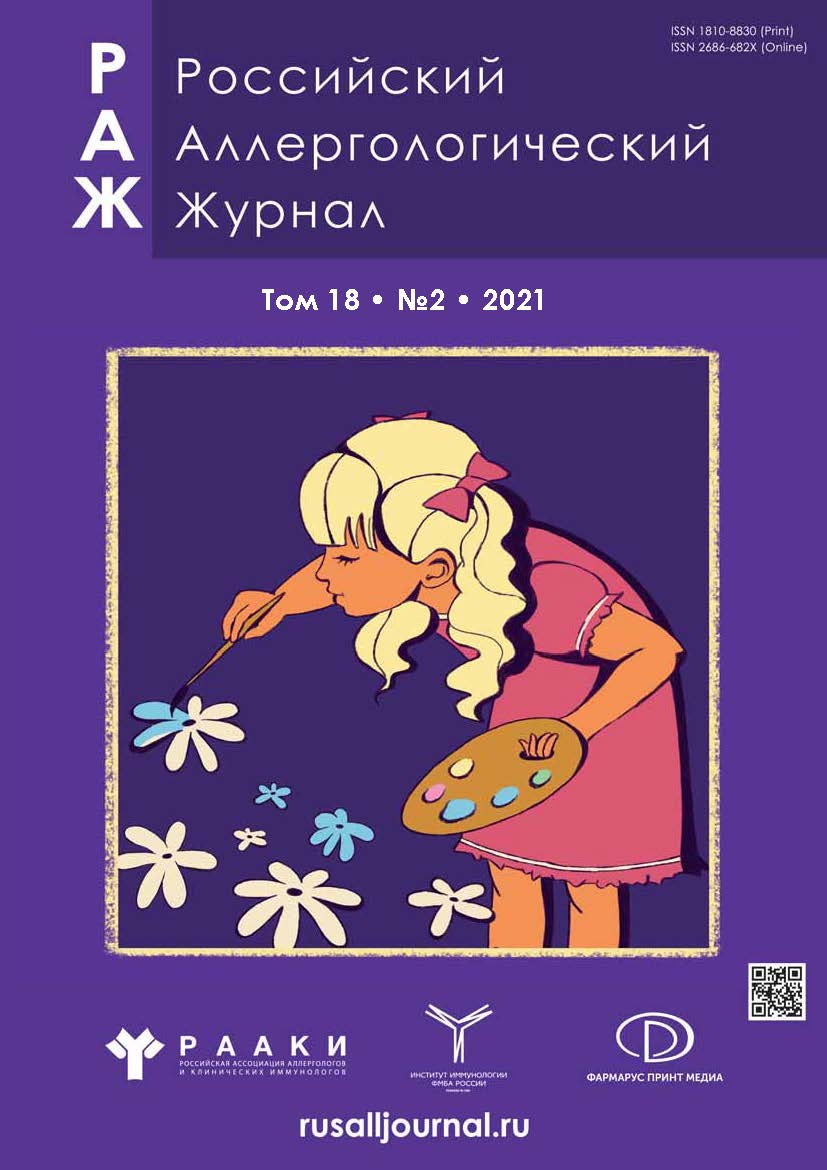 Cite item
Full Text

Open Access

Access granted

Subscription or Fee Access
Abstract
BACKGROUND: In recent decades, the number of patients experiencing food allergies and food anaphylaxis has been increasing worldwide. However, at present, epidemiological data on this problem are unclear. Anaphylaxis is an acute, potentially life-threatening pathological reaction of systemic hypersensitivity with various clinical symptoms, which can be coded under different diagnoses and conditions. Its acute onset and transient nature make it difficult to obtain prospective data. Thus, it appears realistic to conduct retrospective studies using a questionnaire analysis to identify children who have undergone such reactions for further examination and observation.
AIM: This study aimed to investigate the prevalence of food hypersensitivity and food anaphylaxis in the pediatric population of Ekaterinburg.
MATERIALS AND METHODS: A total of 5,000 parents with children aged 2–17 years were surveyed. The children attend preschool or school general educational institutions (children's education institution (ChEI) of the city. ChEIs were randomized, and the parent survey was anonymous and voluntary. Respective parents were asked to complete the questionnaire, which asks them whether their children have skin lesions, wheezing, and clinical presentations of allergic rhinitis or food allergy. The developed questionnaire was based on the ISAC questionnaire translated into Russian. In the questionnaires, the parents gave only those symptoms that arose in children against the background of somatic health at normal body temperature.
RESULTS: A total of 2,400 questionnaires were analyzed: 1,196 questionnaires were filled by parents of boys (49.9%) and 1,204 questionnaires by parents of girls (50.1%) aged 2–17 years (average age 10.31 ± 0.30 years). Data collected from questionnaire revealed that skin rashes in 17% of the children were associated with products: most often, these were obligate allergens and histamine liberators. Additionally, 6.8% of the parents noted that persistent rhinitis in their children was associated with consumption of milk/fish/fruit/nuts. Symptoms of respiratory obstruction after eating fish/cow's milk/nuts were described by parents of 2.7% of the children. Association of urticarial manifestations with food was noticed by parents of 194 (8.1%) children. Moreover, 0.96% of children experienced symptoms of anaphylaxis to food, 0.3% to cow's milk, 0.12% to chicken eggs and fruit, and 0.08% to wheat, nuts, and fish.
CONCLUSIONS: Epidemiological studies help understand the spread and nature of allergic diseases in a region. Moreover, identification of children who have had episodes of food-borne anaphylaxis helps prevent recurrent cases by conducting case follow-up of these patients.
Keywords
Full Text

About the authors
The Urals State Medical University
Author for correspondence.
Email: levlpa@mail.ru
ORCID iD: 0000-0002-0716-3529

associate Professor Department of polyclinic Pediatrics and Pediatrics faculty of advanced training and retraining
Russian Federation, 3, St. Repin, Yekaterinburg, 620028
References
Johansson SG, Hourihane JO, Bousquet J, et al. A revised nomenclature for allergy. An EAACI position statement from the EAACI nomenclature task force. Allergy. 2001;56(9):813–824. doi: 10.1034/j.1398-9995.2001.t01-1-00001.x
Muraro A, Werfel T, Hoffmann-Sommergruber K, et al. EAACI food allergy and anaphylaxis guidelines: diagnosis and management of food allergy. Allergy. 2014;69(8):1008–1025. doi: 10.1111/all.12429
Simons FE, Sampson HA. Anaphylaxis epidemic: factor fiction? J Allergy Clin Immunol. 2008;122(6):1166–1168. doi: 10.1016/j.-jaci.2008.10.019
Pampura AN, Esakova NV. Anaphylaxis in children. Moscow: Medpraktika-M; 2020. (In Russ).
Muraro A, Roberts G, Clark A, et al. The management of anaphylaxis in childhood: position paper of the European academy of allergology and clinical immunology. Allergy. 2007;62(8):857–871. doi: 10.1111/j.1398-9995.2007.01421.x
Bohlke K, Davis RL, DeStefano F, et al. Epidemiology of anaphylaxis among children and adolescents enrolled in a health maintenance organization. J Allergy Clin.Immunol. 2004;113(3):536–542. doi: 10.1016/j.jaci.2003.11.033
Sicherer SH, Sampson HA. Food allergy. J Allergy Clin Immunol. 2010;125(2 Suppl 2):116–125. doi: 10.1016/j.-jaci.2009.08.028
Braganza SC, Acworth JP, Mckinnon DR, et al. Paediatric emergency department anaphylaxis: different patterns from adults. Arch Dis Child. 2006;91(2):159–163. doi: 10.1136/adc.2004.069914
Simons F, Peterson S, Black CD. Epinephrine dispensing patterns for an out of hospital population: a novel approach to studying the epidemiology of anaphylaxis. J Allergy Clin Immunol. 2002;110:647–651. doi: 10.1016/S1081-1206(10)62289-2
Asher MI, Keil U, Anderson HR, et al. International Study of Asthma and Allergies in Childhood (ISAAC): rationale and methods. Eur Respir J. 1999;8(3):483–491. doi: 10.1183/09031936.95.08030483
Lieberman P, Camargo CA, Bohlke K, et al. Epidemiology of anaphylaxis: findings of the American college of allergy, asthma and immunology epidemiology of anaphylaxis working group. Ann Allergy Asthma Immunol. 2006;97:596–602. doi: 10.1016/S1081-1206(10)61086-1
Umasunthar T, Leonardi-Bee J, Turner PJ, et al. Incidence of food anaphylaxis in people with food allergy: a systematic review and meta-analysis. Clin Exp Allergy. 2015;45:1621–1636. doi: 10.1111/cea.12477
Topal E, Bakirtas A, Yilmaz O, et al. Anaphylaxis in infancy compared with older children. Allergy Asthma Proc. 2013;34(3):233–238. doi: 10.2500/aap.2013.34.3658
Macdougall C, Cant A, Colver A. How dangerous is food allergy in childhood? The incidence of severe and fatal allergic reactions across the UK and Ireland. Archiv Dis Childh. 2002;86(4):236–239. doi: 10.1136/adc.86.4.236
Kamdar TA, Peterson S, Lau CH, et al. Prevalence and characteristics of adult-onset food allergy. J Allergy Clin Immunol Pract. 2015;3(1):114–115е1. doi: 10.1016/j.jaip.2014.07.007
Bock SA, Munoz-Furlong A, Sampson HA. Further fatalities caused by anaphylactic reactions to food, 2001–2006. J Allergy Clin Immunol. 2007;119(4):1016–1018. doi: 10.1016/j.jaci.2006.12.622
Esakova NV, Pampura AN Anaphylaxis to milk in children. Voprosi detskoi dietologii. 2014;12(1):39–42. (In Russ).
Petrosino MI, Scaparrotta A, Marcovecchio L, et al. Usefulness of molecular diagnosis in egg allergic children. Arch Med Sci. 2018;14(1):132–137. doi: 10.5114/aoms.2016.58796.
Supplementary files
Supplementary Files
Action
2.
Fig. 2. Food products that, as per the questionnaire data, intensify skin rashes in children (n=409),%
3.
Fig. 3. Food products that, as per the questionnaire data, caused angioedema and acute uritricaria in children (n=91), %