Patient management plan for sublingual allergen specific immunotherapy with birch pollen allergen and the maintenance of patient compliance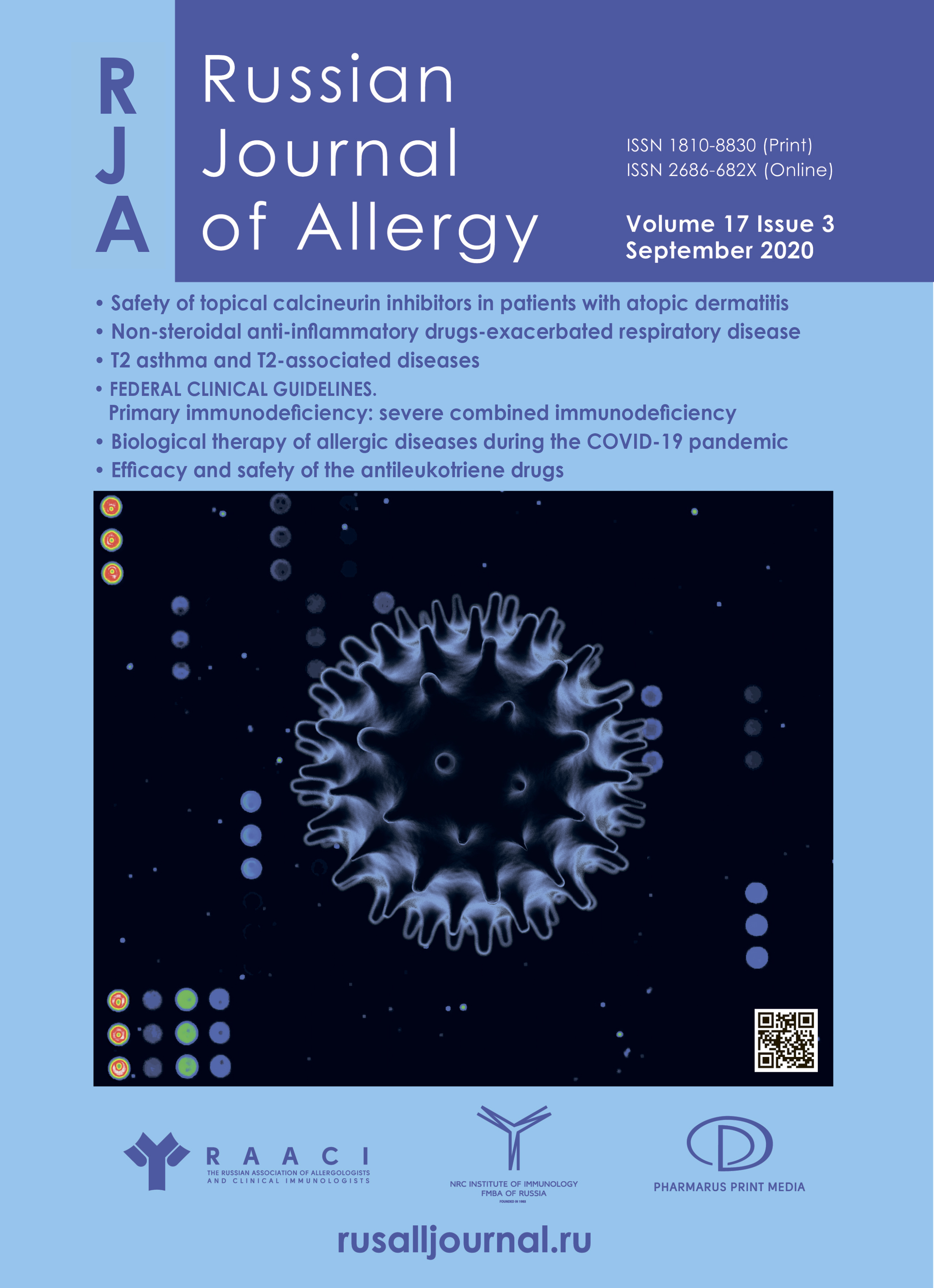 Cite item
Full Text

Open Access

Access granted

Subscription or Fee Access
Abstract
BACKGROUND: Sublingual allergen­-specific immunotherapy (SLIT) inefficiencie is mainly caused by non-­compliance with the treatment regimen and premature treatment termination.
AIM: Frequency and causes of dropouts determination in children receiving SLIT with birch pollen according to the pre­-coseasonal protocol, and approbation of the developed visit-­to-­visit patient management plan (Plan).
MATERIALS AND METHODS: 332 cases of treatment with birch pollen in children are analyzed. 290 patients (72.1% boys, aged 5–18 years (9.82 years [5.93; 14.67]), received SLIT with birch pollen in 2012–2019. 42 patients received SLIT according to the Plan (69% boys, 8.95 years old [5.38; 11.79]) in 2017–2019.
RESULTS: A low dropout frequency was noted in the 1st and 2nd year of therapy (2 years after the start of treatment, 85% patients continue it). However, only 63.1% complete 3 years of therapy, and 11% ­– 4 years of therapy. It has been shown that experienced allergists have more efficient patient retention. The implementation of the Plan increased patient retention in treatment at the 3rd year of treatment up to 82.9% (p=0.02).
CONCLUSION: The study confirmed the main reasons for the withdrawal of patients from SLIT: doubts about the effectiveness, cost and side effects. A low dropout frequency was shown according to the results of the 1st and 2nd years of therapy, but only a small proportion of patients (11%) receive 4 or more courses of therapy. Visit-­to-­visit Plan optimizes the patient's management, reduces patients' withdrawal from treatment and can be recommended for practical healthcare.
Full Text

About the authors
Pavlov First Saint Petersburg Medical University
Author for correspondence.
Email: o-tru@mail.ru
ORCID iD: 0000-0002-0854-1536

associate professor, Department of Therapy with the course on Allergy and Immunology, Pavlov First Saint Petersburg Medical University, MD, PhD
Russian Federation, Saint Petersburg
Pavlov First Saint Petersburg Medical University
Email: andykkam@mail.ru
ORCID iD: 0000-0001-9654-3429

associate professor, Department of General Practice (Family Medicine), Pavlov First Saint Petersburg Medical University, MD, PhD
Russian Federation, Saint Petersburg
Pavlov First Saint Petersburg Medical University
Email: allergist_PI@mail.ru
ORCID iD: 0000-0002-4740-880X

associate professor, Department of Therapy with the course on Allergy and Immunology, Pavlov First Saint Petersburg Medical University, MD, PhD
Russian Federation, Saint Petersburg
References
ginasthma.org [Internet]. Global Initiative for Asthma. Global Strategy for Asthma Management and Prevention, 2018 [cited 2018 Dec 10]. Available from: https://ginasthma.org/
Bousquet J, Khaltaev N, Cruz AA, Denburg J, Fokkens WJ, Togias A, et al. Allergic rhinitis and its impact on asthma (ARIA) 2008 update (in collaboration with the World Health Organization, GA(2)LEN and AllerGen). Allergy. 2008;63 Suppl 86:8–160. doi: 10.1111/j.1398-9995.2007.01620.x
Ziselson AD. Pollinoz u detei. Leningrad: Meditsina; 1989. 160 p. (In Russ.).
Federal'nye klinicheskie rekomendatsii po provedeniyu allergen-spetsificheskoi immunoterapii [Internet]. 2013 [cited 2018 Dec 10]. Available from: https://raaci.ru/ (In Russ.).
Roberts G, Pfaar O, Akdis CA, Ansotegui IJ, Durham SR, Gerth van Wijk R, et al. EAACI Guidelines on allergen immunotherapy: allergic rhinoconjunctivitis. Allergy. 2018;73(4):765–798. doi: 10.1111/all.13317
Dhami S, Kakourou A, Asamoah F, Agache I, Lau S, Jutel M, et al. Allergen immunotherapy for allergic asthma: a systematic review and meta-analysis. Allergy. 2017;72(12):1825–1848. doi: 10.1111/all.13208
Dhami S, Nurmatov U, Arasi S, Khan T, Asaria M, Zaman H, et al. Allergen immunotherapy for allergic rhinoconjunctivitis: a systematic review and meta-analysis. Allergy. 2017;72(11):1597–1631. doi: 10.1111/all.13201
Nam YH, Lee SK. Physician's recommendation and explanation is important in the initiation and maintenance of allergen immunotherapy. Patient Prefer Adherence. 2017;11:381–387. doi: 10.2147/PPA.S118368
Makatsori M, Scadding GW, Lombardo C, Bisoffi G, Ridolo E, Durham SR, et al. Dropouts in sublingual allergen immunotherapy trials – a systematic review. Allergy. 2014;69(5):571–580. doi: 10.1111/all.12385
Savi E, Peveri S, Senna G, Passalacqua G. Causes of SLIT discontinuation and strategies to improve the adherence: a pragmatic approach. Allergy. 2013;68(9):1193–1195. doi: 10.1111/all.12198
Senna G, Lombardi C, Canonica GW, Passalacqua G. How adherent to sublingual immunotherapy prescriptions are patients? The manufacturers' viewpoint. J Allergy Clin Immunol. 2010;126(3):668–669. doi: 10.1016/j.jaci.2010.06.045
Kiel MA, Röder E, van Wijk RG, Al MJ, Hop WC, Rutten-van Mölken MP. Real-life compliance and persistence among users of subcutaneous and sublingual allergen immunotherapy. J Allergy Clin Immunol. 2013;132(2):353–360. doi: 10.1016/j.jaci.2013.03.013
Vita D, Caminiti L, Ruggeri P, Pajno GB. Sublingual immunotherapy: adherence based on timing and monitoring control visits. Allergy. 2010;65(5):668–669. doi: 10.1111/j.1398-9995.2009.02223.x
Scurati S, Frati F, Passalacqua G, Puccinelli P, Hilaire C, Incorvaia C. Adherence issues related to sublingual immunotherapy as perceived by allergists. Patient Prefer Adherence. 2010;4:141–145. doi: 10.2147/ppa.s10217
Supplementary files
Supplementary Files
Action