Vitamin D and chronic spontaneous urticaria: searching for algorithms of personalized therapy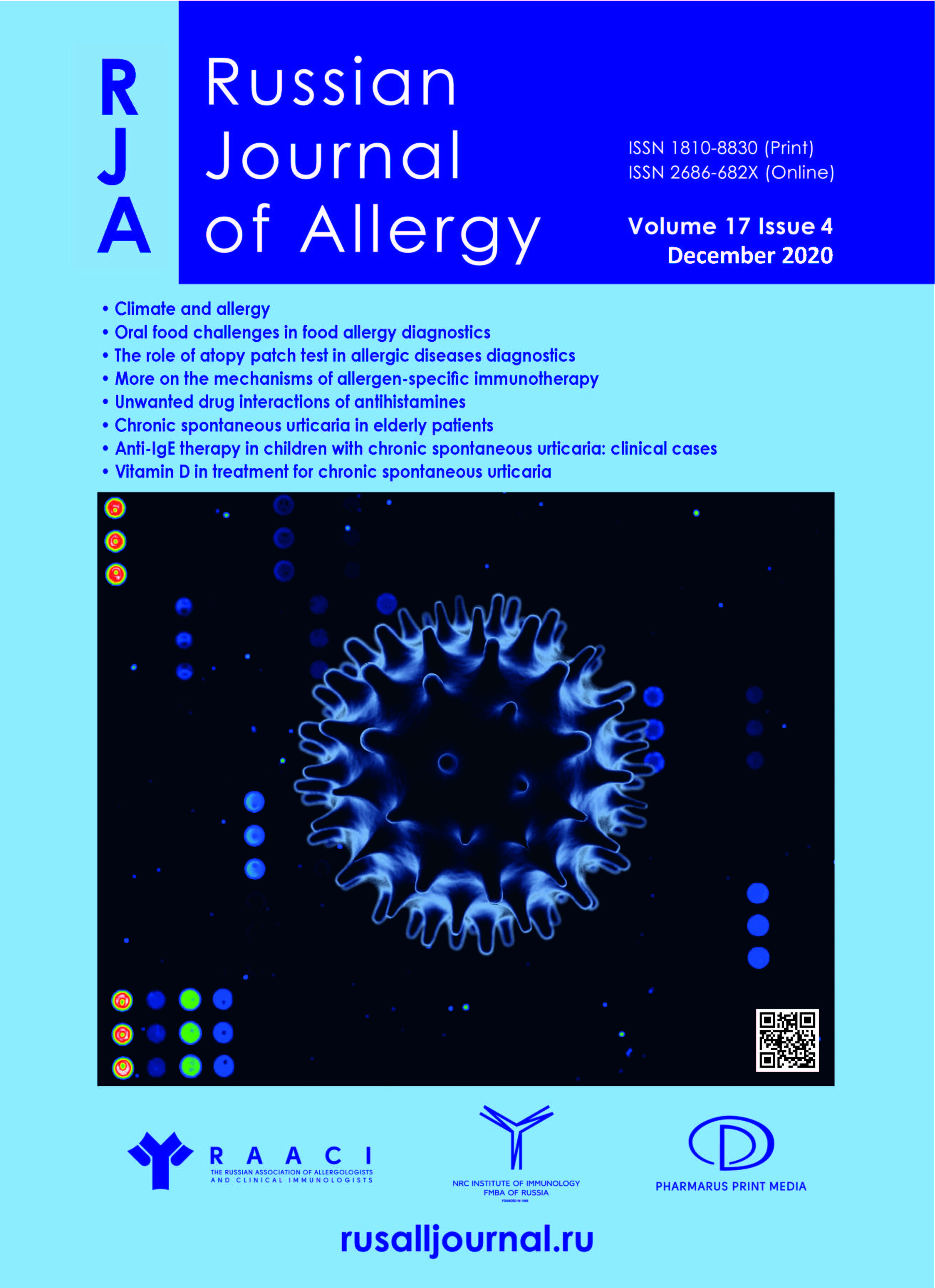 Authors: Kukes I.V.1, Borzova E.Y.2, Nenasheva N.M.3, Sychev D.A.3
Affiliations:

International Association of Clinical Pharmacologists and Pharmacists
I.M. Sechenov First Moscow State Medical University (Sechenov University)
Russian Medical Academy of Continuing Professional Education

Issue: Vol 17, No 4 (2020)
Pages: 95-101
Section: Help to the practitioner
Cite item
Full Text

Open Access

Access granted

Subscription or Fee Access
Abstract
Today, we can see a great interest in vitamin D because it participates in the regulation of many metabolic processes, and its deficiency is associated with the development of various diseases. Chronic spontaneous urticaria (CSU) is the disease that affects the quality of patient's life, and the existing strategy of patient management is not always sufficiently effective. Nowadays, there is enough information about the role of vitamin D deficiency and the severity of CSU. That is why it is important to study not only therapeutic schemes, but also a role of genetic variability that may have an impact on vitamin D levels.
Such studies will help to personalize the treatment schemes for patients with CSU. At the same time, the focus of these studies should be not only on the receptor and vitamin D binding protein, but also on P450 system, which plays a key role in the vitamin D metabolism.
Full Text

About the authors
International Association of Clinical Pharmacologists and Pharmacists
Author for correspondence.
Email: ilyakukes@gmail.com
ORCID iD: 0000-0003-1449-8711

Head of the Scientific and Clinical Department, PhD
Russian Federation, Moscow
I.M. Sechenov First Moscow State Medical University (Sechenov University)
Email: eborzova@gmail.com

Professor at the Department of Skin and Venereal Diseases, MD, PhD, Professor
Russian Federation, Moscow
Russian Medical Academy of Continuing Professional Education
Email: 1444031@gmail.com
ORCID iD: 0000-0002-3162-2510

Head of the Department of Allergology and Immunology, MD, PhD, Professor
Russian Federation, Moscow
Russian Medical Academy of Continuing Professional Education
Email: dimasychev@mail.ru
ORCID iD: 0000-0002-4496-3680

Head of the Department of Clinical Pharmacology, MD, PhD, Professor
Russian Federation, Moscow
References
Zuberbier T, Aberer W, Asero R, et al. The EAACI/GA2LEN/EDF/WAO guideline for the definition, classification, diagnosis and management of urticaria. Allergy. 2018;73(7):1393–1414. doi: 10.1111/all.13397
Russian Association of Allergists and Clinical Immunologists. Urticaria: Clinical Guidelines (draft). Moscow; 2019. (In Russ.).
Heaney RP. Vitamin D: criteria for safety and efficacy. Nutr Rev. 2008;66(10 Suppl 2):S178–S181.doi: 10.1111/j.1753-4887.2008.00102.x
Holick MF. Vitamin D deficiency. N Engl J Med. 2007;357(3):266–281. doi: 10.1056/NEJMra070553
Ariaee N, Zarei S, Mohamadi M, Jabbari F. Amelioration of patients with chronic spontaneous urticaria in treatment with vitamin D supplement. Clin Mol Allergy. 2017;15:22.doi: 10.1186/s12948-017-0078-z
Topal O, Kocaturk E, Gungor S, et al. Does replacement of vitamin D reduce the symptom scores and improve quality of life in patients with chronic urticaria? J Dermatol Treat. 2016;27(2):163–166. doi: 10.3109/09546634.2015.1079297
Sindher SB, Jariwala SP, Gilbert J, Rosenstreich DL. Resolution of chronic urticaria coincident with vitamin D supplementation. Ann Allergy Asthma Immunol. 2012;109(5):359–360. doi: 10.1016/j.anai.2012.07.025
Rorie A, Goldner WS, Lyden E, Poole JA. Beneficial role for supplemental vitamin D3 treatment in chronic urticaria: a randomized study. Ann Allergy Asthma Immunol. 2014;112(4):376–382. doi: 10.1016/j.anai.2014.01.010
Rasool R, Masoodi KZ, Shera IA, et al. Chronic urticaria merits serum vitamin D evaluation and supplementation; a randomized case control study. World Allergy Organ J. 2015;8(1):15. doi: 10.1186/s40413-015-0066-z
Pigarova EA, Rozhinskaya LYa, Belaya ZhE, et al. Clinical guidelines of the Russian Association of Endocrinologists for the diagnosis, treatment and prevention of vitamin D deficiency in adults. Problems of endocrinology. 2016;62(4):60–84. (In Russ.).
Russian Association of Endocrinologists, Ministry of Health of the Russian Federation. Vitamin D Deficiency in Adults: Clinical Guidelines. Moscow; 2016. (In Russ.).
Jones G. Pharmacokinetics of vitamin D toxicity. Am J Clin Nutr. 2008;88(2):582S–586S. doi: 10.1093/ajcn/88.2.582S
Slominski AT, Kim TK, Li W, et al. The role of CYP11A1 in the production of vitamin D metabolites and their role in the regulation of epidermal functions. J Steroid Biochem Mol Biol. 2014;144(Pt A):28–39. doi: 10.1016/j.jsbmb.2013.10.012
Gray RW, Weber HP, Dominguez JH, Lemann J, Jr. The metabolism of vitamin D3 and 25-hydroxyvitamin D3 in normal and anephric humans. J Clin Endocrinol Metab. 1974;39(6):1045–1056. doi: 10.1210/jcem-39-6-1045
Smith JE, Goodman DS. The turnover and transport of vitamin D and a polar metabolite with the properties of 25-hydroxycholecalciferol in human plasma. J Clin Invest. 1971;50(10):2159–2167. doi: 10.1172/JCI106710
Vicchio D, Yergey A, O'Brien K, et al. Quantification and kinetics of 25-hydroxyvitamin D3 by isotope dilution liquid chromatography/thermospray mass spectrometry. Biol Mass Spectrom. 1993;22(1):53–58. doi: 10.1002/bms.1200220107
Jones KS, Schoenmakers I, Bluck LJ, et al. Plasma appearance and disappearance of an oral dose of 25-hydroxyvitamin D2 in healthy adults. Br J Nutr. 2012;107(8):1128–1137.doi: 10.1017/S0007114511004132
Jones KS, Assar S, Harnpanich D, et al. 25(OH)D2 half-life is shorter than 25(OH)D3 half-life and is influenced by DBP concentration and genotype. J Clin Endocrinol Metab. 2014;99(9):3373–3381. doi: 10.1210/jc.2014-1714
Berry D, Hyppönen E. Determinants of vitamin D status: focus on genetic variations. Curr Opin Nephrol Hypertens. 2011;20(4):331–336. doi: 10.1097/MNH.0b013e328346d6ba
Nasiri-Kalmarzi R, Abdi M, Hosseini J, et al. Evaluation of 1,25-dihydroxyvitamin D3 pathway in patients with chronic urticaria. QJM. 2018;111(3):161–169.doi: 10.1093/qjmed/hcx223
Supplementary files
Supplementary Files
Action
1.
Figure 1. (Vitamin D3 (a) and D2 (b) metabolism with the participation of various cytochrome P450 (CYP) enzymes)